Before the market opened on Monday, American Express Company (NYSE:AXP) announced the official rollout of the Bluebird card with Wal-Mart Stores, Inc. (NYSE:WMT). The Green Dot Corporation (NYSE:GDOT) stock collapsed nearly 20% over the next two trading days to move back to all time lows. The company obtains 62% of revenues from a deal with Wal-Mart, so the market sees this as a potential major blow.
The company provides widely distributed, low cost banking and payment solutions to a broad base of U.S. consumers. Green Dot's products and services include its market leading category of General Purpose Reloadable (NYSEMKT:GPR) prepaid cards and its industry-leading cash transfer network which are available directly to consumers online and through a network of approximately 60,000 retail stores nationwide where 95% of Americans shop.
While this deal could be a threat to the revenue stream, one has to question whether American Express is the answer for the unbanked. What is the catch? How could a company with the highest credit card fees offer lower fees than a company such as Green Dot that has been in the prepaid card business for a decade?
Bluebird
The Bluebird announcement is an official rollout of a test completed in limited stores earlier this year. The announcement describes it as a new alternative to debit and checking accounts. Interestingly, Jefferies claimed that the original test was a failure, causing the parties to cancel the program back in July.
Green Dot management, though, provided reduced guidance on the Q2 earnings call based on new competition at major customers. Considering the revenue allocation from Wal-Mart, no doubt exists that Green Dot was talking about this very deal.
CEO comment on the earnings call:
After personally meeting with most of our largest retail partners over the past 90 days, we expect that several new competitive products could be on sale next to Green Dot products at many of our current retail distribution locations later this year or next year.
Bluebird details per press release:
No minimum balance, monthly, or overdraft fees.
Access to cash at a network of more than 22,000 MoneyPass ATMs for free with direct deposit. Fees apply for out-of-network ATMs and non direct deposit customers.
Members can deposit money in a variety of ways including payroll direct deposit, remote check capture, Wal-Mart registers, or by linking a checking, savings, or debit cart to the account.
Check writing capabilities will be added in Q1 2013.
A couple of subtle catches hit home in the press release that need further exploring. First, the only fees consumers will ever pay are clear and transparent, yet it never highlights the fees paid by retailers. Second, the card can be used immediately anywhere in the U.S. where American Express Cards are accepted.
What options do the unbanked have if a few retailers don't accept these cards? These customers don't have a credit card or checking account to use in those instances.
American Express vs. Visa
Ultimately, the competition with Bluebird might come down to the lack of access that American Express provides. The cards are known for high fees that cause smaller retailers to exclude the card.
Fees per a recent Groupon (NASDAQ:GRPN) announcement regarding mobile payments platform:
Swiped transactions - MasterCard (MA), Visa (V) and Discover (DFS) (1.8 percent plus 15 cents) and American Express (AXP) (3 percent plus 15 cents)
Keyed-in transactions - MasterCard, Visa and Discover (2.3 percent plus 15 cents) and American Express (3.5 percent plus 15 cents)
Non-Groupon merchants can also sign up for the service, however, they will be charged slightly more (2.2 percent plus 15 cents for MasterCard, Visa and Discover)
According to this post on CreditCardForum.com, the differences in the access of the two cards are as follows:
American Express: Acceptance in the U.S. is very high; there are approximately 4.5 million merchants who accept their cards. Amex is also accepted in over 130 other countries, but its acceptance is usually much lower in other countries than it is in the U.S.
Visa: Acceptance in the U.S. is around 8 million merchants. Worldwide Visa is the most widely accepted credit card and can be used in over 170 different countries.
Does American Express sound like the solution for the unbanked? No fees are great, but if a consumer can't use it at numerous retailers it won't provide the needed solution.
Balance Sheet
The company had $275M in cash on the balance sheet at the end of Q2 in June. Based on expected Q3 earnings, the cash balance has likely increased beyond those levels. The $6.75+ per share in cash is a huge advantage to a small company with a business model under attack.
Green Dot has the option of instituting a buyback or possibly making a deal for more mobile technology or expanding with a smaller competitor. The position is very attractive for making an investment in such a stock.
Stock Price
The stock currently trades right at $10, approaching the lows after the Q2 warning when the stock plunged 60% in one day.
1 Year Chart - Green Dot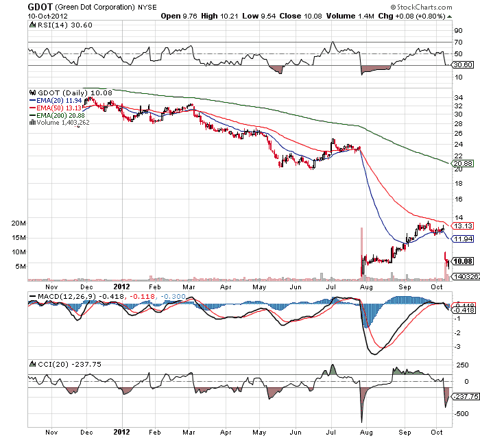 Conclusion
Green Dot provides a compelling investment in the intersection of banking and technology. The company provides the opportunity for the unbanked and underbanked to obtain quality access to prepaid cards and checking accounts. An area that seems unlikely for the large financial institutions such as American Express to be successful at cracking.
The stock, though, is untouchable until the dust settles on the Wal-Mart competition issue that is likely to dent growth in the near term. While the company has already pulled guidance down, it appears that such a calculation was very arbitrary. How could management correctly forecast the level of impact at a 62% customer?
Long-term though, the ultimate issue with this stock was the reliance on a single large customer with fears that competition would increase over time. Getting past the competitive impacts should provide new investors the opportunity to enter the stock knowing the risk going forward has been greatly reduced.
The end result will be a less risky entry point for the stock in 2013. The competitive impacts will be more defined at that time providing for a better investment decision. Plus the new initiatives such as location based banking should start generating business. Until then, investors should watch from the sidelines and learn as much as possible about this company.
Disclosure: I have no positions in any stocks mentioned, and no plans to initiate any positions within the next 72 hours. I wrote this article myself, and it expresses my own opinions. I am not receiving compensation for it (other than from Seeking Alpha). I have no business relationship with any company whose stock is mentioned in this article.
Additional disclosure: Please consult your financial advisor before making any investment decisions.