The market sell-off has investors wondering both what and when to buy.
Given the S&P 500 is flirting with support at its 50 day moving average, now seems like a good time to begin putting together your wish list for the push into year end.
Given healthcare represents 12% of the S&P 500 and will likely see some volatility tied to the elections, it's as good a place to start as any.
In the final quarter only 3 healthcare stocks offer robust seasonality.
Looking across the Seasonal Investor universe of 1800 stocks, I found 3 healthcare stocks with a significant history of rewarding investors in Q4.
Each has finished the quarter higher than it started in 9 of the past 10 years.

The first is Biomarin (NASDAQ:BMRN), a specialty biotech company. Biomarin's commercialized drugs include Naglazyme for Maroteaux-Lamy Syndrome, Kuvan, for phenylketonuria ("PKU"), Aldurazyme, co-developed with Genzyme to treat mucopolysaccaridosis 1 (MPS1) and Firdapse, approved in the EU for Lambert Eaton Myasthenic Syndrome (LEMS). While the drug names and diseases read like alphabet soup, it's important to recognize each is a margin boosting small market.
In Q2, Naglazyme sales were $62.9 million, up 4.3% from a year ago, thanks to new patients. The company expects Naglazyme sales to reach $250-260 million this year. Kuvan Q2 sales were $34.7 million, up 20.5% as tablets dispensed to U.S. patients increased 16.9%. Biomarin believes Kuvan will generate $130-140 million in sales this year. Aldurazyme sales were $21.8 million in Q2, up 26% from a year ago and the company is targeting $81-87 million in full year sales. Finally, Firdapse is likely to produce another $13-17 million in revenue this year.
Catalysts through year end include updated pipeline results for its PEG-PAL treatment for PKU, currently in Phase II, BMN-111 for achondroplasia in Phase I, GALNS for MPS IVA in Phase III and BMN-673 for solid tumors in a Phase I/II.
Next on the list is Mednax Inc. (NYSE:MD). The company runs Pediatrix Medical, a 1450 physician and 600 nurse practitioner healthcare services firm staffing 300 NICU's. It also owns American Anesthesiology, a 425 physician and 525 nurse anesthetist provider serving patients through 27 hospitals, 31 surgery centers and 17 pain management centers.
Mednax has bought 150 practices to expand Pediatrix since 1995 and another 11 to build American Anesthesiology since 2007. These deals have helped revenue move from $917 million in 2007 to $1.58 billion in 2011. During the same period, operating income increased a compounded 12.8% annually.
There are 1500 NICU's in the U.S. and 12-13% of births result in NICU admissions, providing revenue stability and clarity. The company is a market leader, with 990 of the board certified 4600 neonatalogists working for Pediatrix.
American Anesthesiology will benefit from baby boomers, which are expected to drive surgical procedures up 29% through 2020. It's also important to note short sellers are sitting on 19 days of average volume to cover in Mednax, an extremely pessimistic position.
Finally, United Healthcare (NYSE:UNH) also makes the list.
United is a big beneficiary of rebounding commercial membership and expanding Medicare and Medicaid. The company's EPS has grown from $3.50 in 2007 to an expected $5.61 in 2013 as revenue has increased in the high single digits each of the past 4 quarters.
The company recently purchased Brazil's leading managed care and services company, Amil, this week, which I discuss in more depth here. The acquisition offers United Healthcare expansion into a fast growing market with favorable demographics, and gives it valuable insight into integrating service providers within its Accountable Care pilot programs here in the States.
Given these three companies offer robust seasonality, recent weakness offers an opportunity for investors to step in for potential upside. Assuming seasonal trends rhyme, the following chart suggests healthcare investors will be rewarded in November and December.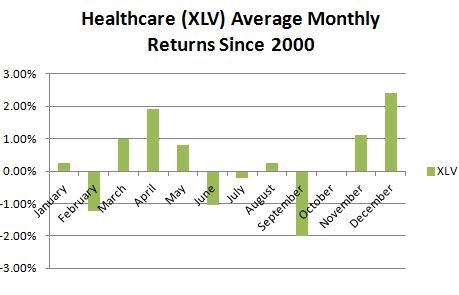 Disclosure: I have no positions in any stocks mentioned, but may initiate a long position in UNH, BMRN, MD over the next 72 hours. I wrote this article myself, and it expresses my own opinions. I am not receiving compensation for it (other than from Seeking Alpha). I have no business relationship with any company whose stock is mentioned in this article.