Somewhat belatedly, NakedShorts caught this comment on his favorite independent futures brokerage from Barron's' usually estimable Michael Santoli:
MF GLOBAL (MF) HAS SPENT MOST OF THE PAST SIX months hemorrhaging credibility and market value, with a rogue-broker scandal, regulatory missteps and a dilutive recapitalization that blindsided an already-skeptical Street.

Shares of the futures and options broker were 30 in February, 15 in June, and cracked below 4 in July before doubling since to 7.31. I stepped painfully in the way of this avalanche June 17 with a positive write-up on the stock when filling in on Barron's Online's Daily Stock Alert. But after a decent first-quarter earnings report last week that showed the company wasn't losing clients and was impressively cutting costs, the stock again looks like a worthy bottom-fishing candidate.

Rich Repetto of Sandler O'Neill figures that MF will earn 95 cents in the current fiscal year, and calculates that the shares are at 85% of tangible book value. MF has stabilized its balance sheet and brought on high-level risk-management talent. A share price of 10 in a year or so doesn't seem to be a big stretch.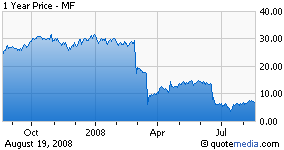 MF caught a Barron's bounce on Aug. 11, trading up to $7.80 that day. Tuesday, it closed at $6.33, having worked as low as $6.15 intraday. A peak-trough decline of 21 percent, so far, or a marginally more acceptable 13.5 per cent closing floppage since Aug. 8.
Memo to Mike: Can you please put MF on your restricted list? Thank you.
Making Sense of a Self-Directing Market
by Michael Santoli
Barron's Aug. 11 2008
Disclosure: NakedShorts' Dead Money Portfolio is long MF.