Recently, I ran an equity screen specifically targeting undervalued companies that contain technical indications that support a high probability of an upward trend. Next, I narrowed down my results and choose True Religion Apparel Inc (TRLG) because it displayed the most attractive valuation metrics and fell within the constraints of the technical indication requirements I set forth. Shortly following, I published the article called "True Religion: A Strong Value Play Within the Retail Industry", which briefly outlines the company's business model followed by nine supportive reasons why TRLG was a strong value play. This article is an update outlining the current news responsible for augmenting TRLG's market share value, outlines several positive catalysts that are relevant to TRLG, and then concludes with valuation metrics showing why TRLG is still a strong value play.
Price Soars on Positive Note
TRLG shares spiked tremendously Wednesday in trading as a result of several positive catalysts. As you will see in figure 1 below, TRLG closed at around $25.71, approximately a 22% upside from the previous days close. TRLG's price continued to rise almost 1% in after hours of trading after the markets normal close.
Figure 1: TRLG Price Graph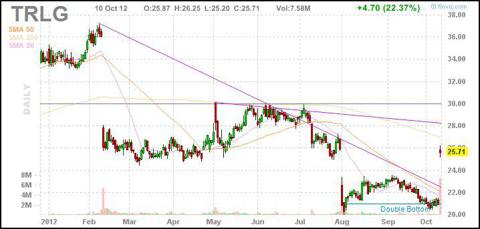 What You Need to Know: Potential M&A & Favorable Valuation
TRLG announced

that they are seeking third party interest in regards to acquire the company
TRLG's board of directors have formed a committee of non managers to investigate and evaluate the advantages and disadvantage, as well as how they can maximize shareholder
As of now, NO decisions have been made in regards to the transaction taking place and have not set any time constraints for as to when they when they will make further progress
With such a dramatic increase in price, favorable valuation is still on the table. Covering several angles here are a handful reasons why TRLG is still a value play:
KeyBanc Capital Markets as well as several other analysts that previously covered TRLG just upgraded True Religion
As of most current financials, the cash balance TRLG is holding equates to roughly eight dollars per share
Given TRLG's cash balance and assuming no acquisition takes place, an increase in dividend is probable. TRLG's current dividend yield is only 3.11%
A higher dividend yield would benefit both sides: help stimulate reinvestment for the company and help restore investor confidence
TRLG is only trading at 13.75 times their earnings; growing faster than their competitors
TRLG's intrinsic share value still remains $36.06, and is currently trading at approximately 40% below that level
In conclusion, TRLG remains a value play, and now with throwing a potential M&A in the mix investors may be faced with an even faster high yielding investment.
Source: All data and information used was retrieved from FinViz, Google Finance, & Yahoo Finance.
Disclosure: I have no positions in any stocks mentioned, and no plans to initiate any positions within the next 72 hours. I wrote this article myself, and it expresses my own opinions. I am not receiving compensation for it (other than from Seeking Alpha). I have no business relationship with any company whose stock is mentioned in this article.