Today, we are analyzing historical moves on various companies reporting earnings in the third week of October. For the companies investigated, we looked at the average movement one month prior to reported earnings and the average movement one month after reporting dates. For each company, we looked at these movements over the past ten years* in the October earnings reporting period, giving us a fairly concise look at what they do historically. The companies covered were Citigroup, Inc (NYSE:C), Domino's Pizza Inc (NYSE:DPZ), The Goldman Sachs Group (NYSE:GS), UnitedHealth Group (NYSE:UNH), International Business Machines Corp. (NYSE:IBM), Halliburton (NYSE:HAL), Pepsico (NYSE:PEP), WD-40 Company (NASDAQ:WDFC), PNC Financial Services Group (NYSE:PNC), McDonald's Corp (NYSE:MCD).
At the end of the article, we have provided two trading ideas. We believe these ideas will allow you to use this information usefully.
Below you can find the average movement that these companies had one month prior to their October reporting date for the past 10 years.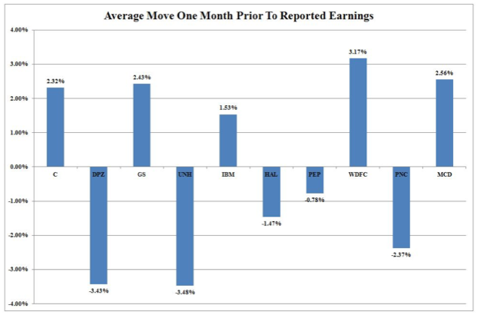 Based on this data, one can see that historically the top performing companies leading up to their report date in the third week of October are WD-40 Company, McDonald's and Goldman Sachs. 5 out of 7 times over the past 7 years WDFC has showed increases in stock price leading up to the reporting and this year, it seems, won't be different. The stock is already up 2% from the 14th of September so we may have already passed up on the gains. MCD on the other hand has been flat for the past two weeks leading up to their earnings release on the 19th of October so we can expect some upside until the release date.
Below you can find the average movement that these companies had one month after their October reporting date for the last 10 years.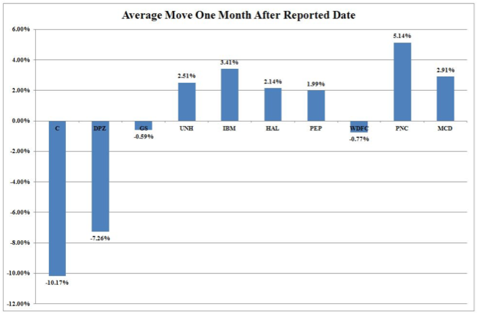 From the data above one can see that PNC Financial Services Group and International Business Machines Corp. are the strongest performers with average gains of 5.14% and 3.41% respectively. PNC has only had one negative gain during the previous 10 years while IBM has been less consistent, having some negative gains that were countered by large positive gains. McDonald's is another company that we continue to like as with IBM it is the only company that shows positive gains leading up to earnings and after earnings. The stock price has been stable for the past two weeks so we can expect some upside leading to earnings releases on the 19th of October.
The best two companies in and out of earnings were McDonald's and IBM. The best out of earnings is PNC. Let's take a closer look at those companies. McDonald's is not expecting any gains in earnings or revenue YoY, so the company is definitely one that looks somewhat promising. Most companies are showing losses, so money may move into a defensive giant like MCD. IBM is looking at around 10% gain in earnings but 2-3% loss in revenue. PNC, finally, is looking at 5% growth in earnings and 10%+ growth in revenue. None of the three stands out to us, but we believe that IBM and MCD both will see money flow into them if earnings are weak, and they are not seeing negative earnings.
Here are two conservative trades that we like in both. The max drawdowns for MCD and IBM one month after earnings were -3.4% for MCD and -12% for IBM. With those stats, we can play some bull put spreads. For that reason, we like the 87.50/85 bull put spread for MCD and 180/175 spread for IBM.
Trade #1: MCD, Nov17, 87.50/85 Bull Put Spread
Trade #2: IBM, Nov17, 180/175 Bull Put Spread
*Data collected for C, DPZ, and WDFC went back 7 years and not the standard 10 years.
Disclosure: I have no positions in any stocks mentioned, and no plans to initiate any positions within the next 72 hours.
Business relationship disclosure: The Oxen Group is a team of analysts. This article was written by David Ristau, one of our writers. We did not receive compensation for this article (other than from Seeking Alpha), and we have no business relationship with any company whose stock is mentioned in this article.