Introduction
Seeking a better social network model than Facebook's one, Google (GOOG) released Google Plus last year and thereby caused quite a stir in the tech world. With more than 153 million monthly users, Google seems a prime Internet destination. Facebook (NASDAQ:FB) - the most visited social networking website and the second largest Internet destination - received 137.6 million visitors per month. The combination of the battle for internet dominance, the inevitable Facebook IPO, and the continued Google+ expansion heats up the Facebook and Google rivalry in 2012.
However, Google's dominance is evidenced by the fact that the search engine giant's Q2 2012 gross profit of $7.2 billion is more than 1.6 times as large as FB's ttm revenue of $4.3 billion. Does this sheer size difference translate into continued supremacy for Google in the coming future?
Company Profiles
With ttm revenue of $43.2 billion, Google generates most of its profits from the AdWords product. Larry Page and Sergey Brin founded Google in 1998, and together still own 16% of the company. Google's growth has exploded over the last decade, through a series of technological innovations and business acquisitions. Recently the "Big G" has made advances in the field of social networking, and it leads the development of the mobile Android operating system. Processing over a billion search inquiries per day, Google is the world's most visited website and runs over one million data center servers worldwide.
Initially, Facebook was a private network for Harvard students only, including Zuckerberg - who later dropped out of college. Now, with nearly 960 million users, Facebook is by far the most used social network in the world. Over 40% of the U.S. population has a Facebook account. Facebook is ranked number two in U.S. website visits, making it the top contender against Google in regards to web traffic. With ttm revenue of $4.3 billion, Facebook went public in May of 2012. Obviously, in terms of size, Google has the upper hand in online advertising dominance. A large part of Google's success is the display of ads that are tailored to search results. Another significant chunk of revenue comes from AdSense ads targeted to website audiences.
Tracking Financials
Here is how Google and Facebook financials compare according to the latest Morningstar data. Google's year-on-year revenue growth for 2010-2011 was 29%. In contrast, Facebook's 2010-2011 year-on-year growth was 88%; quarterly comparisons are not available due to its recent debut as a public company. Google's market cap is $243.5 billion, compared to Facebook's $42.1 billion. Neither company declares dividends.
| | | |
| --- | --- | --- |
| | Google | Facebook |
| Revenue Growth (2011/2010) | 1.29 | 1.88 |
| Free Cash Flow Growth (2011/2010) | 1.58 | 2.33 |
| P/E TTM | 21.9 | 129.9 |
| EPS TTM | 34.21 | 0.17 |
| ROE TTM | 19.0 | 2.9 |
| Debt/Equity | 0.1 | 0.0 |
| Market Cap | 243.5 bil | 42.1 bil |
Note: the more advantageous figures are indicated in bold.
The data in the table above reveals that Facebook still trades at high multiples in terms of sales and free cash flow. On the other hand, it is hard to argue with Google's huge cash flow and its ability to innovate. For example, Google is moving aggressively into the fiber network arena.
Over the last six months Google strongly outpaced the S&P, as the chart below shows.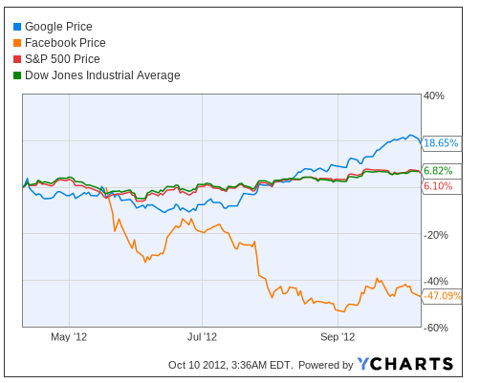 Comparing Google to Facebook is somewhat like comparing apples to oranges. Google is a large growth type stock while Facebook just recently went public, and therefore has no established track record for fair comparison. With so much speculation surrounding Facebook, it makes an accurate valuation difficult to establish. FB's current share price is about $20, having plummeted since its May IPO opening price of $38 per share.
Non-Financial Tracking
Google developed Google+ as its social networking offering, but it hasn't gained much traction. Google hoped that people would come over from Facebook, but that switch is not as simple as changing one's Email provider. Users have invested significant time in their Facebook pages, making it much less likely that they will jump ship. In the social network battlefield Facebook continues to claim the number one rank.
Even though Google tracks what you are searching for, Facebook knows who you are, who your friends are, what you like, where you work, what you read and what you think is worth sharing. Google's ad creation tool is mostly mechanical, asking for impersonal keywords to match searches. Facebook's ad generator, on the other hand, is more personal - asking for rich and specific details. Consequently, Facebook has access to a wealth of data that Google does not.
It all boils down to relevance. If a person sees an advertisement that is relevant to their needs, they are more likely to click and buy. Facebook is advancing on this front by placing, for the first time ever, ads and Sponsored Stories on other websites. Additionally, Facebook's ability to track user movement makes its database of relevant personal information a huge advantage. When an individual is browsing the web, Facebook will be able to place an ad in front of them that is specific to their personal preferences, as opposed to just their search history. Here is a good presentation of a Google Plus and Facebook comparison.
Facebook is already taking advantage of its information edge by introducing its Gifts program, enabling users to buy gifts for friends. Facebook reminds members of their contacts' birthdays, for example, to encourage users to purchase gifts. There are over 100 retailers on board with this program, including Starbucks (NASDAQ:SBUX). So, on one hand, you have a generic Google ad based on your search and browsing history. On the other hand, you have a Facebook ad tied to your friend's birthday, suggesting things that your friend would like to receive. Which one is more relevant? Here Facebook wins hands down, and the giant Google is left in the dust.
In the area of search, Google clearly rules. However if - or rather when - Facebook gets serious about search, Google may be in trouble. Many Facebook users look at Facebook as their home. If effective search can be introduced, without having to leave the Facebook site, this could seriously damage Google's dominant position. Facebook can also copy Google's search ad techniques, but Google has no way of tapping into Facebook's data gold mine.
Make or break for investors?
Out of eleven Wall Street analysts evaluating Google, seven indicate a "Buy" rating and two - "Outperform;" however, two recommend a "Hold." Of the eight Wall Street analysts examining Facebook, three indicate a "Buy" rating and two - "Outperform;" whereas, two recommend a "Hold" and the last one - "Sell." Thus, Wall Street has exceptionally positive positions on Google's future. However, it has quite diverse opinions to FB's future, making it more difficult for investors to make sensible investment decisions.
The discounted earnings plus equity model, developed by EFS Investment partners and applied to both GOOG and FB, suggests the following. At a price of about $20, Facebook stock is extremely overvalued; the stock is priced at least 80% above its fair valuation range. However, EFS's fair stock price valuation indicates that currently undervalued GOOG stock has at least 12% upside potential to reach its fair value.
Conducting my analysis, I keep in mind that the idea of buying cheap, while the stock value rises, is a straightforward concept that currently applies to Google's stock. The critical aspect in this regard is timing the buy just before the stock begins its upturn. Thus, I currently consider Google a "Buy" option.
However, the current bearishness surrounding Facebook looks like 'icing on the cake'. The company has real money-making projects that attack weak points in the Google armor. At the present time, for considerably overvalued Facebook stock, the "Hold" option might be the best choice for investors until November 2012. The edge will undoubtedly go to Facebook after the end of this month when the lock up expires, followed by inevitable employee selling. It is worth noting that Facebook has been hiring some of Google's top engineers, with the intent of securing additional ad revenue. Given these factors, next month might bring a prime opportunity to buy Facebook and come out a winner.
Bottom line
Facebook: "HOLD" in October 2012, "BUY" since November 2012
Google: "BUY" in 2012
Disclosure: I have no positions in any stocks mentioned, and no plans to initiate any positions within the next 72 hours. I wrote this article myself, and it expresses my own opinions. I am not receiving compensation for it (other than from Seeking Alpha). I have no business relationship with any company whose stock is mentioned in this article.