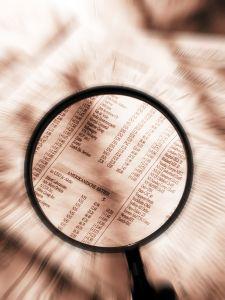 Rare is a contrarian play on the eve of a major development. Yet that is what is happening in this stock market. Investors, seemingly tired of waiting, are abandoning boring Microsoft (MSFT), underperforming Intel (INTC) and disappointing Dell (DELL). All three stocks are well below their recent highs, and Intel and Dell are even making new lows. Why? Because the current news is uninspiring, even disheartening.
However, the facts we know now are not the data that will drive these stocks in the weeks to come. The future will be markedly different from today and that's why these stocks could become portfolio favorites.
October 26 - A major day of change
In two weeks, Microsoft officially releases Windows 8, advancing the PC world into its next major development stage. This watershed has been known and discussed, with future visions available at last January's Consumer Electronics Show. Non-Apple PCs (especially laptops), tablets and phones will have a new, powerful operating base. Apple competitors have been creating new products and services to take advantage of Windows 8 as well as supporting technological improvements.
For this reason, Walter Mossberg, The Wall Street Journal's popular technology reviewer, recommended not buying a laptop until Windows 8 and its associated products hit the stores. It seems like consumers and businesses got the message. Sales have been sluggish, even for the new Ultrabooks. The problem isn't lack of interest, it's the knowledge that these machines are missing key components (e.g., touch screens and "convertibility" (i.e., being able to pull off a laptop's screen-cum-workings, thereby converting the machine to a tablet).
Consumers' patience not matched by investors
As the weeks have ticked by, we would have expected the stocks of potential beneficiaries to creep up. With the Windows 8 release date approaching, new product descriptions available and the pent-up demand growing (as indicated by weak sales of current products), investors should have gotten excited. Instead, the stocks have declined significantly even as the stock market nears its all-time high. With no sales and earnings news to report yet, investors have chosen to focus on declining global growth estimates, weakening company forecasts and, perhaps, Apple's new products (iPhone 5 and a potential new iPad) seemingly stealing the limelight. Certainly, the stock prices indicate that behavior.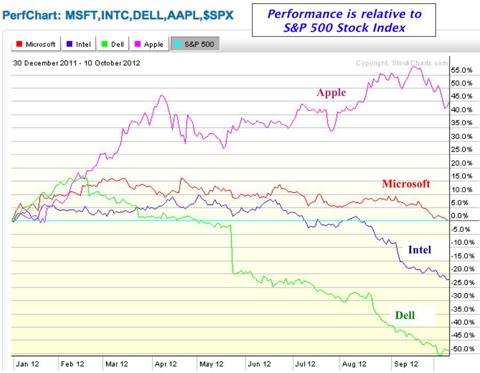 Chart courtesy of StockCharts.com
Why pick Microsoft, Intel and Dell?
Microsoft is clearly at the heart of the upcoming change. If Windows 8 meets expectations, it will likely be the go-to foundation for many non-Apple product and service development. The Wall Street Journal's "Next Act in Software Will See Microsoft Play to Its Strengths" is a good summary of why and how the Windows 8 offers the potential of a blowout performance:
Don't look now, but Microsoft MSFT may (finally) be getting its act together.
Microsoft CEO Steve Ballmer says it clearly:
Windows 8 is simply the biggest deal from our company in at least 17 years.
Does this mean the company will see earnings growth similar to those earlier days? Perhaps. Even without rapid earnings growth though, the stock could be a big winner because it is valued so conservatively today. With decent earnings growth, MSFT could become a favored holding, thereby producing an added return through a valuation increase.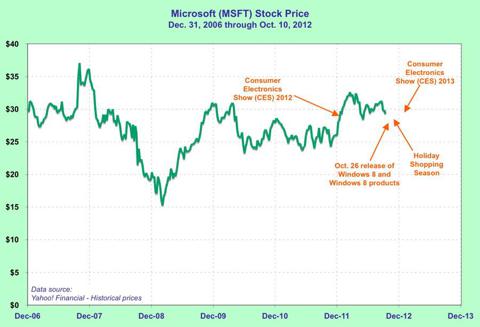 Intel remains the top chip maker and continues to emphasize leading tech development. All it needs to succeed are for the products using Intel's chips to sell. Because we're in the pre-October 26 period, current sales news is irrelevant. On October 6, the article "Sales of Ultrabook Fall Short of Forecast for 2012," said sales were expected to be great but fell flat. The problem isn't with the sales -- it's with the expectations. Later in the article, the reporter gave the key information that produced the article's title:
A new Intel processor coming out in mid-2013, coupled with the release of Microsoft's Windows 8 operating system upgrade later this month, could spark ultrabook demand next year.
The only argument I have with that statement is "next year." October 26 is when the gates go up and the new products are revealed. In addition, clearance sales of PCs and laptops have started and this year's holiday season is approaching. Then, there is the January 2013 Consumer Electronics Show to continue the excitement.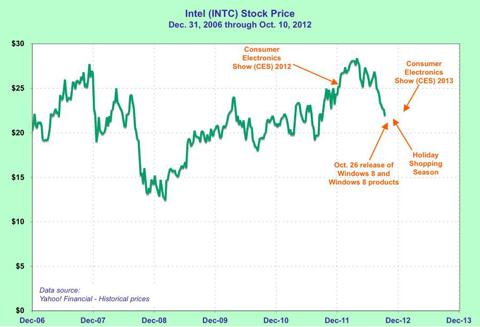 Dell is a good play on PC sales. If the coming new products are successful, Dell should be a strong beneficiary. Because its sales have suffered from this year's weak PC sales, it offers added return potential from a rebound as well as earnings growth.
The stock has been especially beat up by poor PC sales data. Just today, The Wall Street Journal piled on with "PC Sales Go Into a Tailspin."
Reports from research firms Wednesday provided new details about the industry's worsening condition, triggered by factors that include cannibalization by tablet computers, sluggish economic conditions and slowing PC sales in emerging countries.
Those reasons are incomplete, ignoring the most plausible cause: Consumers and businesses wisely postponing purchases until the new products arrive. Imagine the above analysis proffered to explain the iPhone 4S sales decline prior to the iPhone 5 coming out.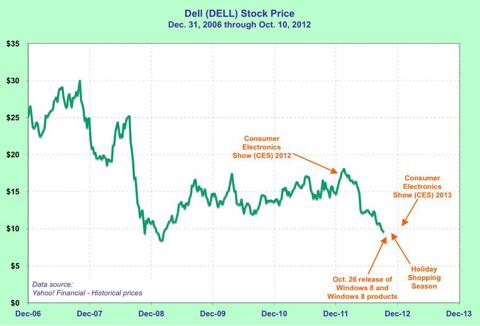 The bottom line
We have an unusual opportunity: Being able to invest in attractively priced tech stocks that could benefit from a known, major development that is only days away. Yes, the final results are uncertain. However, unless Windows 8 and/or the new products don't live up to expectations, sales and earnings should jump as consumers and businesses respond.
Disclosure: I am long U.S. stocks MSFT, INTC, DELL, bought today, October 10. I wrote this article myself, and it expresses my own opinions. I am not receiving compensation for it (other than from Seeking Alpha). I have no business relationship with any company whose stock is mentioned in this article.