We all agree that Apple (NASDAQ:AAPL) is a great company but I think that at the moment a better equity investment is to buy Microsoft (NASDAQ:MSFT) shares.
I have highlighted in my previous article that I see some potential headwinds on Apple performance that I briefly summarize here:
- Low R&D expenses when compared to the total spent by other IT companies. Apple is very focused and effective in its investments but there is a non-negligible risk that the next disruptive innovation will come from another player;
- Apple margins are very sensitive to revenue growth. If a major product release turns out to be a failure, the bottom line might suffer twice: from lower sales and from shrinking margins. Moreover margins might be under pressure due to increasing labour and commodity costs;
- There is a trend towards sales of products with lower margins and a reduction in the average selling prices of iPhones and iPads.
Finally, revenue and profits expectations are very high and analysts are almost unanimously bullish on the stock, leaving some room for disappointment. On the other end, I think that lately the Microsoft story has not received the deserved appreciation and the stock is bound for a significant outperformance in the coming months for a number of reasons:
1) Clear Value Proposition: The stock trades at 10.7x current earnings despite having a 32% ROE and the company holds $51 billion in net cash (around 21% of its current market capitalization). Moreover, it pays a 3.2% dividend yield and has a remarkable 10-year track record of increasing dividend per shares. Microsoft was able to earn high net margins regardless of the economic cycle and net margins volatility is minimal and not dependent on revenues: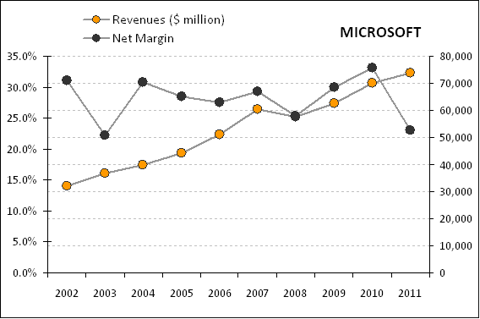 So we have a company which is highly profitable, cheaply priced, resilient to any financial shock and consistently investor-friendly. And on these metrics, it scores better than Apple, which trades at 15x the trailing earnings and pays only a 1.7% dividend yield despite holding 19% of its market cap in cash ($117 billion). Apple margins are higher but also more volatile.
2) Neglected Stock, Might Rerate: In the last 10 years Microsoft was able to substantially grow its earnings per share but the market has not rewarded the stock, whose multiples have witnessed a steady contraction: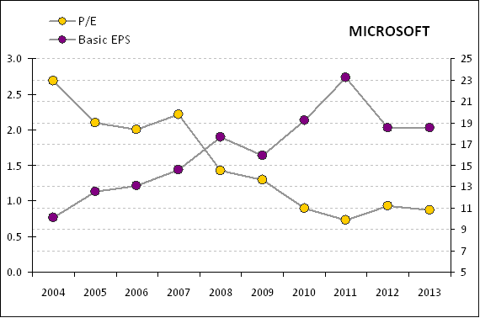 Investors demanded a discount to invest in a company that in the past 10 years has missed quite a few market-changing innovation. Being late or inferior in the development of portable music-players, search engine, tablets and mobile phones has cost Microsoft a lot in terms of foregone earnings, reputation and perspective growth. Nonetheless, the company kept on collecting abundant profits and has lately developed a pipeline of products that might revive its offering.
Windows Mobile and Windows 8 could finally mark the first successful attempt to break the Android-iOS duopoly, providing users with a complete and homogeneous ecosystem. Thanks to the Office suite, tablets are less of a passive device and more of a productive tool, strengthening the grip that Microsoft has on business clients. Moreover, the company is going to release Windows 8 (which should bring incremental revenues from updates) and in late 2013 is expected to launch the new XBox.
My take is that the stock is undervalued, trading at discounted multiples when compared to the IT sector and to the overall market (only 60 companies in the S&P500 have lower P/E). Most important, the current valuation implies very low confidence in a positive customer response to the new company products. In my opinion this represents a unique investment opportunity: limited downside (the stock is cheap and earnings are stable/rising) and upside optionality that comes almost for free. If any of those potential growth drivers should materialize, a multiple expansion is guaranteed.
3) Low Earnings Cyclicality: A relevant part of Microsoft revenues and profits are recurring and this guarantees a stable stream of earnings which nicely reduces the EPS volatility. As summarized by this article (third paragraph), Microsoft gets almost 10% of its total revenues from licensing agreements in the Server and Tools' division and has over 25 million XBox online subscribers. Moreover, it receives money from licensing Office to enterprises and has just acquired Skype with its huge client base which repeats small credit purchases. And finally it gets money each time an Android device is sold, without the slightest effort (according to some estimates, it might be up to $800 million in 2012).
I think Microsoft can be a relatively safe investment for the medium/long run. It is trading at an attractive price, it has the potential to boost its growth prospects and its earnings resilience and recurrence should limit the downside risk. For those who have Apple in the portfolio, it might be a good idea to move from Cupertino to Redmond. This will guarantee to keep the same exposure to IT and big caps but at cheaper valuations.
Finally, given the huge weight that Apple has in almost any index, it will be difficult for the stock to consistently outperform its benchmark, while Microsoft has more opportunities to leverage its relative performance given its lower correlation with the index return.
Disclosure: I have no positions in any stocks mentioned, and no plans to initiate any positions within the next 72 hours. I wrote this article myself, and it expresses my own opinions. I am not receiving compensation for it (other than from Seeking Alpha). I have no business relationship with any company whose stock is mentioned in this article.