Earnings reports giveth, and earnings reports taketh away. That's the lesson for investors in VOXX International (NASDAQ:VOXX), which traded down nearly 8 percent in after-hours trading after announcing disappointing fiscal second quarter earnings.
The drop came from VOXX's second straight earnings miss; the stock fell 17.7 percent after releasing Q1 earnings in July, a drop I argued was overdone. Apparently, the market disagreed; VOXX continued to struggle, and at Wednesday's after-hours close of $6.71 now trades at its lowest levels since late 2011.
VOXX had taken off from those levels, better than tripling between mid-October and mid-February on the back of consecutive earnings beats in January and May. But the recent earnings weakness has pummeled the stock, which now trades at less than half its share price reached after that May release of FY12 full-year earnings. VOXX's one-year chart shows the stock's rise and fall: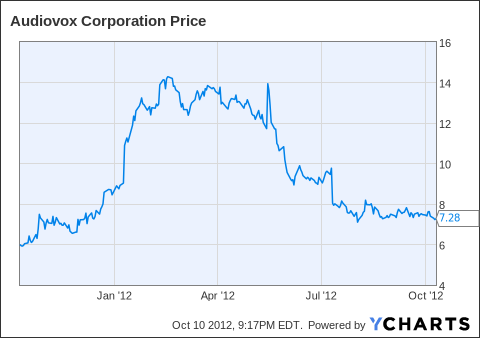 To be sure, there was reason for disappointment in Wednesday's report. Sales increased 21% year-over-year, but excluding the boost from the company's March acquisition of Hirschmann, revenue fell nearly 8%. And the company lowered its Adjusted EBITDA guidance -- which excludes an $8.4 million loss based on a patent lawsuit -- to $61 million from its $62.4-$65.4 million projection, reiterated after Q1.
Still, there were some bright spots. Gross margin increased year-over-year, with the company maintaining gross margin guidance of 28.0%, down just 70 basis points from the year before despite the addition of Hirschmann and investments in "new products and programs" in the second half of the fiscal year. The "domestic (market) is holding," according to the company, and it cited the "short-term" nature of its revenue struggles, namely softness in Europe and a weakening Euro.
In the meantime, VOXX's fall has led to an intriguing valuation. With EBITDA guidance for about $52.6 million (including the $8.4M patent settlement), the stock is trading at just 3x expected FY13 EBITDA. On a P/E basis, VOXX's valuation looks equally enticing -- if the company can meet its guidance (or even come close). Interest expense is running at about an $8 million annual run rate; depreciation and amortization about $21 million (using Q2 figures, the first full quarter including Hirschmann operations); and income tax expense about $9M (again using Q2, ignoring the effect of a tax benefit in Q1). As such, FY13 net income looks to be about $14-$15MM, or 61-65 cents a share. That puts VOXX's forward P/E just above 10; but note that $14 million figure includes the one-time $8.4 million settlement, plus $4.3 million (so far) in costs and currency loss related to the Hirschmann purchase. On an adjusted basis, VOXX could easily post non-GAAP net income near or even above $1 per share (about $23.4 million). At a price below $7, that is a compelling valuation.
Bear in mind, too, that VOXX paid about $110 million (85 million Euros) for Hirschmann, a price agreed to in February. With a market capitalization of about $157 million, and net debt of $143 million, that means the market is valuing VOXX's legacy business at about $190 million. But that business generated nearly $100 million in free cash flow and $70 million in net income from fiscal 2010 to fiscal 2012 -- an annual average of $23 million in net income and $33 million in cash flow. Those were hardly banner years for the consumer and automotive markets, yet VOXX is trading at a very low multiple to its earnings levels during those challenging times.
In short, it looks like VOXX's recent fall is largely overdone. The volatility in the stock over the last twelve months has certainly been stomach-turning, but patient long-term investors with the ability to ignore short-term swings should be rewarded by the stock. VOXX has a great product line, potential for growth in new segments such as its high-end Klipsich line -- compatible with the popular products from Apple (NASDAQ:AAPL) -- a GPS pet tracker called Tagg, and in-vehicle entertainment and diagnostic systems. The European struggles will likely continue, but are more than priced in. At its current valuation, VOXX looks like it will be worth the ride.
Disclosure: I have no positions in any stocks mentioned, and no plans to initiate any positions within the next 72 hours. I wrote this article myself, and it expresses my own opinions. I am not receiving compensation for it (other than from Seeking Alpha). I have no business relationship with any company whose stock is mentioned in this article.