There's a common perception that when it comes to investing, there are those who are "in the know" and there is everyone else. This has given rise to the concept of following significant insider transactions and taking cues from those who are believed to have greater foresight due to their close connections with the company. While there are many reasons for insiders to sell their shares of a company, there are quite often very few reasons for them to buy shares apart from a positive outlook on the underlying equity. It's for this reason that I highlight a recent insider purchase within Fuel Systems Solutions, Inc. (FSYS).
Kevin Douglas is a beneficial owner of 10% or more for Fuel Systems Solutions, Inc. Through the course of October 8 to October 10, he purchased 93,084 shares of the company's common stock on the open market, either directly or indirectly through his family trusts. The average purchase price was $18.41 and the total value of the transactions amounted to a considerable $1,713,250. Altogether, he and his family now directly and indirectly own 2,571,684 shares of the company. The details of these transactions can be found on the filed Form 4.
Fuel Systems Solutions, Inc is heavily engaged in the design and manufacturing of alternative fuel components and systems. More specifically, the company maintains a high level of expertise in propane and natural gas fuel technology. The company creates fuel delivery components, pressure regulators, fuel injectors, power systems, natural gas compressors, and many more correlated products. The company is very much akin to it's peer in the field found in Westport Innovations Inc (WPRT), a systems design company who's specialty lies in the construction of alternative fuel engines.
Fuel Systems Solutions trades with a market capitalization of $363.82 million as of October 10, 2012. The company carries a somewhat lofty forward P/E ratio of 22.16 and a very high trailing P/E ratio of 52.51. Nevertheless, the company trades at a price-to-sales ratio of 0.89, and a fair price-to-book ratio of 1.13. While none of these factors appear to stand out, what may surprise some is that the company remains well capitalized, with a current ratio of 2.84 and a mere $2.5 million in long-term debt. In the last quarter alone, Fuel Systems Solutions earned a net income of $7.1 million as it came out of a slow quarter back in March where it took a net income loss of $1.2 million.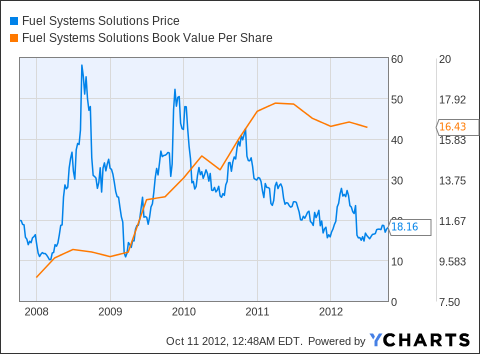 The relatively steady decline over the past few years has brought the stock of Fuel Systems Solutions ever closer to the value on the company's books. The chart above clearly demonstrates this point. As a result, the markets have provided an easier point of entry for those looking to pull the trigger. On October 9, an analyst for Piper Jaffray initiated Fuel Systems Solutions to overweight and declared a price target of $24 per share. Piper Jaffray noted that it believed 2013-2014 will be a decisive year for natural gas as it looks to become the fuel of choice for light commercial fleets. With both an analyst and an insider vouching for the company at these prices, it appears that Fuel Systems Solutions may be setting in for stronger support at these current levels.
Disclosure: I have no positions in any stocks mentioned, and no plans to initiate any positions within the next 72 hours. I wrote this article myself, and it expresses my own opinions. I am not receiving compensation for it (other than from Seeking Alpha). I have no business relationship with any company whose stock is mentioned in this article.