I think the market is due for volatile few months for myriad reasons which I highlighted yesterday. Given this view, I am starting to increase my short positions as well as keeping a substantial amount of my portfolio in cash as I believe lower entry points will be forthcoming. One new short that I will be taking today is Concur Technologies (NASDAQ:CNQR). Its valuation seems extreme given its projected growth rate and it could be a significant casualty if we get a significant selloff in equities, which I think is likely over the next few months.
Concur Technologies, Inc. is a global provider of on-demand Employee Spend Management solutions
8 Reasons CNQR looks like a good short at $70 a share:
 
The stock is selling at the very top of its five year valuation range based on P/E and P/CF.
Insiders have sold over $10mm in shares in the third quarter in myriad and frequent transactions. There have been no insider purchases in over two years.
Wunderlich just downgraded the shares from a "Buy" to a "Hold". Oppenheimer downgraded the stock as well in September. CNQR also is sitting at its mean price target held by the 16 analysts that cover the stock.
An investor is paying 62 times forward earnings for a company that is growing earnings at less than 20% a year.
The stock has a five year projected PEG of over 3 (3.11). This is excessive given its growth projections and market capitalization (just under $4B).
Net Income has increased much faster than operating cash flow over the past three years. In addition, Non-GAAP reported figures seem to show much better performance than GAAP results.
Two of the main drivers of demand for this company's software (job growth and business travel budgets) are likely to remain subdued in at least the medium term.
After rising more than 80% in a year to hit a historical high of over $76 a share, the stock looks like it is topping here (See Chart).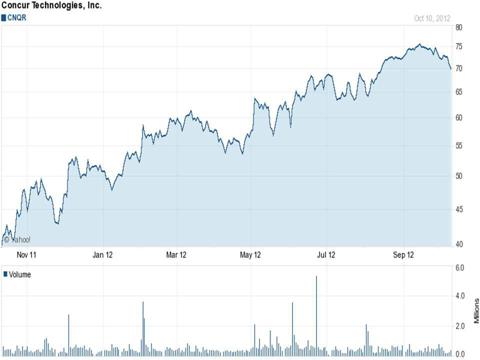 Disclosure: I have no positions in any stocks mentioned, but may initiate a short position in CNQR over the next 72 hours. I wrote this article myself, and it expresses my own opinions. I am not receiving compensation for it (other than from Seeking Alpha). I have no business relationship with any company whose stock is mentioned in this article.