By: Brendan Gilmartin
Johnson & Johnson (JNJ) is slated to report 3Q 2012 earnings before the bell on Tuesday, October 16. The earnings release is expected at approximately 7:45 a.m. EST with a conference call to follow at 8:30 a.m. A member of the Dow Jones Industrial Average, J&J has significant market influence and the potential to impact the broader market gauges. Also note that no other major companies report at the same time as J&J, making the trade signal relatively clear.

The current Street estimate for Adjusted Earnings Per Share is $1.21, down from $1.24 in the year-ago period (Source: Yahoo! Finance).
Revenues: Revenues are seen rising 5.80% y/y to $16.93 bln.
Adjusted Earnings Per Share (NYSEARCA:EPS) Guidance: Back in July, J&J adjusted its earnings guidance for full-year 2012 to $5.00 - $5.07 per share, down from $5.05 to $5.17.
Adjustments to this outlook could have a profound impact on the index futures and the underlying shares.
Last quarter, J&J initially moved lower in reaction to the reduced full-year outlook. Given the recent run-up in the shares, the Street would be less forgiving if J&J reigns in its outlook again.
Even in the wake of the recent run-up, J&J shares are yielding 3.58%, putting a potential floor in the shares.
Recent News
10/09: According to a post on StreetInsider.com, Goldman Sachs downgraded Johnson & Johnson from Neutral to Sell, based on limited upside at current levels. The firm reportedly believes that much of J&J's growth prospects are reflected in the current valuation and lacks significant pipeline opportunities. The firm also believes that management is spending less focus on returning money to shareholders.
08/14: According to a 13-F Filing, Berkshire Hathaway sold 64% of its stake in Johnson & Johnson.

Technical Review
Johnson & Johnson shares recently touched a 52-week high of $69.75 (as of 8/1/2012), but have since receded to the 50-Day SMA, just above $68.00, due in large part to a broader market retreat and downgrade from Goldman Sachs. From here, the next level of support is $67.00 - a level going back to late June, with downside risk to the 200-Day SMA near $65.00 if J&J were to issue a weak outlook for the remainder of the year. Conversely, resistance is at the aforementioned peak of $69.75. (Chart courtesy of StockCharts.com)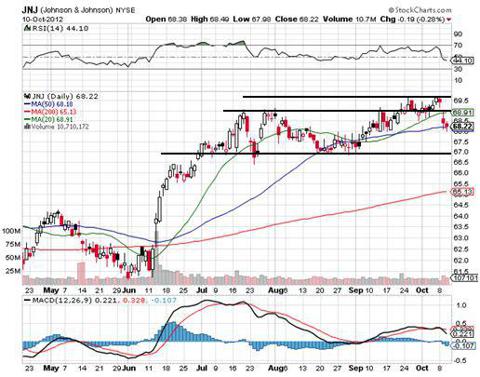 Summary
Johnson & Johnson shares are up more than 10% since mid-June and within 2% of a 52-week high leading up to its 3Q earnings release. An improved consumer spending backdrop in the U.S., a hefty 3.58% dividend payout, relatively cheap valuation, a recent slate of drug approvals, stabilization in Europe, and forex tailwinds are among the factors pushing J&J to its highest level in four years. However, a recent downgrade from Goldman Sachs and nearly 2% pullback over the previous three sessions suggests that J&J shares are vulnerable to even the slightest missteps. While J&J shares tend to move off the guidance figures, it's late enough in the quarter to suggest the company is more apt to stick with its previous outlook for earnings guidance for full-year 2012 of $5.00 - $5.07 per share. Therefore, the Street will focus more heavily on earnings and revenues. Given the run-up, flat to lower figures versus consensus could have negative consequences.
Disclosure: I have no positions in any stocks mentioned, and no plans to initiate any positions within the next 72 hours. I wrote this article myself, and it expresses my own opinions. I am not receiving compensation for it (other than from Seeking Alpha). I have no business relationship with any company whose stock is mentioned in this article.
Disclaimer: By using this report, you acknowledge that Selerity, Inc. is in no way liable for losses or gains arising out of commentary, analysis, and or data in this report. Your investment decisions and recommendations are made entirely at your discretion. Selerity does not own securities in companies that they write about, is not an investment adviser, and the content contained herein is not an endorsement to buy or sell any securities. No content published as part of this report constitutes a recommendation that any particular investment, security, portfolio of securities, transaction or investment strategy is suitable for any specific person.