Shares of The J. M. Smucker Co. (NYSE:SJM) were bolstered after a strong fiscal first-quarter performance, which included a dividend yield of 2.5% and improved sales guidance. With strong estimate revisions, the jam and jelly staple hit a new 52-week high of $87.81 on Oct. 4. Furthermore, this Zacks No. 2 Rank (Buy) is expected to grow 10.1% in fiscal 2013.
Strong First Quarter
On Aug. 17, Smucker reported fiscal first-quarter adjusted earnings of $1.17 per share, which surpassed last year's $1.12 by 4.5% and exceeded the Zacks Consensus Estimate of $1.00 by 17%.
Net sales in the quarter increased 15% year over year to $1.36 billion, primarily driven by volume gains on the back of product innovation and productivity initiatives. The company's acquisition of the North American foodservice coffee and hot beverage business of Sara Lee Corporation on Jan. 3, 2012, also contributed 7 percentage points to net sales growth. The revenue result was in line with the Zacks Consensus Estimate.
Smucker paid a dividend of 52 cents per share in the first quarter of fiscal 2013, reflecting an 8.0% increase from the payout in the year-ago quarter. The current dividend payment affirms a yield of 2.5%.
Smucker anticipates net sales for fiscal 2013 to increase 7% over the prior-year period, reflecting contribution from the Sara Lee business. Adjusted earnings are expected at the higher end of its $5.00 to $5.10 per share range.
Smucker is expected to report its fiscal second-quarter results on Nov. 16. The Zacks Consensus Estimate is pegged at $1.44 per share. The company has beaten the Zacks Consensus Estimate in eight of the past 10 quarters, delivering an average earnings surprise of 6.6% over that period.
Earnings Estimates Advance
Over the past 60 days, the Zacks Consensus Estimate for fiscal 2013 increased by 11 cents, or 2.2%, to $5.21, indicating year-over-year growth of 10.1%. The Zacks Consensus Estimate for fiscal 2014 advanced 6 cents, or 1.1%, to $5.66 over the same period, representing growth of 8.7%.
Reasonable Valuation
Smucker's valuation looks reasonable on a price-to-book (P/B) basis. Smucker currently trades at a P/B of 1.78 times, which is at a discount of 2.7% vs. its peer group average of 1.83 times. On a trailing 12 months basis, the stock is trading in line with the peer group average of 17.6 times.
Chart Echoing Consistent Rise
Shares of Smucker have been consistently rising since early August 2012, following solid quarterly results. Moreover, the stock is currently trading above its 200-day and 50-day moving averages, which stand at $78.26 and $83.44, respectively. Volume is strong, averaging roughly 654,000 daily.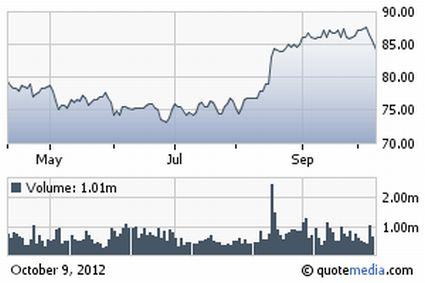 Given its strong brand portfolio along with acquisition benefits, rising earnings estimates, robust growth projections, and a healthy dividend yield, Smucker exhibits strong upside potential going forward. In addition, higher coffee prices -- which had crippled the margins of the company earlier -- are expected to stabilize in fiscal 2013. This will eventually improve volumes and thus lead to higher profits for the company.
The J. M. Smucker Co. is the leading marketer of jams, jellies, preserves, and other fruit spreads in the U.S. It is also the leader in dessert toppings, natural peanut butter, and health and natural foods juice products, and market a wide variety of other specialty products throughout the U.S. and in many foreign countries.