Introduction: 13Fs for the last quarter have been filed, so I am planning to do a series on the top 5 hedge funds in the US and what the filings show about their holdings in stocks and ETFs. As all investors know, details about the portfolios of successful hedge funds are some of the most important tools available to the astute investor. However, raw data is hardly of any use to anybody, so a little bit of analysis and consolidation is called for. Now, there are hundreds of ways to present a set of raw data. You are welcome to visit the original resources (provided below) and do your own analysis.
Bridgewater is the largest hedge fund in the world, with assets under management totaling 130 billion USD. It was started by Ray Dalio in 1975 from a small office in his Manhattan apartment. Bridgewater has seen immense success almost from its inception. Even during the 2008 economic slump and the depressing years after, it consistently outperformed the market by a large margin. According to its corporate brief, Bridgewater has won "24 industry awards in the past five years alone. In both 2010 and 2011, Bridgewater ranked as the largest and best-performing hedge fund manager in the world."
Ray Dalio, the long time CEO and currently the "mentor" of Bridgewater, is a macro investor. Along with his 1200 associates at their sprawling, tree-lined, Westport, CT campus (soon to move to Stamford), Ray Dalio keeps a close watch on macroeconomic trends and is an astute foreteller of where the world is about to go in the short term. He predicted the subprime mortgage crisis and the collapse of multiple world banks in 2007. The next year, when markets around the world were collapsing in the first bouts of the recession, his Pure Alpha Fund rose 9.5%; the fund has consistently outperformed the market in its 20 years of existence and has an annualized return of 18%.
With that background, lets take a look at Bridgewater's latest 13F filings with the SEC. As you probably know, 13Fs are reports filed by Institutional Investment Managers managing over $100 million. These are filed with the SEC within 45 days of the ending of the quarter, and have to detail, among other things, the fund's holdings in stocks and ETFs. Below is a list of the 50 stocks and ETFs in which Bridgewater has holdings of over $10 million.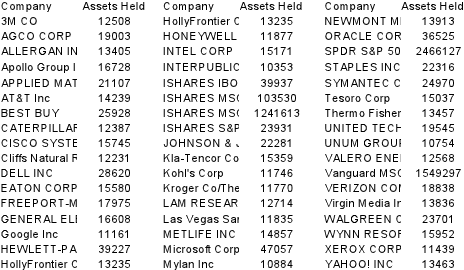 License: Please feel free to use as long as you provide a link to both seekingalpha.com and stockriters.com
It is interesting to see that Bridgewater has the greatest volume of investments in 4 ETFs: SPDR S&P 500 ETF Trust (NYSEARCA:SPY) (2466127), Vanguard MSCI Emerging Markets (NYSEARCA:VWO) (1549297), ISHARES MSCI Emerging MKT (NYSEARCA:EEM) (1241613) and ISHARES MSCI BRAZIL (NYSEARCA:EWZ) (103530). The numbers in brackets are in $1000 USDs. Of these 4, while one follows the S&P 500, the other three are all emerging market ETFs; one is an ETF focused on Brazil.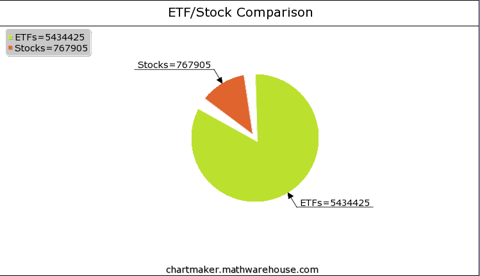 Among stocks, Bridgewater is most largely invested in Microsoft (NASDAQ:MSFT) (47057), Hewlett-Packard (NYSE:HPQ) (39227), Oracle (NYSE:ORCL)(36525) and Dell Inc. (DELL) (28620). All these are from the technology sector, it is interesting to note.
Below is a sector-wise distribution shown in a pie chart. Note that, one, for many companies, identifying sectors is almost a meaningless task, and two, this chart represents Bridgewater's Q3 2012 holdings of over 10 million USD in stocks. A chart made from all holdings, numbering over 300, might show a different scenario.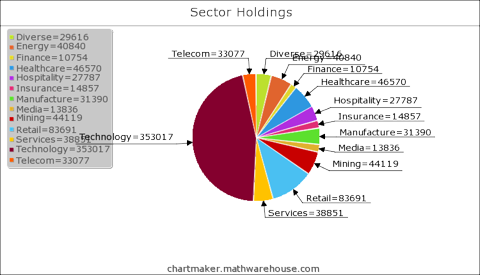 License: Please feel free to use as long as you provide a link to both seekingalpha.com and stockriters.com
As you can see, Bridgewater is overwhelmingly invested in the diversified technology sector, with good investments in retail and healthcare. One interesting point is Bridgewater's low investment position in the financial sector.
Disclosure: I have no positions in any stocks mentioned, and no plans to initiate any positions within the next 72 hours. I wrote this article myself, and it expresses my own opinions. I am not receiving compensation for it (other than from Seeking Alpha). I have no business relationship with any company whose stock is mentioned in this article.