FedEx Corporation (NYSE:FDX) is a name investors talk about in good times and bad because it's a name that performs in direct relationship to the economy. The company held an investor day this week, after which it captured our radar screen. While we try to focus on "quality" names, today we will talk about the fundamentals of FedEx, and compare the valuation of its stock to its closest competitor United Parcel Service (NYSE:UPS). Ultimately, we will answer the question "Is FedEx an investment opportunity?"
So lets start with valuation: FedEx is up 2.5% today behind positive comments made by management, and trades at $92.24 versus its 52-week range of $72.60-$97.19, at a P/E multiple of 14.3x, and a forward P/E of 12x. Historically, FedEx has traded at an average one year forward P/E of 13x-19x. It's closest competitor United Parcel Service is trading at $72.95 versus its 52-week range of $66.46 - $81.79, at a P/E multiple of 16x, and a forward P/E of 14x. Just given valuation, FedEx looks rich from here, but we want to look into the fundamentals to see if they are priced into the valuation of the stock.
So what will drive EPS growth from here? On its facility tour this week, management announced the Express operating improvement plan called "Project Renewal." This will include a $1.7 billion operating income improvement with $1.6 billion from Express. This is very good news as we see managements focus moving from just getting bigger to getting bigger, better, and more profitable. A lower cost structure will also provide a floor for the stock in a tough economic environment. Additionally, expect to see an improvement in margins in the long run. Currently, the company is targeting 10% plus margins at Express, and 20% plus at Ground.
As always, we do want to point out the risks related to our investment ideas. Going forward, we would watch how higher oil prices will impact the company's profitability. Also, any delay in their cost cutting plans or a sizeable and dilutive acquisition might have a negative impact on EPS growth.
Conclusion: Overall, FedEx has now become a name that has acquired a defensive approach to perform profitably in a weak economy. A dividend yield of 60 bps on the stock might not look attractive today, but the fundamentals might become a safe haven for those looking for a household name.
The chart below compares share performance of FedEx and United Parcel Service versus the S&P 500 over the past year.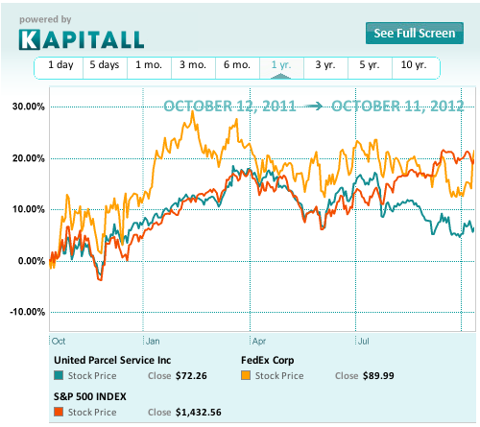 If FedEx interests you, take a look at more details on the shipping indices here.
Written by Kapitall's Sabina Bhatia. Tool provided by Kapitall.
Disclosure: I have no positions in any stocks mentioned, and no plans to initiate any positions within the next 72 hours. I wrote this article myself, and it expresses my own opinions. I am not receiving compensation for it (other than from Seeking Alpha). I have no business relationship with any company whose stock is mentioned in this article.