Properly executed covered calls will generate consistent portfolio income for almost any investor. These trades are fairly simple. The holder of a stock sells a call option against their shares, giving up the future right to further price gains above a certain strike price of the call. This option contract has a defined expiration date.
Why would a stock investor sell their right to future share appreciation? Investors must know when to hold and when to sell. Entering into this type of covered call trade gives some certainty that you are at least being compensated for holding onto a stock, but not being too greedy when the share price rises.
Simply put, the covered call gives investors an additional tool in their portfolio strategy. Investors in Riverbed Technology, Inc. (NASDAQ:RVBD) and Fusion-io, Inc. (NYSE:FIO) should consider an out-of-the-money covered call to increase portfolio income and profit from any potential price gains. Stock price volatility in each of these stocks has created opportunity to sell calls for a large time value premium.
Data by YCharts
For Riverbed Technology, Inc., a November 2012 expiration covered call with a $22 strike price could yield a potential profit of 10.6% over the next 37 days when holders of the stock sell the call option for a premium of $1.81. If the stock trades above $22, shares will automatically be sold at the expiration date. If shares trade below $22, the seller of the call gets to keep the $1.81 option premium for portfolio income of 8.9%. This portfolio income yield is over 86% when annualized. If shares fall to $19.89, the investor reaches a break-even point on the trade.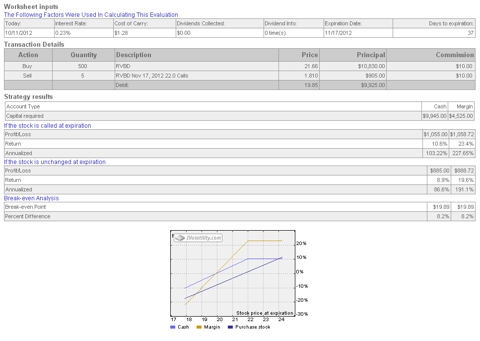 Fusion-io, Inc. investors may consider a covered call trade with a November 2012 expiration as well. By selling the $31 strike price call option against shares they hold, they will receive a premium of $2.50 for taking the position for 37 days. If shares are called, the profit will be 16.7%. If shares trade below $31.00, then the investor keeps portfolio income of about 8.9%. This portfolio income yield is also over 86% when annualized. The break-even price on the trade is around $27.68.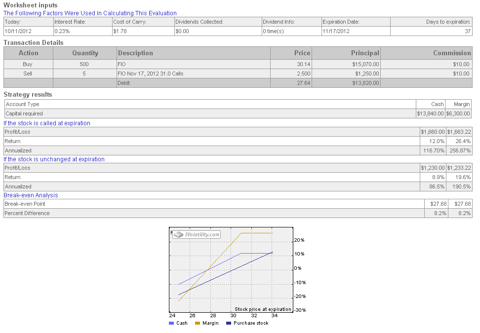 These trades should be considered as hypothetical examples and as part of a larger financial strategy. Exercise your own due diligence surrounding the underlying stocks, and do not enter into any options trade without understanding the complexities of the transaction. The calculations provided above are generated through an online calculator provided by the Options Industry Council.
Disclosure: I have no positions in any stocks mentioned, and no plans to initiate any positions within the next 72 hours. I wrote this article myself, and it expresses my own opinions. I am not receiving compensation for it (other than from Seeking Alpha). I have no business relationship with any company whose stock is mentioned in this article.