Earnings momentum for Encore Capital Group, Inc. (NASDAQ:ECPG) has been advancing since this debt service provider posted robust second quarter results in early August. Now, this Zacks #2 Rank (Buy) is scheduled to announce third-quarter results at the end of the month, having beaten earnings expectations in three out of the last four quarters. In addition, ECPG hit its 52-week high on September 18 and has a P/B ratio of just 1.7, making it an attractive value pick.
Earnings Recap
Encore Capital is expected to release third quarter earnings on October 29. The Zacks Consensus Estimates are for 79 cents per share on revenue of $144.0 million.
On August 2, Encore Capital Group announced second-quarter earnings per share of 82 cents, beating the Zacks Consensus Estimate of 71 cents by 15.5% and last year's earnings of 58 cents by 41.4%. Results improved mainly due to a boost in the top line, partially offset by higher operating expenses.
Total revenue surged 27% year-over-year to $141.1 million. Nevertheless, total operating expenses on an adjusted basis rose 19% to $95.0 million on the back of higher salaries and employee benefits expense. Furthermore, EBITDA on an adjusted basis increased 28% from the prior-year quarter to $147.9 million.
As of June 30, 2012, Encore Capital Group's total assets were $1.2 billion and cash and cash equivalents stood at $15.0 million.
Earnings Momentum Advances
Over the last 60 days, the Zacks Consensus Estimate for 2012 improved 3.3% to $3.13 per share, implying year-over-year growth of 32.2%. For 2013, the Zacks Consensus Estimate rose 1.1% to $3.64 over the same time frame, representing year-over-year growth of 16.3%.
Reasonable Valuation
Along with a low P/B ratio, Encore Capital Group has a forward P/E multiple as low as 8.7 (a P/E ratio under 15.0 and a P/B ratio below 3.0 generally indicate value). The company has a trailing 12-month ROE of 18.8%, in line with the peer group average.
Moreover, given the long-term growth projection of 15.5%, the PEG ratio comes in at 0.58, a 42.0% discount to the benchmark of 1 for a fairly priced stock. Thus, the expected long-term earnings growth is currently priced at a discount.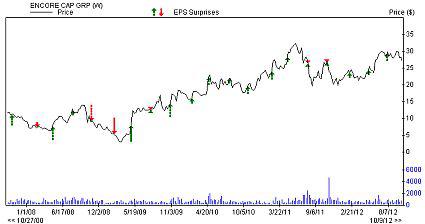 Based in San Diego, California, Encore Capital is the provider of debt management and recovery solutions to consumers and property owners across a broad range of assets through its subsidiaries. The company purchases portfolios of defaulted customers' receivables at steep discounts and uses a wide range of operational channels to maximize the collections from the portfolios. With a market capitalization of roughly $692.6 million, Encore Capital competes with Credit Acceptance Corp. (NASDAQ:CACC) and Regional Management Corp. (NYSE:RM), among others.