Birds of a feather flock together. We have all heard this cliché before, but it has never rung more true than with the relationship between Mellanox Technologies (NASDAQ:MLNX), arguably one of the hottest companies traded on Nasdaq over the past 18 months as it went from $6 to $120 per share, or in market capitalization terms from $150 million to $4.1 billion, and MoSys Inc. (NASDAQ:MOSY) a $150 million market cap company that trades at Mellanox's 2010 valuation.
Description:
MOSY has spent the last five years entrenched in finding a solution to the relationship between the processor and the DRAM memory on a motherboard. The problem we have is that the processor doubles in speed every 18 months (Moore's Law), think Pentium 1, 2, 3 etc., while the DRAM memory doubles in speed every 10 years (approximately). The DRAM can't handle all the data being sent to it from the processor. This creates a bottleneck in a network, computing architecture and has been a brain drain for thousands of engineers over the past decade. We believe customers of MOSY could be Juniper Networks (NYSE:JNPR), Cisco Systems (NASDAQ:CSCO), Hitachi, NEC, OKI and Panasonic on large carrier grade switches.
Yesterday, MOSY released its second bandwidth engine chip optimized for 400G networking applications which should bring the total available market (TAM) to $1.4 billion. However, I believe that this technology can be driven down the food chain to your PC and smart phone in the years to come. In other words imagine this chip being in 1.5 billion smart phones, PCs, switches, tablets, routers, etc…The growth could potentially be as great as we saw in Mellanox. This second-generation chip should open more design and customer wins in the months ahead. We believe that MOSY, like Mellanox, has a high barrier to entry product protected by numerous patents, which should lead to excitement by investors once the first customer is announced.
In my last article on MOSY, I profiled CEO, Len Perham and his impressive track record. As a refresher, he founded Integrated Device Technology (NYSE:IDT) in 1992 and he took its shares from $3 to $100 before leaving in 2000 to become CEO of NetLogic one of the four companies he spun off while at IDT. Those four spin-offs were Quantum Effective Devices (acquired by PMC Sierra (NASDAQ:PMCS) for $2.3 billion), Galileo Technology (acquired by Marvel Technologies (NASDAQ:MRVL) for $2.7 billion), NetLogic (acquired by Broadcom (BRCM) for $3.7 billion), and MoSys Inc, where Len Perham became CEO after selling NetLogic where he had been Chairman.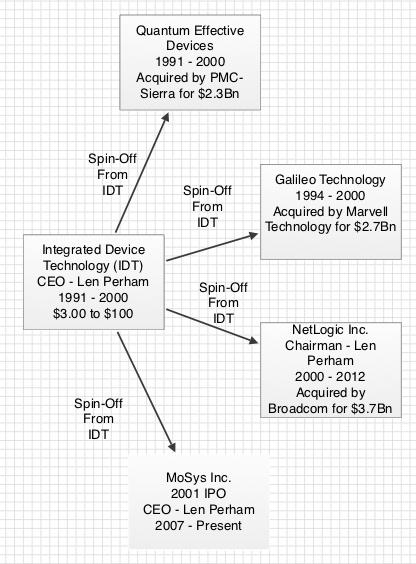 After additional research, I have discovered an interesting relationship between the executives at Mellanox, and MOSY. I believe that if there's any merit to the birds of a feather cliché, then MOSY could be months away from a big price surge once it makes its much anticipated customer win(s) announcement by year end or early 2013. Here's what I uncovered.
Len Perham, CEO of MOSY, was a co-founder of Galileo Technology; another co-founder was Eyal Waldman, who is now Chairman, CEO and founder of Mellanox. Tom Riordan was the CEO of Quantum Effective Devices. He is now a board member of Mellanox, and also the COO of MOSY. Finally, John Monson the VP of marketing for MOSY, was until seven months ago the VP of marketing at Mellanox, overseeing its strongest two years of sales growth. With regards to the hiring of Monson, I would have to believe that MOSY got a green light to hire inside Mellanox due to the close ties of the executives. You cannot rule out that Mellanox sent Monson to MOSY in order to jump start its customer wins and pave the way for Mellanox to buy MOSY in the future. There is an indirect layer of correlation between both companies' technologies and a definite layer of correlation between executives. I also see it as a nod to the potential success we could see at MOSY in that it could rival the growth we saw at Mellanox.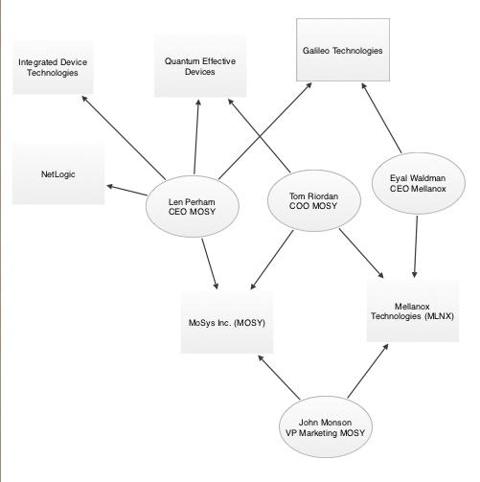 What we have here are four well-heeled executives at two high tech companies Mellanox and MOSY that truly understand their markets. While not competing directly against one another they are active in similar markets and deal with the same customer base. I'm sure that MOSY will be following a similar strategy to success as Mellanox once it gets a few wins under its belt. I believe that if you owned Mellanox at the early stages, or wished that you did, then at least on the surface you should look into buying MOSY at sub $160 million market cap.
Next up for MOSY is its earning call on October 19th, strong positive language from Len could bring in fresh buyers as they act based on Len's reputation to deliver. Even if Len does not announce a customer win on the conference call, he could give insight into new design wins, new activity around the globe and also give an idea of how receptive the market is to its two new bandwidth engine chips. In addition, VP of marketing, John Monson who also has a proven track record was hired seven months ago and will be working on a six to nine-month sales cycle so we should be seeing results on this front soon.
I'm sure I'm not the only one following this company closely as Len Perham has a track record of making shareholders money, as such, investors who owned shares in Integrated Device Technology, NetLogic, Quantum Effective Devices and Galileo Technologies will be watching MOSY closely. MOSY also has the attention of many institutions as they await Len finally announcing a customer(s) win which would rocket the shares to $6 - $8 per share in the weeks post a customer win.
Fundamentals:
Shares Outstanding: 40 million
Cash: $50 million
Institutional Ownership: 47%
Revenue Estimate 2012: $7 million
Revenue Estimate 2013: $27 million
Analyst Coverage: Benchmark Capital - Buy Rating
Chart: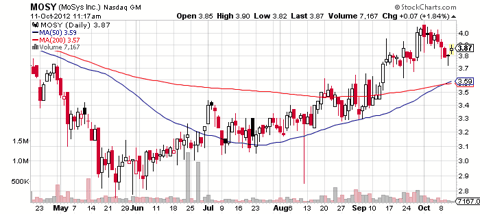 Looking at MOSY's daily chart, we can see that it put in a bottom in late May and early June at $2.80 (Len Perham purchased 143,640 shares in May). Since then the stock has traded in an upwards moving channel. In the last week it has pulled back on very light volume and found support yesterday at $3.80 with a hammer. We also witnessed a Golden Cross yesterday as the 50 day moving average crossed above the 200 day moving average, this is a very bullish technical buy signal and sets up the next move higher. I believe that this pullback is a great opportunity to pick up MOSY. I see it continuing to trade higher in a channel to $7 - $8. Obviously an announcement of customer wins could cause it to break out of its channel and move higher at a faster and steeper rate.
A large number of MOSY's shares are in tight hands which bodes well to new and existing holders that take a stake here. Ingalls & Snyder owns 4.8 million shares (~10%), additionally, Ingalls & Snyder's portfolio manager recently acquired 2 million shares (~5%), the ex chairman owns 4.3 million shares (~10%), Len Perham owns approximately 3 million shares, I would guess that employees own about 2 million shares and I'm sure that close friends and family members own another 2 million shares. Who wouldn't be buying Len's company after knowing his track record?
CHART: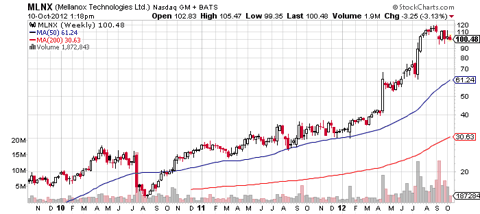 Looking at Mellanox's weekly chart we can see how impressive the stock move was from 2010 to 2012. The question for Mellanox investors now is whether to buy MOSY knowing that they have a similar technology, a similar customer base and executives that come from the same feather and hope for a similar type move in MOSY's stock. On Monday October 19th both Mellanox and MOSY have scheduled conference calls at 8:30am. Coincidence, or maybe birds of a feather really do flock together?
Disclosure: I am long MOSY. I wrote this article myself, and it expresses my own opinions. I am not receiving compensation for it. I have no business relationship with any company whose stock is mentioned in this article.