Gold mining ETFs are being beat up more than physical gold ETFs in October yet bounces in their prices show promise for alpha seekers. The largest of all gold stock ETFs, the Market Vectors Gold Miners ETF (NYSEARCA:GDX), has lost close to 2.7% eight trading days into the month of October. Meanwhile physical gold ETF, the SPDR Gold Trust (NYSEARCA:GLD), has lost about 1%.
Despite under-performing GLD, GDX experienced a significant bounce upward earlier in the month that delivered considerable alpha versus GLD. More importantly GDX now appears poised for another alpha opportunity. GDX's behavior is highlighted in the annotated chart below from the NASDAQ.com interactive chart center.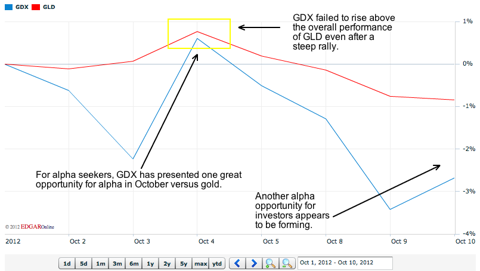 BEST BET: GDXJ
A more attractive dynamic is at work for the second largest gold stock ETF, the Market Vectors Junior Gold Miners ETF (NYSEARCA:GDXJ). While GDX is focused on large cap gold mining companies across the world, GDXJ takes the opposite approach from a market cap perspective. It primarily owns small cap gold mining companies which tend to be more volatile. This focus sets GDXJ apart in investment objective and performance from all other gold stock ETFs.
Accordingly it is common to see greater swings in the performance of GDXJ relative to GLD. What is surprising however is that GDXJ has lost around 2.75% for the year, about the same as GDX. Adding to this surprise is that GDXJ provided much greater upside than GDX. Indeed the increased volatility of GDXJ has actually led to a brief period of absolute out-performance versus GLD. Here's the chart which appears to show GDXJ setting up for another round of alpha.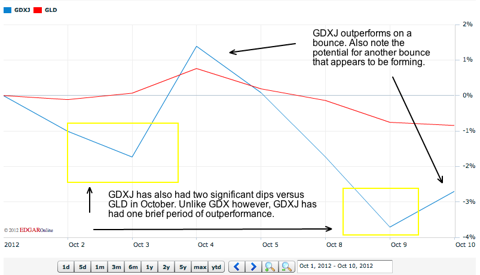 GOLD MINING ETFS ACCELERATE RALLY
In mid day trading on Thursday, both stock ETFs are surging past GLD. The rally that began the previous day shown in the charts above is accelerating. Here's a Google Finance chart comparing the three ETFs.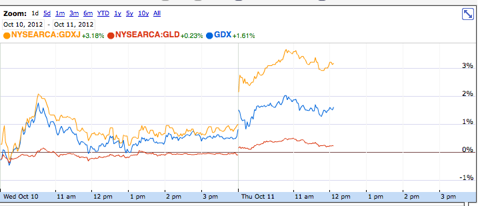 While October has historically been one of the worst months for gold prices, it will be interesting to see whether the volatility of gold mining ETFs will occur in a pattern allowing them to outperform physical gold ETFs. Regardless, more opportunities for short term alpha should develop through the gold mining ETFs we examined.
Disclosure: I have no positions in any stocks mentioned, and no plans to initiate any positions within the next 72 hours. I wrote this article myself, and it expresses my own opinions. I am not receiving compensation for it. I have no business relationship with any company whose stock is mentioned in this article.
Additional disclosure: Christian Magoon publishes gold ETF and market website GoldETFs.biz.