EBITDA (Earnings before Interest, Taxes, Depreciation & Amortization) is a very popular, but also controversial measure of operating performance in the bulk shipping industry. It is popular because many investors base their investment decisions on EBITDA figures. In fact, most shipping companies report EBITDA in their earnings report. It is also controversial, because it is not recognized by US GAAP and lacks a universal definition. In this article I will look closely at EBITDA, its advantages and drawbacks, and how to properly use it when considering an investment in shipping. I will use as sample four publicly traded shipping companies, namely Diana Shipping Inc. (DSX), Eagle Bulk Shipping Inc. (EGLE), Genco Shipping & Trading Limited (GNK), and Safe Bulkers Inc. (SB).
EBITDA is a pro-forma accounting figure that measures the operating efficiency of a company, taking into consideration vessel operating expenses and administrative overhead. It also measures a company's capacity to service its debt obligations, and is frequently used in loan covenants. EBITDA is an indirect method of calculating a company's operating margin. In that regard, it is similar to the indirect method of calculating the operating cash flow.
One of the greatest advantages of EBITDA is that it is readily available, almost as ubiquitous as net income or earnings per share. Even when it is not reported (a notable exception in our sample is Diana Shipping Inc.), an investor/analyst could easily calculate it based on the company's income statement.
But that is when problems begin. As I mentioned above, EBITDA is not recognized by US GAAP & lacks a universal definition. One company's calculation methodology may be different than another's. To make matters worse, two companies in our sample (Eagle Bulk Shipping Inc. and Safe Bulkers Inc.) report a second set of adjusted EBITDA figures, with different adjustments each.
In addition to a lack of uniform definition, EBITDA comparisons may be distorted by company-specific revenue items (for example income from investments in subsidiaries), non-recurring items (for example capital gains/losses from asset disposals), and by non-cash credits or charges (for example stock compensation expense).
Another major problem with EBITDA, but at least easy to fix, is that it calculates the operating margin at the company level and not at the unit level. I believe ownership days should represent the unit level in the shipping industry. During the go-go days from 2005 to 2010, many shipping companies grew their fleet sizes substantially. During the same period, they were able to report ever-growing EBITDA figures, despite deteriorating revenue and operating margins at the unit/ownership day level. Calculating EBITDA per ownership day is akin to reporting sales per store in the retail industry, and allows for a better comparison during periods of fast growth.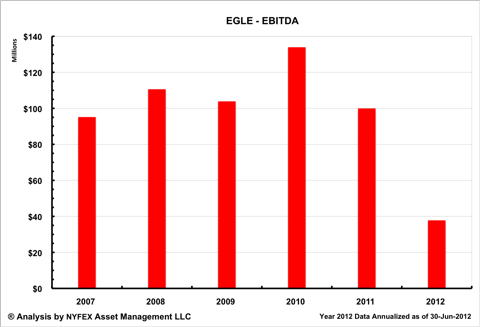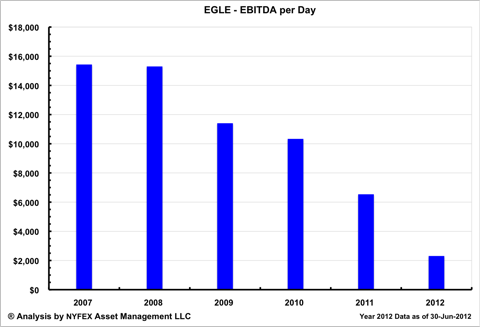 Last but not least, EBITDA figures are supposed to be big fat positive numbers. They better be because shipping is a capital-intensive industry, with capital coming from debt and/or equity sources. Companies may like to boast of how much cash they generate (in the form of big EBITDA numbers), but the truth is most of that cash has to go toward debt repayment and/or capital expenditures, and not in the pockets of shareholders. The larger the enterprise value of a company (measured in fair market value terms), the larger the EBITDA has to be.
For the shipping companies I cover as an equity analyst, I prefer to measure the operating margin using a direct method, taking into account TCE revenue, vessel operating costs, dry-dock expenses, and G&A costs, and excluding all non-cash items. But I would still consider using EBITDA per ownership day as a primary tool, when I want to conduct a thorough but quick inquiry at the universe of shipping stocks. EBITDA per ownership day is easy to calculate, because most shipping companies report EBITDA & the number of ownership days in their earnings reports.
Despite its shortcomings mentioned above, I have found that the correlation between EBITDA and operating margin (calculated using a direct method) is quite satisfactory, especially in the absence of big one-time items.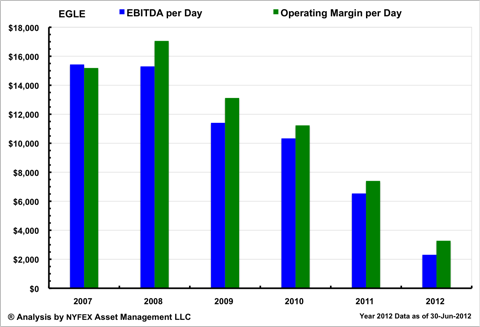 In the table below I summarize the historical EBITDA per day figures for the four companies in our sample.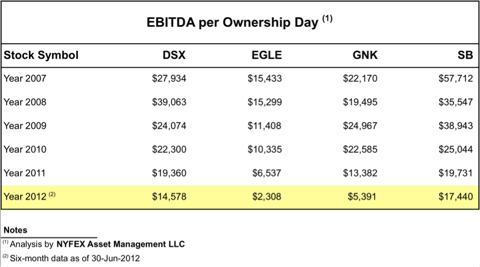 I notice the rapid deterioration of operating efficiency for EGLE and GNK, as a result of increasing spot exposure during very challenging market conditions. I also notice that DSX and SB have continued to report healthy operating margins, relying on profitable legacy charters. Of course savvy investors would want to project what future operating margins would look like for DSX & SB, once their legacy charters start rolling over.
In summary, I believe that EBITDA per ownership day represents a useful analytical tool for a primary inquiry among publicly traded shipping companies.
Disclosure: I am long DSX, SB. I wrote this article myself, and it expresses my own opinions. I am not receiving compensation for it (other than from Seeking Alpha). I have no business relationship with any company whose stock is mentioned in this article.