On Tuesday, August 19 before the market open, Saks Inc. (NYSE:SKS) reported a loss of $31.7 million or $0.23 per share, compared to a loss of $24.6 million or $0.17 per share a year ago (see conference call transcript). Revenue fell 3.5% to $669.2 million from $694.1 million a year ago. Analysts expected a loss of $0.18-$0.19 per share, missing estimates by $0.04-$0.05 per share. Shares gapped down, hitting a low of $9.20 and ended down $0.93 or -8.3% to $10.29. 
Sales declined in all regions of operations and product categories, women's apparel experiencing significant weakness. Shoes, jewelry, accessories, and men's apparel did better compared to all categories. As a result, the rising inventory will, without a doubt, hurt profit margins for the rest of the year. SKS remains in a very vulnerable position, sitting the middle of a multiple crossfire that includes a severe weakening of the economy, declining consumer spending, increasing preference to online shopping, and other risks that will affect SKS's earnings for the current and following quarter.  
Currently, 10 analysts publish recommendations on SKS. To date, there are 2 "Buy" ratings, 7 "Hold" ratings, and 1 "Sell" rating. New recommendations should be available in the near future that may move SKS in the short-term. 
In the last 6 months, there have been 5 insider purchases totaling 1.299 million shares and 0 sales. There is a slight +0.2% net change for institutional purchases/sales. The short interest has risen dramatically since April. In July, 20.2% of shares outstanding (29 million shares) were short. In June, short interest was at 18.6%. In May, 17.01% were short and in April, 15.64% (22.46 million shares).   
SKS expects fiscal 2008 operating margins to decline from last year as well as same-store sales to either remain unchanged or down in the single digits. Sales for the second half of the year is expected to decline further as even wealthier consumers continue to significantly cut spending on luxury retail. SKS is not alone, high-end retailer Nordstrom (NYSE:JWN) cut their entire full-year outlook just last week. Expect weaker numbers from other retailers to follow suit.  
Technically, SKS broke down, cutting through the 50-day MA, and has broken support at the bottom of an ascending triangle. I expect SKS to trade in a neutral range or continue to trend down in the short-term.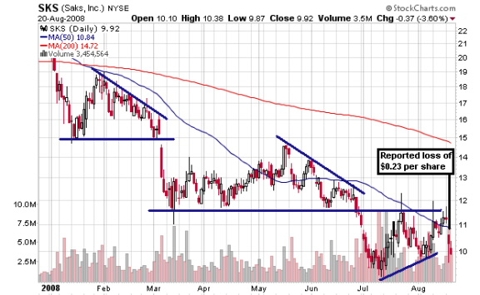 Disclosure: none