A recent study released by IHS iSuppli (IHS) revealed an annual decline in PC sales for the first time in the last decade. Gartner also reported a decline of 8.3%, whereas IDC reported an 8.6% decline in Q3 2012, as compared to the same quarter last year.
The growth in tablets and smartphones has been a cause for concern for Microsoft (NASDAQ:MSFT) and its OEMs. Everyone knew that a day would come when the PC industry would hit its maturity, but no one imagined it would happen so soon. Apple (NASDAQ:AAPL)'s iPad and iPhone have started a revolution, which is threatening some major technology powerhouses.
HIS iSuppli
According to iSuppli's numbers, approximately 349 million PCs will be shipped this year, which is a 1% decline over last year's 353 million shipments.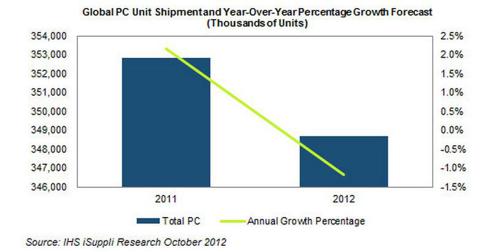 According to the research firm, PC sales will decline by a total of 1.2%, which is the biggest decline since 2001. Stakeholders had been optimistic about 2012 as a revival year for PCs, with companies bringing new and innovative hybrid products. There was a lot of media hype surrounding Ultra Books, but all the innovations have thus far failed to deliver in terms of solid sales figures. The first three quarters are predicting a gloomy outlook for the current quarter. We believe the primary factor behind the slowdown in PC sales is the low capability of the Windows 7 on touch-based devices. We are bullish about the launch of Windows 8 and believe that the last quarter will be a better quarter for PCs, and will offset the low shipments in the first three quarters.
Gartner
According to Gartner, third quarter sales were 87.5 million, showing a YoY decline of 8.3%. Gartner says a primary reason behind the YoY slowdown was vendor focus on Windows 8, and consumers holding off for the big upgrade later this month. Gartner surprised the industry by stating that Chinese manufacturer Lenovo (OTCPK:LNVGF) had surpassed HP (NYSE:HPQ) as the leader in PC shipments. Gartner reported that HP shipments declined by 16.4% in 3Q2012, as compared to 3Q2011. HP had a market share of 17% in 2011, which Gartner's figures show to have declined to 15.5%. Lenovo is the only manufacturer that is showing sales growth of 9.8% in 3Q2012. The Chinese manufacturer has increased its global market share to 15.7% from 13.1%. Gartner credits Lenovo's rise to the number one spot to its aggressive pricing in the professional segment. We believe this also has to do with the fact that its largest market, China, is still showing growth in a slow global economy. The market share of Dell (DELL) also decreased from 11.2% to 10.5%; showing a 13.7% decline in sales.
Preliminary Worldwide PC Vendor Unit Shipment Estimates for 3Q12 (Units)

3Q12 Shipments

3Q12 Market Share (%)

3Q11 Shipments

3Q11 Market Share (%)

3Q12-3Q11 Growth (%)

Company

Lenovo

13,767,976

15.7

12,536,756

13.1

9.8

HP

13,550,761

15.5

16,217,987

17

-16.4

Dell


9,216,638

10.5

10,676,513

11.2

-13.7

Acer Group

8,633,267

9.9

9,616,572

10.1

-10.2

ASUS

6,380,690

7.3

5,708,807

6

11.8

Others

35,954,748

41.1

40,683,666

42.6

-11.6

Total

87,504,080

100

95,440,301

100

-8.3

Note: Data includes desk-based PCs and mobile PCs, including mini-notebooks but
IDC
The information released by IDC is a lot different from Gartner's. IDC reports third quarter HP shipment figures of 13,946,000, as compared to 13,550,761 reported by Gartner; showing a difference of 2.92%. The shipment figures for Lenovo are also higher than those released by Gartner. IDC keep HP on the number one spot with a market share of 15.9%. Overall figures for the sector are more negative, as IDC shows a PC decline of 8.6% as compared to 8.3% by Gartner.
Top 5 Vendors, Worldwide PC Shipments, Third Quarter 2012 (Preliminary) (unit shipments in thousands)

Vendor

3Q12

3Q12 Market

3Q11

3Q11 Market

3Q12/3Q11

Shipments

Share

Shipments

Share

Growth

1. HP

13,946

15.90%

16,679

17.40%

-16.40%

2. Lenovo

13,824

15.70%

12,543

13.10%

10.20%

3. Dell

9,499

10.80%

11,039

11.50%

-14.00%

4. Acer Group

8,414

9.60%

9,307

9.70%

-9.60%

5. ASUS

6,381

7.30%

5,798

6.00%

10.00%

Others

35,732

40.70%

40,714

42.40%

-12.20%

All Vendors

87,795

100.00%

96,080

100.00%

-8.60%

Source: IDC Worldwide Quarterly PC Tracker, October 10, 2012
Conclusion
In a statement, HP has stated that the IDC numbers are much closer to reality, while the Gartner figures are incorrect. We believe it is still too soon to say that PC growth is dead. However, it can be said without a doubt that the future of PCs is tied to Windows 8. We are optimistic about a successful Windows 8 launch and believe that the fourth quarter will improve the annual PC outlook, as pent up demand will materialize after the Windows 8 is launched.
Disclosure: I have no positions in any stocks mentioned, and no plans to initiate any positions within the next 72 hours.
Business relationship disclosure: The article has been written by Qineqt's Technology Analyst. Qineqt is not receiving compensation for it (other than from Seeking Alpha). Qineqt has no business relationship with any company whose stock is mentioned in this article.