One Man's Trash Is Another Man's ETF Treasure
Crowded landfills, global warming and skyrocketing commodities prices have led to a growing interest in waste management that could benefit related ETFs.
Waste management includes trash collection, separation, disposal and recycling, the latter of which has already gained more momentum as rising prices in raw materials has made the recycling much more profitable. Stricter disposal and recycling regulations caused by limited landfill space, especially in Europe, have increased the cost of waste management, reports Thao Hua for Investment News.
Waste energy and recycling are already big winners, and there is more profit to be made as we recognize the convergence of energy, resources and the environment. For instance, China Methane Recovery Fund has around $6 million in assets and invests in projects such as the capture of methane gas from coal mining, then using it to generate electricity and earn carbon credits.
In the future, composting, recycling, and landfill management will not be niche areas, but instead become necessary and profitable investment needs.
Market Vectors Environmental Services ETF (NYSEARCA:EVX), up 1% year-to-date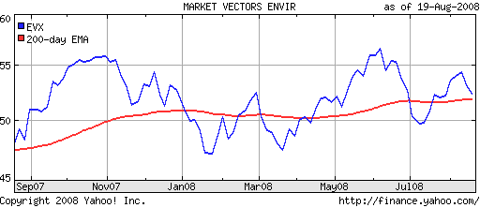 Maritime Industry Growth to Ship Out New Indexes, ETFs
One ETF provider is setting its sights on a brand-new benchmark, the Delta Global Shipping Index [DGAGSI].
This index has been licensed to Claymore Advisors, which plans on launching a corresponding global shipping ETF. The index launched last week and is made up of 30 maritime shipping stocks, reports Index Universe. The components are considered for inclusion if they're generating 80% of their revenues from the operating and/or leasing of seaborne ships that transport dry bulk, tanker, container, specialty chemical or liquid natural gas goods.
Eligible companies must also be listed on a major stock exchange.
Chip Hanlon, CEO of Delta Global Indices, told us the shipping sector gives people direct exposure to global economic growth. "Two-thirds of the world's goods are moved by sea."
The index contains three types of ships: tankers, which transport things like crude oil; dry bulk carriers, which move steel, grains and other raw materials; and container ships, which move 20-foot boxes of finished goods.
The index was first published last month, Hanlon says, but has a full five years of backtested data. Based on the data, ending July 31, $10,000 would have grown to $49,000 vs. the MSCI World Index, which would have grown to $17k.
However, the index can be sensitive. "It's a group of companies very sensitive to global economic growth trends," says Hanlon. "When the market is concerned about a recession, it can be volatile on the downside."
But on the upside, in a benign environment, the stocks can be good in total returns when the dividends are included.
The story behind the index is that single-hull oil tankers are scheduled to be completely phased out by 2010. A new, strong supply of ships will come into the market and keep tanker rates relatively well-balanced.
There is a shortage in dry, bulk vessels that carry iron ore and other commodities, however, that may lead to higher shipping rates within the industry. Backlogged demand for increased shipping capacity should keep charterers the upper hand when it comes to setting the rates.
Higher fuel prices has more people than ever looking for ways to transport goods, and it has led to a renaissance of sorts within the railroad industry.
Exporting goods has been keeping America afloat economically. If Claymore can get an ETF wrapped around this index quickly, it's fair to suspect that such a fund would be one of those few industry groups that has been bucking the market trends, such as the iShares Transportation ETF (BATS:IYT). IYT is up 10.1% year-to-date.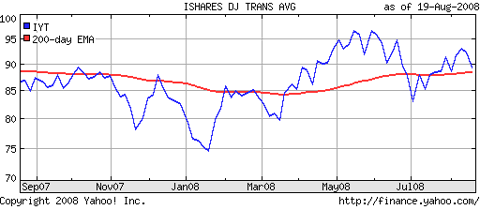 For full disclosure, some of Tom Lydon's clients own shares of IYT.