Market Recap
The market started out very strong on the back of some strong economic data and better European market movement. Jobless claims were better than expected, coming in at 340K. Expectations were for jobless claims to come in at 370K, and the dip in jobless claims was very positive for the market. Yet, the market slowed its gain in the morning and ended up in the red as the market sold off again for the fifth day in the red. The market saw gains dry up as the market took its chance to take some profits as the market continues to roll over. European markets were up, yet Spain's downgrade from the S&P ended up weighing on the market. The market's inability to hold the gain was a definite negative for the market.
Here are some stocks we like moving into next week and beyond:
Stocks To Trade
Today, we are looking at an earnings trade in Ford (NYSE:F), longs in Coeur d'Alene Mines (NYSE:CDE) and Michael Kors (NYSE:KORS), and shorts in Polo Ralph Lauren (NYSE:RL) and Teva (NYSE:TEVA).
For an earnings trade, we are looking at Ford today. We have the company buy-rated with a price target of $14, and we like the company headed into its earnings report. While the company is expected to see minimal growth YoY, the company has very strong value right now and we believe a lack of decline will create a lot of strength for Ford. The company's PE ratio is below 3 and future PE is right below 6 for us. Those are great values. The market has started to realize that as Ford has been increasing in value over the past couple months. We believe that while this coming quarter will still show weakness in Europe and flat growth YoY, those concerns have been priced into the stock at this point. We can use an options spread as well to trade off this premise that doesn't require a ton of upside, but states rather that F has found a bottom.
Trade: F, Nov17, $10 Puts, Sold
Max Gain: 50%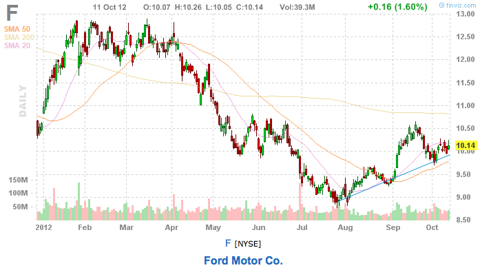 For longs, we like the looks of CDE and KORS. Right now, CDE is looking like it could be close to a breakout. The company has a lot of resistance at the $30 level, and if it breaks that level it will be able to make a fairly solid move to the upside. The company has been moving up as of late but is nearing a very strong resistance level at $30. The company has been benefiting from strength in silver prices as well as hoards rising. Silver is becoming very attractive with QE3, ECB bond buying, potential European bailout, and China easing as well. Commodities have a great floor under them, and CDE's own fundamentals as a company are not as important as the underlying silver fundamentals, which remain strong. A break of $30 could see a huge technical breakout.
Another company we are bullish on is Michael Kors. After a great quarterly report for Q2, the company is expected to have another strong report in Q3. The company has been getting a lot of support from analysts, and we believe it will continue to outperform the market moving forward. The company is one of the few companies offering strong growth in the marketplace and traders/investors will be willing to pay a strong premium for that. The company's latest update was very positive, and the stock will only benefit from more company awareness. We can use the company's last earnings breakout level of $48 for options.
Stock Trade: Long, CDE
Breakout Point: 30.00
Options Trade: KORS, Nov17, 48/46 Bull Put Spread
Max Gain: 33%
For shorts, we like the looks of Polo Ralph Lauren and Teva Pharmaceuticals. Right now, RL is looking close to a breakdown as the stock has a collapsing wedge channel around that could press the stock up a lot or down a lot as the stock has been consolidating between 150-160. The company has earnings around the corner at the beginning of November and expectations are for a reduced EPS. What we are seeing in RL is that it's getting sold off with the general market and expected margin declines are hurting the stock. The company broke out from 140 on its last earnings, and it could give up some gains into the next report if the market starts to turn here. The company is barely holding its 50-day and 200-day MA, and a break of those two would be a place to short. TEVA is also looking weak right now. The stock recently broke out of a key price channel and has limited catalysts for upside. The FDA recently rejected approval of a Budeprion XL drug that TEVA was marketing, and the company is expecting flat growth in earnings that will not bring about much catalyst. The 200-day MA is sitting as resistance for the stock at just above 41. We like using that level for a bear call spread.
Stock Trade: RL, Short
Breakout point: Failure of 200-day MA and 50-day MA
Options Trade: TEVA, Nov17, 42.50/45 Bear Call Spread
Max Gain: 6%
Tomorrow's Outlook:
The market has been WEAK. Five days in a row down for the Dow Jones has brought some stocks back down to better levels heading into the election and earnings season. So, we may start to see the market ending its downside right now as it heads into earnings season. We believe the market has properly priced in downside, and earnings so far have actually been better than expected. Further, a European bailout is just around the corner for the market, and we believe that will allow the market to rally. Earnings from JPMorgan Chase (NYSE:JPM) and Wells Fargo (NYSE:WFC) tomorrow morning are the most important headlines for the day, and if positive, could really take the market up from here.
Our Moves/Holdings:
We had a solid day in the market as we were able to lock in some gains on our long in Aetna (NYSE:AET) we added for a small 1% gain. We also filled on a SPDR S&P (NYSEARCA:SPY) bear call spread for an 11% gain. We also closed out an Amazon (NASDAQ:AMZN) bull put spread for a 3% gain, and closed out our Biogen Idec (NASDAQ:BIIB) short for neutral. We added a long in AET that was closed intraday. We added a long in Host Hotels (NYSE:HST) as well to our Goldman Trades. Finally, we added a long KORS, short RL pair trade with KORS option spread.
We have the following positions:
In our Short-Term Equity Portfolio we are short Omnicom (NYSE:OMC).
In our Options Portfolio, we are long Discover (NYSE:DFS), Intuit (NASDAQ:INTU), Williams-Sonoma (NYSE:WSM), Wal-Mart (NYSE:WMT), and Exxon Mobil (NYSE:XOM).
In our Earnings Alpha Portfolio, we are long Michael Kors , Starbucks (NASDAQ:SBUX), Disney (NYSE:DIS) Travelers (NYSE:TRV), Alexion (NASDAQ:ALXN), Costco (NASDAQ:COST), Polaris (NYSE:PII), Crocs (NASDAQ:CROX), Continental Resources (NYSE:CLR). We are short Polo Ralph Lauren.
In our Goldman Sachs Up/Down Paper Portfolio, we are long Host Hotels, MeadWestVaco (MWV), Travelers, and Netsuite (NYSE:N). We are short Johnson & Johnson (NYSE:JNJ).
Chart courtesy of finviz.com.
Disclosure: I have no positions in any stocks mentioned, and no plans to initiate any positions within the next 72 hours.
Business relationship disclosure: The Oxen Group is a team of analysts. This article was written by David Ristau, one of our writers. We did not receive compensation for this article (other than from Seeking Alpha), and we have no business relationship with any company whose stock is mentioned in this article.