By Sabina Bhatia
In a low interest rate environment, a volatile market, and a weak economic environment, investors are looking for quality names with some extra income in the form of dividends. Today we will analyze Mattel (NASDAQ:MAT) and determine if this is a quality dividend idea for your portfolio. Do note that the company is expected to report earnings on Oct. 16, 2012.
A Quick Look at Mattel Stock
The stock trades at around $35.50, close to its 52-week high of $36.25. It trades at a P/E multiple of 14.5 times and a forward P/E of 13 times. Its closest competitor is Hasbro (NASDAQ:HAS), which trades at a P/E multiple of 13.5 times and a forward P/E of 12 times. Hasbro stock, at $37.93, is also trading close to its 52-week high of $39.98. The dividend yield on Mattel is 3.5% vs. Hasbro, which yields 3.8%.
Fundamentals That Support a Strong Dividend Growth Story
The company continues to grow retail share in the U.S. and in the European markets.
Gross margin has grown 3%-4% year over year.
Free cash flow has continued to grow since 2010 with $390 million in 2010 and $474 million in 2011, and is expected to be in the range of $600 million to $700 million in 2012. This is a result of a disciplined management team.
The company has a strong balance sheet with $372 million in cash and cash equivalents. Mattel does have $450 million in debt that matures in the next year, but given the liquidity on the balance sheet and the strong free cash flow generated, maturities seem manageable.
The toy industry continues to grow, driven by innovation. Mattel is positioned to benefit from this growth.
We will conclude by saying that given the company's strong fundamentals and positioning in the global toy industry, the 3.5% dividend yield on the stock looks attractive. Risks for the name include any delay in innovative products, an increase in competition, and a continued weak economic environment.
The chart below compares share performance over the past year. The letter "D"s mark dividends paid.
Click to enlarge image.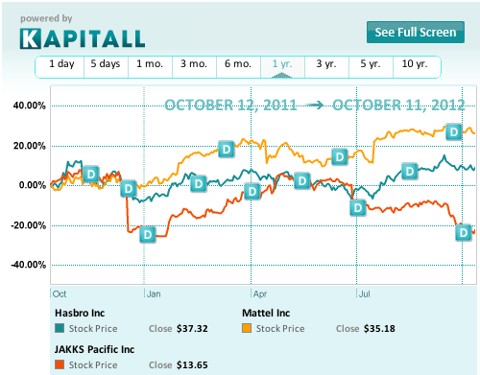 Disclosure: I have no positions in any stocks mentioned, and no plans to initiate any positions within the next 72 hours. I wrote this article myself, and it expresses my own opinions. I am not receiving compensation for it. I have no business relationship with any company whose stock is mentioned in this article.