When any company, not just Fortuna Silver Mines (FVITF.PK), issues several news releases that contain substantive and positive developments on several fronts, the prices for its products recover and the share price proceeds to dump by up to 20%...
click to enlarge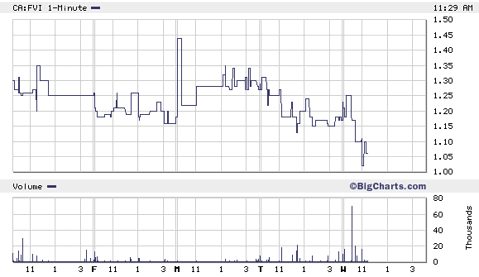 ...there's something a bit odd going on. In this case, the first thing that goes through my head is "darnit, i was wrong about this". The second thing is to try and figure out what my mistake was (for future reference, y'see). Just to recap, here are the recent significant developments at Fortuna:
Last Thursday (Aug 14th), Fortuna announces it is buying out Continuum Resources [CNU.V], the minority partner in its San José project.
Last Friday (Aug 15th), Fortuna releases 2q08 results showing a net profit, good cash flow, and on-track production growth at Caylloma. Guidance also positive.
Yesterday (Tuesday 19th August), Fortuna releases excellent drilling results at two of the untapped veins at Caylloma (but maybe the market doesn't really understand the significance, JG).
Also, if we use SLV (the silver ETF) as our proxy we see the metal's performance has no real influence on the Fortuna share price action in the last couple of days: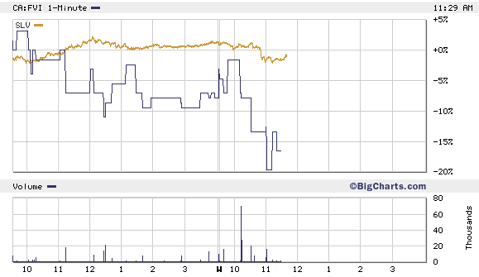 So what's going on, Marvin? Right now I'm at supposition stage, but I've bounced ideas off people with brains as well and there seems to be something going on with the arbitrage deal that CNU has to offer. With the all share deal of Fortuna putting up 7m shares to take over CNU's 124,052,503 (plus 285,000 options at pro-rata), the 0.0564-shares-for-one-Fortuna throws up the chance to make a difference on the arb while the acquisition is still going through.
With Fortuna at $1.05, CNU "fair value" is at 5.9c or so, which is a mile away from the 7.1c per share it stood at when the deal was first announced. So the idea may be to batter Fortuna down, scoop up as many cheap CNU as possible in the meantime and then let all boats rise once the deal is through.
Another, similar, idea was sent to me by a good brain today who said, "only thing i can think of is CNU shareholders are shorting Fortuna because it has greater liquidity than blowing out CNU", which is also a fair theory to bounce around. But whatever it is, it's not the free market at work here, of that you can be sure.
I have nothing particularly against that as my Fortuna shares are tucked away in the long term basket with no sweats at all, and right now (due to the move to cash from a couple of weeks ago) there are none in the ST port. Fortuna's action right now is one of those market inefficiencies that we investors are constantly on the lookout for, so being wrong about the short-term PPS action is just fine as long as it's not a case of being too wrong for too long.
Disclosure: long FVI.v (Fortuna's Canada-listed shares) as a long term position. No short term trading stock currently held.