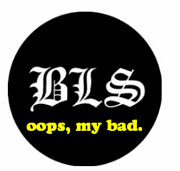 You can almost hear Jack Welch's "I told you so" after Thursday's Jobless Claims data was released. The data (339K vs. 370K expected and prior, as usual, revised lower to 369K from 370K) was later explained by the BLS as a problem due to "one large state [that] didn't report additional quarterly figures as expected, accounting for a substantial part of the decrease." Well, that will do it. So an early rally based on incomplete information was undone as the day wore on. The result was wasted buying power, from my view.
Other economic data included The U.S. Trade Deficit ($-44.2B vs. $-42.5B) and the Bloomberg Consumer Comfort Index fell (-38.5 vs. -36.5).
Newly appointed Fed Governor Jeremy Stein spoke today, and the bottom line was this quote regarding the effects of QE: "…giving a significant boost to stock prices." I think that sums things up neatly.
The dollar (NYSEARCA:UUP) was slightly weaker, and gold (NYSEARCA:GLD) slightly higher. Commodities (NYSEARCA:DBC) and oil (NYSEARCA:USO) were also higher. Bonds rallied as stocks fell into the close. Stocks were led lower once again by disappointment in tech (NYSEARCA:XLK), and an appeals court decision to stop a ban on Samsung (OTC:SSNLF) selling its phones to benefit Apple (NASDAQ:AAPL). The latter continues to suffer losses. Consumer Discretionary (NYSEARCA:XLY) and Homebuilders (BATS:ITB) were also weak.
Friday brings us earnings from heavyweight JPMorgan (NYSE:JPM), which should impact markets significantly.
Volume still remains on the light side, and breadth per the WSJ was positive on what became a disappointing session in the end.
(click image to enlarge)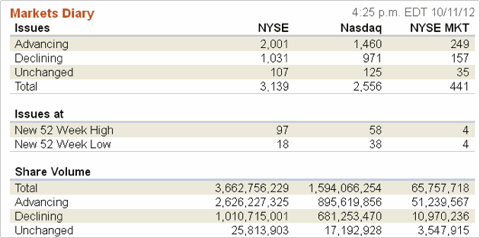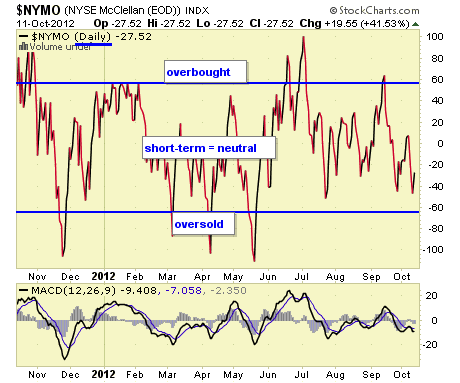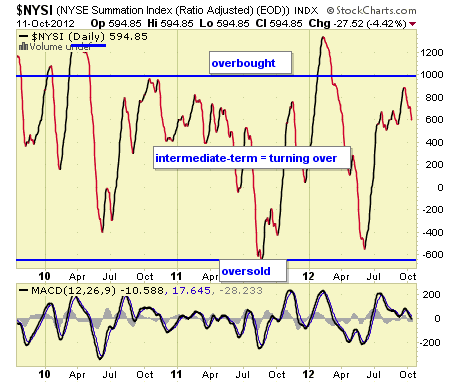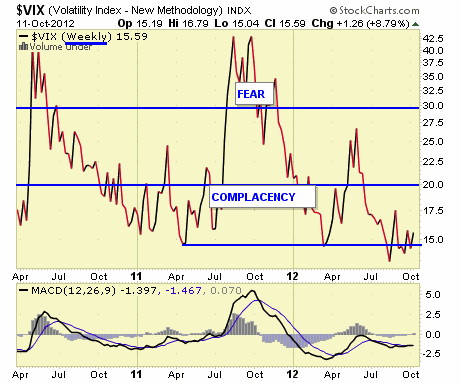 SPY 5 MINUTE

SPX WEEKLY

INDU WEEKLY

RUT WEEKLY

QQQ WEEKLY

AAPL WEEKLY

SOXX WEEKLY

XLF WEEKLY

XLY WEEKLY

XLB WEEKLY

ITB WEEKLY

PFF WEEKLY

TLT WEEKLY

HYG WEEKLY

EMB WEEKLY

UUP WEEKLY

GLD WEEKLY

SLV WEEKLY

JJC WEEKLY

USO WEEKLY

DBC WEEKLY

DBA WEEKLY

IEV WEEKLY

EEM WEEKLY

EWA WEEKLY

EWP WEEKLY

EWT WEEKLY

EWZ WEEKLY

EPI WEEKLY

GXC WEEKLY
Closing Comments
The markets don't know up from down at the moment. The collapsing price of Apple certainly weighs on perma-bulls, yet the old Chinese maxim, "even the monkey can fall from the tree" may apply.
The BLS certainly botched things, from my view. Certainly they should know investors are watching, waiting and relying on their data. The incomplete report no doubt cost people some money. This report, combined with suspicions from last week's report, just adds credibility to those doubters. They should have been more sensitive to this but then, they're bureaucrats, right?
Friday is Consumer Sentiment, PPI and JPM earnings.
Disclaimer:
Among other issues the ETF Digest maintains positions in: MDY, IWM, QQQQ, UDN, GLD, DBC, DBB, DBA, USL, EFA, EEM, EWZ and FXI.
The charts and comments are only the author's view of market activity and aren't recommendations to buy or sell any security. Market sectors and related ETFs are selected based on his opinion as to their importance in providing the viewer a comprehensive summary of market conditions for the featured period. Chart annotations aren't predictive of any future market action rather, they only demonstrate the author's opinion as to a range of possibilities going forward.
Disclosure: I have no positions in any stocks mentioned, and no plans to initiate any positions within the next 72 hours. I wrote this article myself, and it expresses my own opinions. I am not receiving compensation for it. I have no business relationship with any company whose stock is mentioned in this article.