During a recent presentation (PDF) at the Pareto Oil and Offshore Conference, offshore drilling giant SeaDrill (NYSE:SDRL) provided a number of projections that provide considerable insight into what the company's finances are likely to look like in the near- to medium-term. These projections are largely dependent on the company's fleet growth which I discussed in an earlier article. Additionally, these projections are dependent on the market dayrates for offshore drilling rigs. If the market for these rigs crashes, then SeaDrill will have a difficult time re-contracting out its rig at high enough dayrates to bring in the revenue that will be required to achieve the goals and projections outlined here. Fortunately, SeaDrill has some factors working in its favor against this scenario. First are the fundamentals of the industry - they are strong and strengthening. Second is the fact that many of SeaDrill's rigs are on relatively long contracts and these will secure the company's revenues regardless of what happens in the industry, at least until the contract expires. This should allow SeaDrill to be able to ride out any short-term fluctuations.
Offshore drilling rigs are large, expensive, and highly specialized pieces of equipment that take a long time to build. On average, an ultra-deepwater drilling rig takes between two and four years to be constructed and delivered depending on various factors. It takes approximately two years to construct a semi-tender rig, around a year and a half to construct a tender barge, and a little over a year to construct a jack-up rig. The construction times are dependent on various factors but, historically, these are the approximate times that it has taken SeaDrill and other major companies to have a new rig constructed. Due to these long construction times, SeaDrill has a fairly good idea what its fleet will be in 2014 because all of the newbuilds that will be added to the fleet by that time are already under construction. The company can also make fairly accurate predictions about its fleet composition in 2015. This is a good thing because the company needs to be able to accurately predict its fleet composition in order to make accurate financial projections.
One factor that helps analyze SeaDrill's financial future is the company's revenue backlog. The revenue backlog is important because it is effectively guaranteed income. Granted, there are still factors such as counterparty risk to consider but for the most part, this revenue is as guaranteed as pretty much anything can be, short of death and taxes. As of September 12, SeaDrill's revenue backlog was $19.7 billion and has increased to over $20 billion today. This is money that SeaDrill's customers are contractually obligated to pay and so should be regarded as revenue that will almost assuredly be collected. The counterparties to these contracts are very large multinational oil companies with solid finances: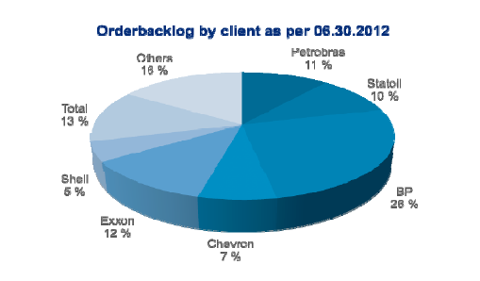 Source: SeaDrill, Ltd.
The customers with the largest share of SeaDrill's backlog include BP (NYSE:BP), Total (NYSE:TOT), ExxonMobil (NYSE:XOM), Petrobras (NYSE:PBR), and Statoil (NYSE:STO). These are all very large companies with profits of billions of dollars per year. The odds that these companies will default on their contractual obligations due to financial problems is slim, to put it mildly. There are other risks to SeaDrill's ability to bring in this revenue, such as regime risk. SeaDrill is globally diversified however, which should help keep this risk at a minimum. SeaDrill's consolidated revenues in the second quarter were $1,122 million. At that rate, it will take SeaDrill 17.6 quarters, or more than four years, to exhaust its backlog and that assumes that the company is not awarded any more contracts for its rigs! All-in-all, this is a pretty good position for the company to be in.
In a previous article, I briefly discussed SeaDrill's newbuild program and the likely impact that it will have on the company's revenues and profits. This newbuild program will prove to be a significant factor in the company's growth going forward. SeaDrill provided its estimates on the impact of these newbuilds prior to the company ordering its nineteenth newbuild. As a result, the actual impact will be greater than these numbers would indicate. At the time of its presentation, SeaDrill had 18 rigs under construction. These rigs consist of six drillships, two harsh-environment semi-submersibles, five tender rigs, and five jack-ups. These 18 rigs are expected to contribute positively to the company's profit, with the amount of positive contribution rising annually every year between now and 2016. The largest growth in EBITDA will come in 2014 and 2015 as the new ultra-deepwater units are delivered and begin operating.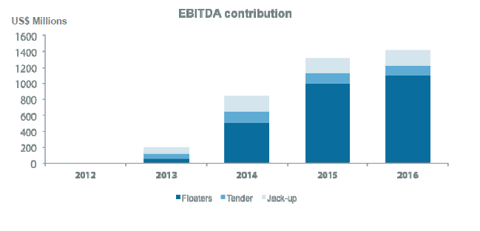 Source: SeaDrill, Ltd.
SeaDrill expects that these 18 new rigs will be generating $1.4 billion per year of EBITDA on their own by 2016. This works out to about $350 million per quarter. SeaDrill's EBITDA in the second quarter was $634 million so increasing this by $350 million would represent 55% EBITDA growth between now and 2016. The six drillships in the newbuild program are expected to contribute the majority of the EBITDA growth, approximately $785 million per year. This works out to $130.8 million per rig annually. Since SeaDrill now has seven drillships under construction, we can project that these newbuilds will raise SeaDrill's EBITDA by $1.5 billion by 2016.
While this EBITDA growth may seem impressive, it is actually significantly lower than the company's historic growth rate. From 2005 until 2012, SeaDrill grew its EBITDA at an average compound annual growth rate (OTCPK:CAGR) of 43%. The EBITDA growth rate for the period 2013-2016 will likely be around 11%.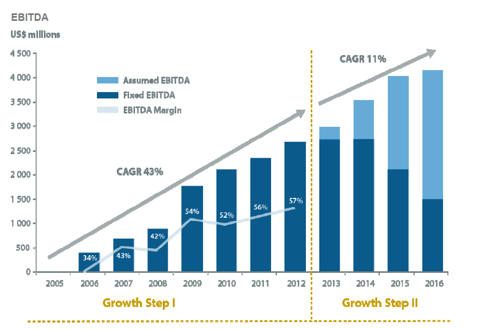 Source: SeaDrill, Ltd.
An 11% compound annual growth rate is still quite respectable and I doubt many would complain about that sort of growth. Historically, SeaDrill has also increased its dividend as earnings grow so should that trend continue, shareholders will likely see higher and higher dividends.
Speaking of dividends, I have seen commenters express concerns from time to time regarding SeaDrill's practice of employing significant leverage while simultaneously paying out large dividends. Indeed, SeaDrill could reduce or even eliminate the dividend and divert the cash flow to paying off its debt. At present, however, doing that would only hold the debt static in the short-term. This is due to the company's newbuild program. The total cost of the 18 rigs that SeaDrill had under construction at the middle of September was $6.9 billion. SeaDrill is not spending all of this money at once, rather the company pays it in periodic installments throughout the construction term of the rigs. The nineteenth newbuild, which SeaDrill ordered on September 21, is expected to cost an additional $600 million. This brings the total cost of the newbuild program up to approximately $7.5 billion. SeaDrill has already paid installments totaling approximately $1.4 billion against this figure. This huge expense is the reason why SeaDrill's debt would not decrease even if the dividend was suspended. In the absence of the dividend, SeaDrill would be using the money saved (from not paying the dividend) to make the installment payments on the new rigs. With the dividend in place, SeaDrill instead needs to use debt to finance these installment payments. For this reason, the company expects its debt to increase steadily until 2015 at which point it will begin to decline, assuming that SeaDrill holds the dividend steady at $3.36 per share, which it may or may not do. I think that the company will increase its dividend and carry the heavier debt load, personally. In the absence of the dividend, SeaDrill would also not see any significant debt reduction until 2015 due to the newbuild program.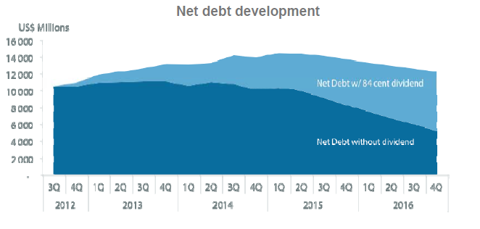 Source: SeaDrill, Ltd.
A few assumptions were made in the course of crafting these projections. The most significant is that of dayrates. All of these projections assumed dayrates of $550,000 for ultra-deepwater rigs, $170,000 for semi-tenders, $120,000 for tender barges, and $140,000 for jack-ups. This is a fair, if slightly conservative, approximation of what the market prices are for these types of rigs right now. If SeaDrill achieves higher prices than these then that would increase the company's revenues and EBITDA. The reverse is also true. If SeaDrill fails to achieve dayrates of this level then the company's financial future would be worse than what is shown here. Most indications point to strong industry fundamentals and strengthening dayrates, however, rather than the opposite.
Disclosure: I am long SDRL, STO, BP. I wrote this article myself, and it expresses my own opinions. I am not receiving compensation for it (other than from Seeking Alpha). I have no business relationship with any company whose stock is mentioned in this article.