Tempur-Pedic (NYSE:TPX) recently announced a deal to acquire Sealy at $2.20 per share, or about $230 million for the equity of the firm. The acquisition of Sealy is expected to be accretive in the first year of operations, and cost synergies are expected to be in excess of $40 million annually. While I will not go into the details of the deal, I will go into the three key points why I'm bullish on Tempur-Pedic, and why I think this acquisition should assuage the main fears investors have in Tempur-Pedic.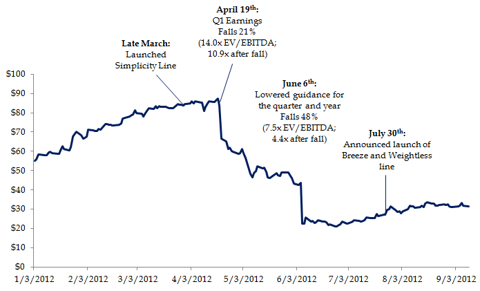 1. Pent-up demand from mattress replacement needs account for about 75% of total industry sales and the average mattress lasts on a 9-10 year replacement cycle. During the recession, consumers pulled back on their discretionary spending and delayed this replacement cycle at least a few years by stretching the lifeline of their old mattress. This trend should provide a boon to the industry during the next few years as consumers will have to replace their old mattress sooner rather than later. Consistent growth despite recession; growth has generally rebounded 20% over past recessions; if we extrapolate there's a 1.6 billion gap between peak in 07. This is a graph of mattress industry sales based on data from industry statistics: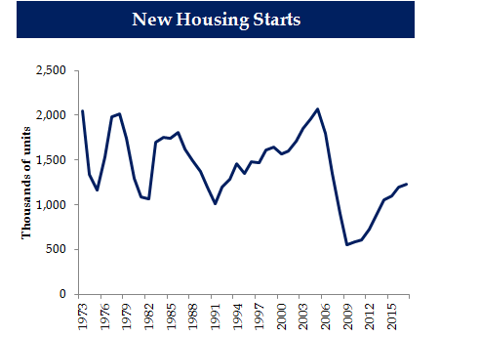 2. Housing Recovery -Tempur-Pedic diversifies their portfolio of mattresses with their acquisition of Sealy and enters into the innerspring mattress segment, which will help assuage fears of further loss of share in the memory form mattress space. This acquisition better positions Tempur-Pedic to capitalize on the positive macroeconomic trends noted in the first point, and to capitalize on a recovery in the housing market, because Sealy predominantly operates in the innerspring mattress spring and at a much lower price point. Changes in investment for housing is correlated with a mattress sales; the rationale being that as consumers buy more houses, they will also buy new mattresses for their new homes. Moreover, the housing market looks to have bottomed and is well on its way to a healthy recovery in the coming years. The following graph is based on data from IBISWorld illustrating the steady recovery in housing starts for the next five years:

3. Growth from new product introductions and international growth:
As mentioned before, the main fear investors have in Tempur-Pedic is the risk of competition hurting Tempur-Pedic's stronghold in the premium mattress space. While the acquisition of Sealy assuages this risk, Tempur-Pedic has also released two mattress lines, the Breeze and the Weightless, to address one of the main concerns consumers have with their mattresses and for which competitors have capitalized on by producing gel memory. The Weightless line incorporates a new layer, TEMPUR-FLOAT, that improves responsiveness and reduces pressure points for better sleep.
Moreover, the premium mattress industry is a nascent market internationally. Just as Tempur-Pedic introduced the premium memory foam mattress to the U.S. during the 90s, they are working to do the same internationally. The graph below shows the per capital premium mattress spend in the U.S., Germany, France, and the U.K. in 2009. As you can see the per capita spend in the U.S. in 2000 is around where France, Gremany, and the U.K. were in 2009.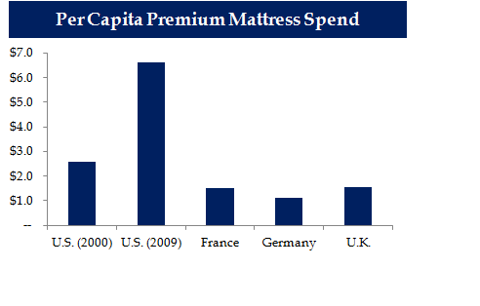 Although management hasn't released updated numbers on this metric, it's reasonable to believe that there is a huge market opportunity in the premium mattress space abroad, as shown by consistent double digit growth quarter on quarter. In terms of competition, with the acquisition of Sealy, Tempur-Pedic basically has no U.S. competition currently in this space, and in terms of mattress competitors abroad, none of them are as scaled as Tempur-Pedic.
Disclosure: I am long TPX. I wrote this article myself, and it expresses my own opinions. I am not receiving compensation for it (other than from Seeking Alpha). I have no business relationship with any company whose stock is mentioned in this article.