It's not very often that a Best-of-Breed company like Chipotle (NYSE:CMG) goes on sale, especially at a 25% discount to fair value. But when you have a large and successful hedge fund manager yell "short" in a market full of lemmings, you get massive inefficiencies in stock prices. This is why I have made Chipotle my largest position.
MY CHIPOTLE BUY THESIS:
Pure play on growing market for healthy and high-quality food.
Simple and easy-to-understand business model.
Store economics are world class, generating industry-leading sales per store return on assets.
Long runway for growth remains as U.S. is only 60% penetrated, Europe has yet to be tapped, and the ShopHouse Southeast Asian Kitchen concept will add a third leg of growth.
100% company-owned store base enables company to maintain high degree of consistency in customer experience and roll-out updates at a rapid pace.
Earnings estimates are too low and need to be revised higher.
Excessive negativity following Einhorn's "short" presentation has created an attractive entry point.
Pure Play on Growing Healthy Food Industry:
Like Panera Bread (NASDAQ:PNRA), Whole Foods (WFM), and Hain Celestial Group (NASDAQ:HAIN), Chipotle is exposed to the growing trend of eating healthier, knowing what's in your food, and buying local. Consumers have proven that they are willing to pay a premium for better quality food and these companies provide this service. It is very hard for traditional quick-service restaurants like Taco Bell (NYSE:YUM), McDonald's (NYSE:MCD), and Jack-in-the-Box (NASDAQ:JACK) to overcome their well-deserved image of providing lower-quality food and poor service.
Simple Yet Powerful Business Model:
Chipotle has an amazing simple menu: burritos and drinks. However, the importance of the business model's simplicity is manifested in the company's amazing productivity and profitability.
In the chart below, you'll see that Chipotle generates over $2.0M per store. This put the company in the upper echelon of the industry.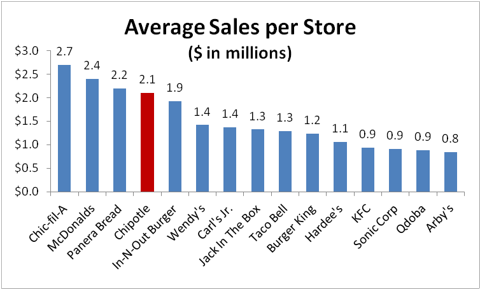 In this chart, you'll see that Chipotle has an industry-leading Return on Assets which is driven by strong Sales per Store and operational efficiencies.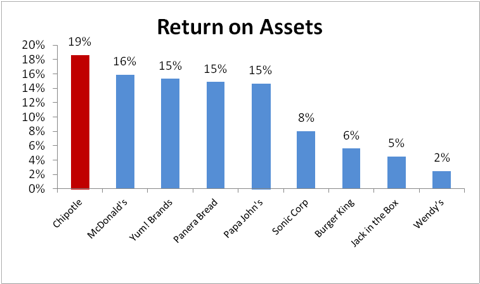 Chipotle generates 20% EBITDA margins, 19% ROA, and 24% ROE, and 27% Restaurant Margins. In short, this is a powerful business model. As such, the company deserves a high valuation because the cash flow generated from the stores offers massive reinvestment opportunities, whether it be in more stores, additional concepts, acquisitions, or stock buybacks.
Chipotle generates such high returns because its supply chain is well managed and the company can leverage its size for volume discounts given the concentrated nature of its food inputs. Also, the simple menu enables the company to drive industry-leading throughput during peak hours, generating over $2M in revenue per store, as employees have mastered the assembly line technique.
Long Runway for Growth:
By management's assessment, Chipotle is only 60% penetrated in the U.S. Based upon an analysis of other chains in the country, there is good reason to believe that another decade or more of growth remains.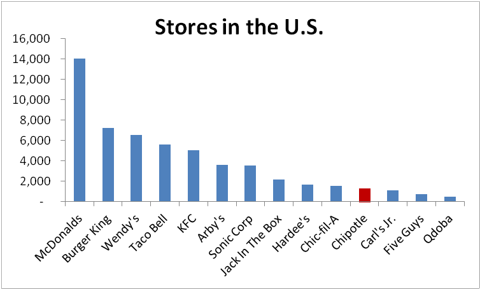 Domestically, there is also a strong likelihood that the company's Asian concept, ShopHouse Southeast Asian Kitchen, will begin a more aggressive rollout in 2013 or 2014. Furthermore, with only a handful of stores in Europe, international expansion will ultimately serve as another avenue for growth.
We come to these conclusions based on the following comment made by Co-CEO Steve Ells at the end of the last conference call:
"We continue to believe that the best use of our cash is to invest in our high returning restaurants which we expect in the future will include growth in our international business, as well as investing in ShopHouse."
Here is what the ShopHouse concept looks like: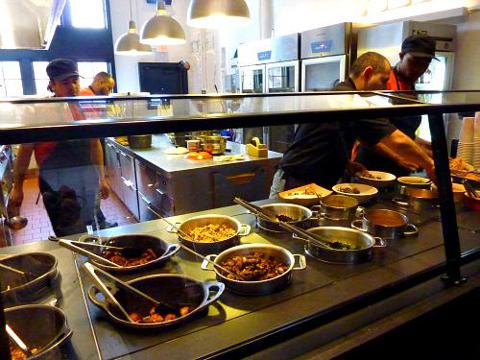 100% Company-Owned Stores is a Competitive Advantage:
Most of Chipotle's competitors are largely franchise models. A franchise model is good for cash flow and stable earnings as the franchisees take the operating risk, but it creates the potential for uneven customer experiences across the chain, and worse, franchisee revolt. In a franchise model, when things go bad, the franchisees get upset and may not follow corporate rules with regards to store upkeep, food quality, and many other small but meaningful elements of operating a high-quality restaurant.
Chipotle's 100% company-owned model enables management to have full control of their destiny and make changes more quickly than their competitors. Therefore, I think this business model has a sustainable competitive advantage and deserves a higher valuation than a franchise model.
Earnings Estimates Are Too Low, Need to be Revised Higher:
Investors have overlooked that fact that the company BEAT earnings expectations by 11% in Q2! Most people panicked over the slowing same store sales, which came in at 8% vs. 12% last quarter. Granted, the stock was over-valued at the time--trading at $400 and nearly 40x EPS--but posting 8% SSS growth in a soft economy is pretty darn impressive.
But here's what's more important -- the business model is performing better than expected.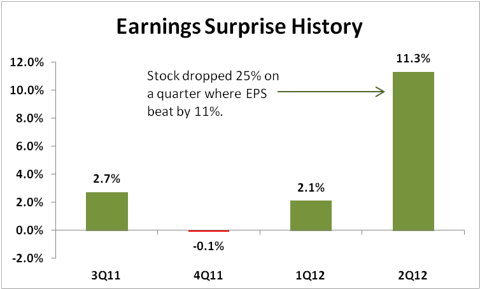 Also, the incremental operating margin (the amount of money Chipotle drops to the operating income line for every incremental dollar in revenue) spiked last quarter. I believe there are a few drivers: 1) lower Labor costs due to lower-than-expected expenses related to employee stock options due to the lower stock price (which will be an even larger benefit the next few quarters due to the massive decline in the stock price), and 2) economies of scale.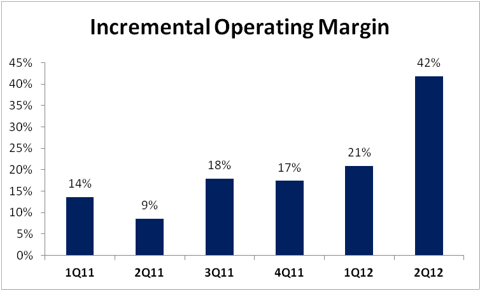 Accordingly, I think the business model is becoming more profitable than Wall Street realizes, so numbers need to come up. I estimate 2013 EPS to come in at $11.09 while consensus is at $10.90. Even though this is only 2% higher than the Street, I think it will be a meaningful catalyst given the negativity surrounding the stock.
Too Much Negativity; Valuation Attractive for a Best-of-Breed:
David Einhorn is a great investor, so it's no surprise that hedge funds piled into the short trade following his presentation at the Value Investing Congress conference. But I contend that Chipotle is a Best-of-Breed company, and shorting on valuation is not a good strategy. This company deserves to trade at a premium valuation for the reasons I have presented. Given that I expect the company to continue generating 25% EPS growth for the next several years, I believe that a 30x - 35x multiple is reasonable. This gets me to a $332 - $388 range for fair value on my 2013 EPS.
Additionally, I think looking at other "healthy living" companies for a more relevant valuation comparable than the fast food industry. I contend that Whole Foods , Hain Celestial , and Lululemon (NASDAQ:LULU) offer a more accurate valuation framework than Taco Bell, Burger King (BKW), Wendy's (NYSE:WEN) and others.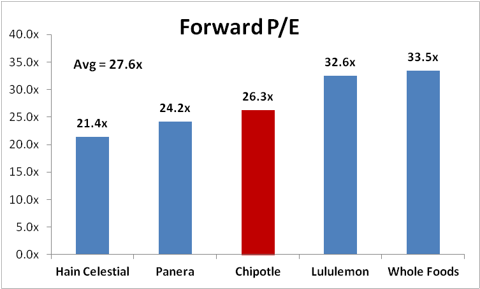 Under this lens, the stock does not look expensive at 26x forward EPS. I prefer to focus on a company's growth rate, profitability, management team, market opportunity, and customer segment as a barometer for valuation than mindlessly comparing it to "competitors". If the company continues to perform at the high level I am modeling, valuation is attractive.
BOTTOM LINE:
I am expecting this crowded trade to get upended on October 18 when Chipotle reports Q3. I anticipate this earnings report will put to rest the market's fears over Taco Bell, the economy, and the belief that the "story" is over for Chipotle. If I am right, the stock will pop 20%.
I believe in my thesis so strongly that Chipotle is the biggest position in my fund.
Disclosure: I am long CMG, MCD. I wrote this article myself, and it expresses my own opinions. I am not receiving compensation for it (other than from Seeking Alpha). I have no business relationship with any company whose stock is mentioned in this article.