Many investors are asking themselves if Sirius XM (NASDAQ:SIRI) is due for a correction, or even if it has hit the highs for this year. A single day dropping less than 1% after nearly 5% in increase the previous day seems to bring the bears and skeptics out of the closet like a flood.
It's crazy.
The simple fact of the matter is that during the Liberty Media (LMCA) investor meeting on October 10th, Mel Karmazin delivered news which should give confirmation that recent increases in the stock price were justified. While it can be argued that the street expected this news, it should be clear that expectations were at the very least met. Also, given the current climate surrounding the Liberty Media takeover process and the requirement that it eventually purchases more shares to pass 50% ownership, as well as an almost certainty of a share buyback once it moves to control, the longer term short bet on Sirius XM is a risky venture.
What good news did Mel deliver? 446,000 additional net subscriber additions, slightly above street estimates and well above last year's 335,000 net additions for Q3. In addition to this news, Mel Karmazin upped full year 2012 guidance for net additions to 1.8 million from 1.6 million, and reaffirmed that the company is on track to meet or beat expectations in other guided areas. Given that roughly 1.5 million net additions have been made to date, and Q4 typically posts some of the best numbers of the year, it is clear 1.8 million is again, low guidance. I feel this should be soundly beat and that Sirius XM will end the year with close to 2 million net additions. That's impressive, especially with the constant stream of news about how horrible the economy is. Sirius XM is apparently one of the bright stars in a sea of gloom and doom.
So why $4? Because that's what Bank of America analyst Jessica Reif Cohen has upped her price target for Sirius XM to. Spencer Osborne, Seeking Alpha contributor and owner of Siriusbuzz.com had a good read on this at his website here.
Spencer stated:
SiriusXM is announcing Q3 earnings in a few weeks, so it will be interesting to see if the company issues 2013 guidance that meets the expectations of analyst models. My current target of $3.25 now seems ultra conservative, though I am waiting for the new guidance to be issued prior to making any adjustments. There are a lot of dynamics at play and a lot of assumptions that go with these price targets. Share buybacks are one of the huge assumptions at this point, and while everyone agrees that they will happen, there is an open question as to at what price they will happen, and how substantial they will be.
I think that's certainly a prudent approach. While I find Spencer's $3.25 target to be a bit on the conservative side I can certainly appreciate waiting for 2013 guidance to be released in a few weeks before reconsidering that number. Investors should be patient for right now, as Spencer is doing, and adjust their expectations after guidance is given.
From a technical standpoint in Sirius XM, everything continues to look rosy. While many investors may have wished to see multiple days of gains, I say "be patient." It's preferable to have the share price increase gradually and take breathers here and there. All too often Sirius XM investors have watched rapid increases before news, followed by a sell off on the actual news release. The game has changed, and high prices seem to be holding. If Sirius XM does correct, the downside is minimal, so I see little risk in holding here or even in initiating new long positions, though the best prices for purchase may be found in the coming sessions around $2.67 or if you feel it may reach as low, $2.60. Friday's action will be telling, and investors will wait to look for a share price holding and closing above $2.73.
Consider the following chart: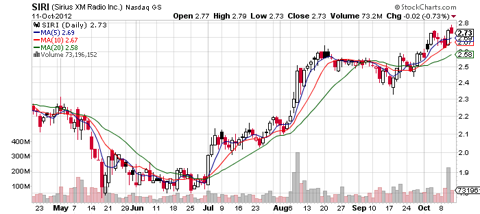 Watch the 5 day, 10 day, and 20 day moving averages in blue, red and green respectively. Each has provided lines of defense as the share price of Sirius XM has made its moves, particularly the 5 day in blue. All are trending up, and Sirius XM should continue to ride them up and away. With the 10 day at $2.67, I think the share price will find considerable support there.
Technical analysis can be a wonderful tool when used in conjunction with fundamental analysis. It should be clear above that fundamentally Sirius XM's prospects moving forward, as well as current performance, are in bullish territory. That, combined with a technical chart showing strong bullish signals, lends credence to higher highs and increasing lows. It's a great time to be invested in Sirius XM, and I think investors will continue to be rewarded in the long run for their patience and willingness to hold the boat steady when the seas get a little bit rough, and the skeptics scream that the ship is sinking and bail.
Disclosure: I am long SIRI. I wrote this article myself, and it expresses my own opinions. I am not receiving compensation for it (other than from Seeking Alpha). I have no business relationship with any company whose stock is mentioned in this article.