You can tell something must be going right for Chesapeake Energy (NYSE:CHK) when its stock price goes up on a day, October 9, 2012, when the overall market (NYSEARCA:SPY) goes down by approximately -1%. CHK went up demonstrably the next day with a positive overall market. A quick check indicates that CHK is seeing very positive events in many areas. In Q2, CHK, the second largest producer of natural gas in the US, had to suffer through an abyss in natural gas prices and substantially lower oil prices than in Q1 2012. On top of this, CHK was mostly unhedged in Q2.
How have things improved? US natural gas prices hit bottom in late April of Q2 2012 at $1.902/Mcf. US natural gas prices are at $3.584/Mcf as of this writing. That's about an 88% gain from the bottom in Q2 2012. It is also significantly above the breakeven point for CHK of approximately $2.70/Mcf. At least a part of the reason for the climb in natural gas prices has been the colder than normal recent temperatures and a forecast for an el Nino winter in North America (colder than normal). Unfortunately, CHK will not be able to completely benefit from this as CHK has taken on 64% hedges for natural gas production at $3.03/Mcf for Q3 and Q4 of 2012. Still the Q4 results should still show some upside for the unhedged natural gas production. The Q3 results should also show a still large improvement over Q2 results with regard to natural gas profits.
Nymex WTI Oil prices hit a near-term bottom of $77.28/barrel in late June 2012. They recovered to a near-term high of $100.42/barrel in mid-September 2012. However, they have since fallen to $91.90/barrel as of this writing. Many are saying there is near-term oversupply. Hence oil prices may fall further, especially with the seemingly continual world economic growth downgrades. In juxtaposition to the over supply issues are the many troubled political situations in the Middle East and North Africa which might send oil prices higher at any time. For Q3 and Q4 2012, CHK has liquids 31% hedged at $101.34 per barrel. This will provide a good base for good oil production earnings, and the still good oil prices will provide further good profits.
On top of these improvements, CHK added 4.2 Tcfe or 700 million barrels of oil equivalent through the drill bit in 1H 2012 at an attractive price of $1.14/Mcfe or $6.84/boe. Looking at 1H another way, CHK spent $4.7B in drilling programs to realize $10.2B in PV-10 proved reserves value. CHK gained approximately $7/share in asset value in this way. Yet the stock price hasn't risen much. This is even taking into account the very low natural gas prices in the PV-10 values estimates. Keep in mind that CHK has been drilling primarily for liquids lately. Further CHK is systematically cutting capital expenditures from 2012 to 2013 by approximately 45% ($6B), while maintaining the same great growth. The table below shows CHK's expected production growth in 2012 and 2013.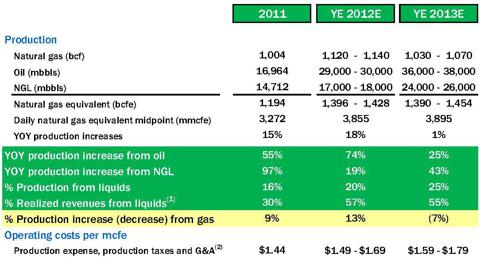 You will notice the rapid expansion in oil and NGLs over the next two years. CHK expects this to lead to 57% and 55% revenue increases in 2012 and 2013 respectively. This is great revenue growth. This expansion is also taking place in the face of all of CHK's asset sales. Year to date, CHK has sold $11.7B in assets, and it has increased its total planned sales for 2012 to $13B-$14B. It expects further sales of $4.25B-$5.0B in 2013. This is helping CHK pay down debt. It is also helping CHK pay for drilling expenses. Many of the partial field sales this year and in past years direct money specifically to development of CHK's parts of the field. In many fields, another company is now paying for 60% or more of CHK's development costs. CHK is quickly developing its ten core prolific plays in which it has the #1 or #2 acreage position. One might normally think the huge asset sales mentioned above would decrease production for 2012. However, this is far from true. CHK expects to grow total production in 2012 by 18%. Given the asset sales described above, this is a truly astounding accomplishment. As of Q2 2012, CHK had already achieved liquids production of 130,000 bpd (21% of total production). This had not long ago been the goal for year-end 2012. CHK has also virtually completely switched from a natural gas driller to a liquids driller. As of early October 2012, CHK had 9 natural gas rigs operating and 97 liquids rigs operating. Some natural gas drilling has to be done for leases that need to be held by production (HBP).
CHK has incredible assets with more than 15,000,000 net acres of oil and gas properties. Plus it has more than 30,000,000 net acres on which it has 3D seismic data. In other words, CHK is ready to buy other properties. It is now more actively starting to develop the properties it has. How actively? The following charts illustrate this well.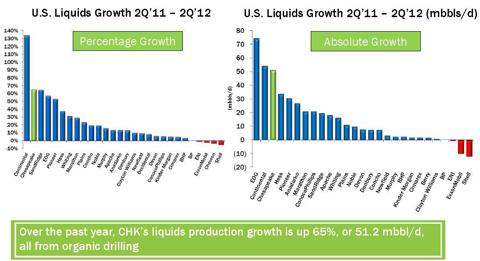 In liquids percentage growth, CHK is the second fastest grower of its peers. Only Continental Resources (CLR) grew faster on a percentage basis from Q2 2011 through Q2 2012. CHK grew faster than other fast growers: SandRidge Energy (NYSE:SD), EOG Resources (NYSE:EOG), and Pioneer Natural Resources (NYSE:PXD). In absolute growth terms, CHK was a close third to Continental Resources with EOG Resources being the clear leader. Both of these statistics are impressive. When you consider that CHK is already the second largest natural gas producer in the US, CHK is truly impressive. When you consider that CHK has far larger leaseholds in truly prolific plays than any of these companies, you have to be awed. When you consider that CHK intends to sell $13B-$14B in assets in 2012 (has already sold $11.6B in assets), this is even more impressive. When you realize CHK is selling a value of assets that is higher than its market capitalization of $12.93B while still growing its production, you have to be astounded. This company isn't worth $12.93B, it is worth at least 5-10 times that much.
Some might see CHK as a value trap, but its stock price is very likely to take off soon with all of this new growth. The average analyst estimates that CHK will grow EPS 200% in 2013. This should help the stock price do well too. CHK is a buy on its oil production growth alone without even considering the rising natural gas prices. Keep in mind that through all this, CHK is also managing to pay down debt. With rising natural gas prices, CHK is a strong buy.
The two-year chart of CHK gives some technical direction for this trade.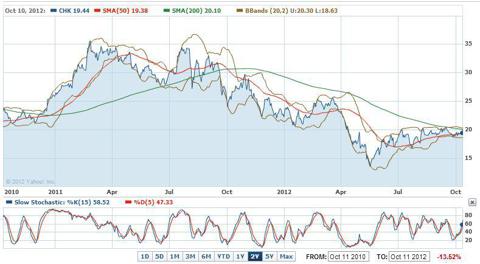 The slow stochastic sub chart shows that CHK is neither oversold nor overbought. The main chart shows that CHK has fallen as natural gas prices fell. However, it appears to have bottomed as natural gas prices did, and it has been consolidating since May 2012. The price line is currently coming close to pushing upward through the 200-day SMA. This would be a buy signal. With the 50-day SMA also rising toward the 200-day SMA, it seems virtually certain that this break upward will occur. CHK is both a fundamental and a technical buy.
The overall market seems to be in the midst of a retracement. The world economic news has been mostly negative lately. The IMF downgrade of world GDPs recently is an example. The expectation that Q3 2012 EPS will be -2% to -3% year over year is not helping the outlook. Further the fiscal cliff is like the Sword of Damocles hanging over the market. With this in place, it seems unlikely that a huge bout of buying will start soon. Averaging in is probably a good idea. If you get a chance to buy CHK on a dip in the near future, doing so is probably a great idea. Back up the truck on this one in that case. There will likely be a write down of natural gas assets in Q3 and possibly in Q4, but you can likely ignore these. Perhaps such write downs may provide a buying opportunity. Remember oil assets are growing quickly. Don't forget that CHK recently drilled its biggest gusher yet in the Hogshooter play with 5,400 bpd of crude in its first eight days of production and 7,350 boepd in total production in the same period. Oil development in the Utica has been going well too. Plus natural gas assets will rise again in the not too distant future. The coming write downs are likely temporary.
Note: Some of the fundamental fiscal data above is from Yahoo Finance.
Good Luck Trading.
Disclosure: I have no positions in any stocks mentioned, but may initiate a long position in CHK over the next 72 hours. I wrote this article myself, and it expresses my own opinions. I am not receiving compensation for it (other than from Seeking Alpha). I have no business relationship with any company whose stock is mentioned in this article.