Alcoholic beverage stocks have had quite a run in the past year, crushing the rest of the market. While these companies have grown revenues and profits, some experts believe the globally recognized rising middle class primarily in emerging markets is the main cause of this success, as more people have the financial capability to buy goods and therefore these recreational beverages. Conversely, some may believe the crummy economy and high unemployment is provoking discouraged consumers to drink a few extra cold ones at happy hour to drown their sorrows. But maybe I am just over-thinking this - maybe increased sales of alcohol could simply be a result of the world's growing population. I must admit, a simple formula does seem to make sense: more people = more thirsty mouths? Regardless of the best explanation for alcohol consumption, all three are probably contributing factors to the success of these stocks. In the last year, there is no doubting the industry's outstanding performance versus the S&P 500 (NYSEARCA:SPY):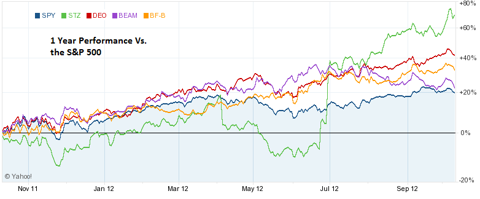 Industry leaders such as Constellation Brands, Inc. (NYSE:STZ), Diageo (NYSE:DEO), Beam Inc. (NYSE:BEAM), and Brown-Forman Corp. (NYSE:BF.B) all have performed well. However, is there still more room to run? Let's take a look at some basic valuation metrics compared to projected EPS growth rates to find the best bargain in this regard:
| | | | | |
| --- | --- | --- | --- | --- |
| Company: | STZ | DEO | BEAM | BF.B |
| P/E ttm | 19.02x | 22.64x | 49.78x | 25.81x |
| P/Cash Flow ttm | 12.14x | 17.71x | 25.62x | 23.2x |
| Dividend | 0% | 2.45% | 1.43% | 1.43% |
| Payout Ratio | N/A | 55% | 71% | 37% |
| 2013 Projected EPS Growth | 36% | 9.6% | 2% | 12% |
| Projected CAGR '11 to '13 | 7.62% | 15.92% | 11.59% | 11.57% |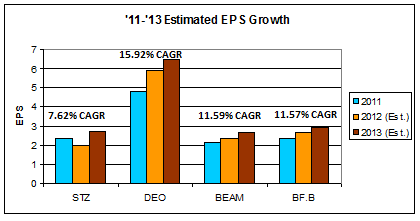 By these basic metrics, it seems DEO is the clear winner. DEO has the most consistent EPS growth, the highest yield with a manageable payout ratio, and is trading at a reasonable PE of 22x ttm earnings. However, the true value cannot simply be measured by P/E ratios. Let's take a look under the hood of these companies to better understand what brands we get for the share price.
Constellation Brands, Inc.:
Arbor Mist, Toasted Head, Simi, Black Box, Ravenswood, Rex Goliath, Kim Crawford, Franciscan Estate, Wild Horse, Ruffino, Nobilo, Mount Veeder, Inniskillin, and Jackson-Triggs brands, SVEDKA Vodka, Black Velvet Canadian Whisky, and Paul Masson Grande Amber Brandy brands. Corona Extra, Corona Light, Coronita, Modelo Especial, Pacifico, Negra Modelo, and Victoria brands.
Diageo:
Johnnie Walker Scotch whisky, Crown Royal Canadian whisky, J&B Scotch whisky, Buchanan's Scotch whisky, Windsor Premier Scotch whisky, Bushmills Irish whiskey, Smirnoff vodka, Ketel One vodka, Cîroc vodka, Captain Morgan, Baileys Irish Cream liqueur, Tanqueray gin, Guinness stout, Old Parr Scotch whisky, Bell's Scotch whisky, The Classic Malts Scotch whiskies, Seagram's 7 Crown whiskey, Red Stripe, Blossom Hill, Sterling Vineyards, Jose Cuervo tequila.
Beam Inc.:
Jim Beam, Maker's Mark, Sauza, Courvoisier, Canadian Club, Teacher's, Laphroaig, Knob Creek, Basil Hayden's, Kilbeggan, Cruzan, Hornitos, EFFEN, Pucker, Skinnygirl, Sourz Liqueurs, Pinnacle vodka, and Calico Jack brands.
Brown-Forman Corp.:
Jack Daniel's, Gentleman Jack, Southern Comfort, Finlandia, Antiguo, Canadian Mist, Chambord, Don Eduardo, Early Times, el Jimador, Herradura, Korbel California, Maximus, New Mix, Old Forester, Little Black Dress, Collingwood, Pepe Lopez, Sonoma-Cutrer, Tuaca, and Woodford Reserve.
Brand Strength:
Although a tough decision, DEO seems like it has more popular brands under its belt, in which many hold top rankings in the world in their category.

This diverse yet strong cocktail of recognizable brands is definitely what sets DEO apart from the competition. As far as spirit companies are concerned, Diageo has one of the most compelling valuations, considering solid growth projections, dividends, and brand strength.
My Take:
Shares are currently trading near the 52-week highs, and could be under pressure over the next couple months. But I think starting to accumulate a position if shares pull back slightly, then adding if shares fall to around the 100/share level seems like a great long-term investment. If shares do fall that far to around 100, I will consider it a gift, and most likely will take a full position in this company. Thank you for reading, and please drink, and invest, responsibly.
Disclosure: I have no positions in any stocks mentioned, but may initiate a long position in DEO over the next 72 hours. I wrote this article myself, and it expresses my own opinions. I am not receiving compensation for it (other than from Seeking Alpha). I have no business relationship with any company whose stock is mentioned in this article.