After hours yesterday, only 6 days from reporting, AMD (NASDAQ:AMD) warned of a big 10% drop in Q3 2012 revenue, along with margins down nearly 11 points, to 31%. AMD stock, after hours, was down 10% on top of the 45% it had dropped since July. The warning was a surprise; it destroyed the hopes for a short-term short squeeze. It also showed AMD management was reluctant to warn earlier, releasing this information as late as practically possible. There must have been some people who saw this coming, industry wide, because all PC related stocks, were dropping, over the last week. Insider trading is possible. On the other hand, it was evident things will be ugly, when PC shipments were declared to be the lowest on record for 11 years. Everyone will be hit. This confirms the short-term downside price pressure predicted in our last article. But is this a long-term trend?
For the last 3 months, it seems low P/E in Personal Computer (PC) chipmakers foretold declining share price.
Look at the table below, compiled using Yahoo Finance:
| | |
| --- | --- |
| Stock Ticker and Price percentage change | PE |
| ARMH up 30% | >80 |
| NVDA down >12% | >15 |
| INTC down >15% | >10 |
| AMD down >45% | >9 |
The lower the price to earnings, the faster the shares have fallen. Clearly all of the above, except ARM (NASDAQ:ARMH), are exposed to the x86 PC market. This bodes badly. I don't think it changes long-term demand, or need for professional software, on fast computers. My hypothesis is that mobile phones and ARM are mostly eating into people's upgrade budgets. Long term, competitive options for Intel (NASDAQ:INTC), AMD and Nvidia (NASDAQ:NVDA) remain the same... if they can survive.
Seen before
We have seen weakness like this back in 2001, when PC demand fell more than 8%; in that case, it was a buying opportunity. Today, it is not just macroeconomic volume, but fundamental competition as well. So recommending a course of action is not easy. ARM has driven down margins, and this is a threat to all semiconductor microprocessor manufacturers. It is the reason Texas Instruments (NYSE:TXN) exited the mobile market with its OMAP. Nonetheless, I think, if the red line (see chart below) is not breached, AMD can again be a bargain. With a risk disclaimer, that this time, the threat from ARM is real.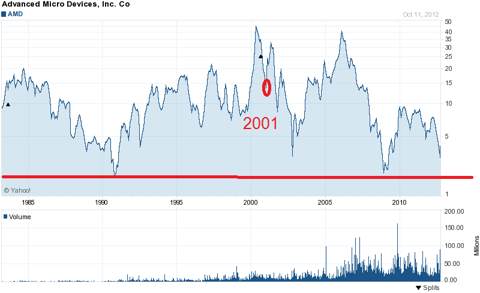 ARM is essentially an open source CPU. By licensing CPU designs, it reduces the research and development costs of making a CPU. In turn, ARM licensees can sell with a much smaller mark-up. For instance, look at the very low cost entrants like MediaTek (2454.TW).
In our previous simulation, AMD could drop to $1.84 if expected growth for the next several years dropped to mildly negative territory. That scenario is now more possible, but it all depends on the crucial future outlook in regards to unit growth and margins. One or two bad quarters does not define sustainability of a company. But if things continue as they are, with 10% revenue drops, we are looking at a price even lower than $2, AMD's historic red line. If Windows 8 does not help things, Intel's dividend is not guaranteed either.
The beginning of PC semiconductor consolidation
I must admit, our timing was wrong, but the arguments regarding PC stocks are still relevant. To be a true competitor to x86 CPUs, ARM still needs to run professional software as well as "toy" software. This has not happened, yet a combination of ARM tablets and macroeconomic issues has been driving down PC sales. The most likely short-term result is PC industry consolidation. For instance, when oil prices were low, there was a big consolidation of oil producers. If you have patience and risk appetite, it might be time to value pick before the consolidation phase starts.
Who would buy AMD?
The best for shareholders would be for Nvidia to buy AMD, thereby removing discrete 3D competition. It would also reduce the HPC threat to Nvidia in GPGPU. Even older Llano APUs are already being used in HPC clusters; if the next generation continues to sell even more into HPC, Nvidia's Tesla and Quadro could be under threat. Furthermore, combined, AMD-Nvidia can produce ARM as well x86 Server offerings. The only drawback is the x86 license between AMD and Intel. It could be the case that AMD would have to redesign parts of its CPUs to make license of Intel patents unnecessary. It is possible, since Via, after legal trouble, still makes x86 compatible parts in the form of Nano. Another possibility could be an Intel takeover. If Intel sees value in GPGPU, they could do worse than buying AMD, especially now that it is cheaper and has already done the hard work of integrating the top ATI GPU into the CPU. After all, it could be a defensive move to prevent ARM server entrants snapping up AMD. Lastly, AMD could break up. For instance, selling ATI to Qualcomm (NASDAQ:QCOM) and licensing back GPU tech for its APUs.
Stay alert for opportunity
My suggestion is, if you don't need the money, stay put. This applies to all PC stocks, including Nvidia, Intel, and AMD. If you do, then sell, but look out for cheap stock to keep for consolidation, or a long-term rebound.
Disclosure: I am long INTC, AMD. I wrote this article myself, and it expresses my own opinions. I am not receiving compensation for it (other than from Seeking Alpha). I have no business relationship with any company whose stock is mentioned in this article.
Additional disclosure: I may initiate a short in the sector.