Despite the obvious red flags, I was fairly certain that Intel (NASDAQ:INTC) wouldn't warn (or if it did, it wouldn't be a big deal) and I had my doubts that Advanced Micro Devices (NASDAQ:AMD) would warn in light of its fairly conservative revenue estimates for the quarter. However, with these two in the penalty-box, should investors fear a revenue warning from Nvidia (NASDAQ:NVDA), a leading figure in the PC graphics space and a strong challenger in the mobile system-on-chip race?
Nvidia's Exposure To The PC Space: Not As Vulnerable?
Nvidia's exposure to the PC space is simple: it makes discrete, high performance graphics processors for PCs, professional graphics solutions for workstations, and accelerators for high performance compute systems.
Now, it is easy to simply point to broad PC weakness and lump Nvidia in along with the other PC processor suppliers. However, there are a number of key fundamental factors that make it more likely for Nvidia to actually come through on its previous guidance in the face of the PC-centric headwinds:
The design win in the Apple (NASDAQ:AAPL) Retina MacBook Pro gives Nvidia exposure to the increasing market share of MacBooks in the overall PC space
Despite PC weakness for several quarters, Nvidia has repeatedly reported an inability to meet demand of its high end 28nm chips. In addition, at the ThinkEquity conference held on September 13, 2012, the company mentioned that supply and yields were improving. Demand, unlike with Intel's and AMD's products, seems to not be the issue
Quadro And Tesla refreshes: these high margin parts with very little major competition should drive Q/Q growth in "professional solutions" segment of the business
The company has released its full suite of "Kepler" 28nm based chips from the low end to the high end, which should help drive sales, especially as a number of major game titles such as "Borderlands 2" from Take-Two (NASDAQ:TTWO), "Medal of Honor: Warfighter" from EA (NASDAQ:EA), and "Dishonored" from Bethesda will likely drive sales of discrete graphics chips as well as Windows 8 laptops featuring discrete graphics during 2H 2012.
Finally, the company noted that it was gaining significant share in the notebook graphics segment, which coupled with AMD's preannouncement could signify a continuation of the trend: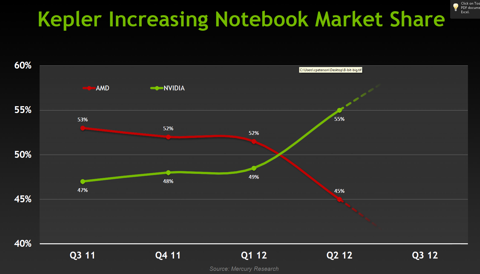 Mobile Segment - Still Ramping Up
While graphics chips are Nvidia's "bread and butter," the company has been making a calculated move into the mobile system on chip space with its "Tegra" line of products.
In 2H 2012, the Microsoft (NASDAQ:MSFT) "Surface" tablet running Windows RT will arrive, and it will be running Nvidia's Tegra 3 system-on-chip. Also, Google's (NASDAQ:GOOG) Nexus 7, which has been selling quite well, is powered by the Tegra 3 and likely to continue its momentum.
On the phone side of things, Nvidia is still trying to gain momentum here. It has had a number of design wins including the LG Optimus 4X HD and the HTC One X, but there's still a lot of growth that needs to happen here, which could be difficult against Qualcomm (NASDAQ:QCOM), Intel, Apple, and Samsung (OTC:SSNLF).
The Guidance Was Recently Reaffirmed
At the aforementioned ThinkEquity conference on September 13th (about a month ago), Nvidia reaffirmed its FQ3 2013 guidance. The company guided for $1.15B - $1.25B in revenues, 51.8% gross margin, and $390M in operating expenses. This comes out to a 15% increase in revenues at the midpoint of the estimate, no change in gross margins, and a 3% decrease in operating expenses.
Still, A Warning Isn't Off The Table
Despite the positives, there are a number of risk factors that put Nvidia at a non-trivial risk of pre-announcing:
Share gains in the PC graphics space not as pronounced as expected
TAM decrease due to weak PC space could offset the share gains
Attach rate of discrete graphics chips in notebooks and desktops could decline, especially as OEMs and end-users look to save money in this tough economy
A re-affirmation in early September may not necessarily hold true by early November (although it would reflect badly on management)
Conclusion
Nvidia has done well over the last several quarters. It has a fortress of a balance sheet, best-in-class products, and strong management. However, it is not impervious to macroeconomic forces, as well as secular headwinds in the PC space. Nvidia could still very well pre-announce.
Disclosure: I am long NVDA, AMD, INTC, QCOM. I wrote this article myself, and it expresses my own opinions. I am not receiving compensation for it (other than from Seeking Alpha). I have no business relationship with any company whose stock is mentioned in this article.