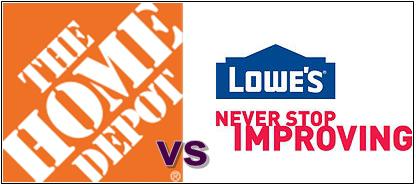 The Home Depot, Inc. (NYSE:HD) is the world's largest home-improvement specialty retailer, operating 2,252 warehouse format stores thorough out the U.S., Canada, Mexico, and China. With 104,000 square feet of enclosed space and approximately 24,000 additional square feet of outside garden area per store, HD serves three primary customer groups: do-it-yourself (D-I-Y) customers, do-it-for-me (D-I-F-M) customers, and professional customers. In comparison, Lowe's Companies, Inc. (NYSE:LOW) is the second largest home-improvement retailer and operates in the U.S., Canada, and Mexico with about 1,750 stores, which mainly serve homeowners, renters and commercial business customers.
Trend Comparison
LOW came under our radar today with its unusual put volume of 10,967 contracts traded, as compared to the 30 day average volume of 3,853, with the daily volume ratio of 2.85, as reported by Schaeffer's investment research on Oct 11, 2012. To dig further, we decided to look into the consumer cyclical sector in the industry of home improvement stores and check out how LOW stands as compared to its major competitor, HD. As seen from the chart below, it is easy to see that the share price for LOW and HD are moving in sync from the beginning of 2012 and started to diverge since May, 2012, where HD's price held relatively stronger than LOW.

Source: Google Finance
Snapshot for Fundamentals
To research further, we looked into the fundamental key stats for HD, LOW, and the industry average.
| | | | |
| --- | --- | --- | --- |
| Key Stat | Home Depot | Lowe's Companies | Industry Average |
| Price/Earning | 21.2 | 20.5 | 20.6 |
| Price/Book | 5.1 | 2.4 | 3.8 |
| Price/Sales ttm | 1.3 | 0.7 | 1.0 |
| Rev Growth (3 Yr Avg) | -0.4 | 1.4 | -1.0 |
| EPS Growth (3 Yr Avg) | 21.7 | -1.4 | 141.6 |
| Operating Margin %, ttm | 10.1 | 6.4 | 8.5 |
| Net Margin %, ttm | 6.0 | 3.6 | 4.9 |
| ROE ttm | 23.8 | 11.5 | 17.9 |
Source: MorningStar
Even though the industry average of -1.0 revenue growth does not look too optimistic, LOW's revenue growth outpaced the industry average and HD's. However, HD's EPS growth of 21.7 dominated over LOW's -1.4 and HD's 10.1% operating margin and 6.0% net margin were all stronger than LOW's 6.4% and 3.6%. While the real estate industry as whole was improving gradually and which we believe will continue to do so with the Fed's effort of quantitative easing (QE), it is safe to remain cautious while the global economy is in a slowdown mode.
Technical Perspective
On Thursday's trading, HD closed at $59.01 with 1.22% loss. The trading volume of 10.43M was 30.9% more than the 30-day average of 7.97M. LOW closed at $30.77 with 0.39% loss and the trading volume of 10.64M was below 30-day average of 12.79M. Since Oct 5, 2012, HD had been declining from $63.20 with 6.63% loss while LOW had lost 3.15%. We had attached two charts below for the short-term technical analysis. For the trend analysis, MACD (12, 26, 9) was turning bearish on Oct 10, 2012 for HD and on Oct 11, 2012 for LOW, where HD is approaching its 50-day moving average of $57.30. For the momentum analysis, HD's RSI just dipped below 50 mid line at 47.87 while LOW's RSI is still above 50 at 61.30.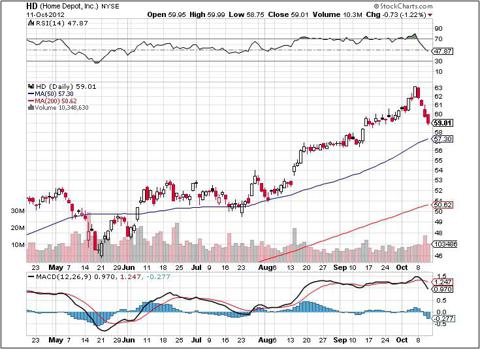 Source: StockCharts.com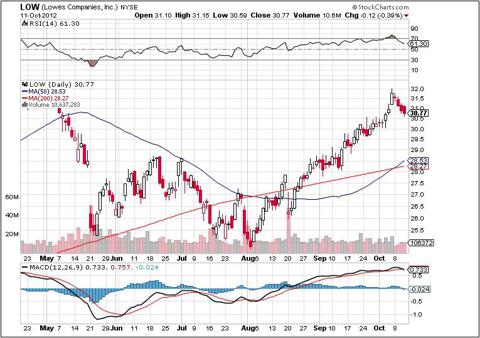 Source: StockCharts.com
A Conservative Option Play
In the long-term, we believe the U.S. housing market will continue to recover and there will always be setbacks along the way due to economic cycles. In the short-term, the selling pressure should continue for HD and LOW based on the technical analysis. In this kind of situation, our strategy is to go long with the industry leader with strongest fundamentals and short the weaker competitor. If HD can hold onto 50-day MV support line, we will consider setting up a call spread for HD, e.g. buy 1x Jan, 2013 Call at the strike price of $57.5 and short 1x Jan, 2013 Call at the strike price of $62.5. At the same time, we will purchase a put for LOW, eg, Buy 1x Jan, 2013 Put at the strike price of $28 or lower, depending on the price of LOW at that time. The maximum risk would be the cost paid for the call spread and put, whereas the maximum profit potential would be $5 minus all cost if HD rebounds and/or unlimited profit potential if LOW drops below the strike price of put.
Disclosure: I have no positions in any stocks mentioned, but may initiate a long position in HD over the next 72 hours. I wrote this article myself, and it expresses my own opinions. I am not receiving compensation for it (other than from Seeking Alpha). I have no business relationship with any company whose stock is mentioned in this article.
Additional disclosure: May initiate a long position on HD and a short position on LOW