While analyst recommendations are important signals for many investors, one shouldn't rely too heavily on such recommendations without independent research. Many are the pitfalls into which individual investors - and the stock market as a whole - have fallen through the herd instinct of blindly following analyst ratings without understanding the context in which these ratings are generated.
Did you know that top American stocks receive over 200 ratings on average per year from analysts? It is a foreboding task to sift through such huge numbers of opinions - for that is all they are - and make a decision to buy a stock. Look at the chart below.
| | | |
| --- | --- | --- |
| Stock | Number of Ratings | Consensus |
| Apple, Inc (NASDAQ:AAPL) | 385 ratings | Strong Buy |
| Research In Motion (RIMM) | 296 ratings | Hold |
| Google Inc. (NASDAQ:GOOG) | 204 ratings | Strong Buy |
| Cisco Systems, Inc. (NASDAQ:CSCO) | 198 ratings | Strong Buy, but many Holds |
| Netflix, Inc. (NASDAQ:NFLX) | 197 ratings | Hold |
| Intel (NASDAQ:INTC) | 197 ratings | Hold, but many Strong Buy |
| Amazon.com, Inc. (NASDAQ:AMZN) | 195 ratings | Strong Buy, but many Holds |
| First Solar, Inc. (NASDAQ:FSLR) | 188 ratings | Hold, but many Strong Buy |
| Salesforce.com (NYSE:CRM) | 181 ratings | Strong Buy |
| Juniper Networks (NYSE:JNPR) | 176 ratings | Hold, but many Strong Buy |
Source: analystratings.net
Apple received a staggering 385 ratings this year. That is a huge number of pundits offering you their opinions on buying AAPL. While consensus rating is an important non-numerical measure of analyst thinking, it is still necessary to check for divergent and even contrarian opinion. Imagine, intelligent people, having gone to Harvard or Kellogg or Sloan, and having access to almost the same data about a company, can offer such widely divergent views on the same stock at the same time. Investors need to understand what is the context behind analyst ratings.
First, here's the simple part: analysts use different terminology to mean the same thing, and the same terminology to mean different things. Here's a nice table from FINRA.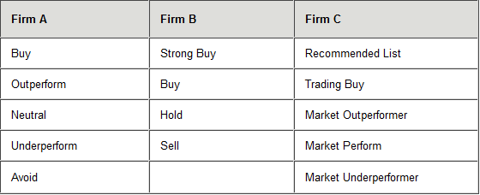 I am quoting from the FINRA guide below.
Firm A rates its most positive recommendations as "Buy," but Firm B does not. When Firm B uses a "Buy," it means that Firm B likes the stock, but not as much as the stocks that it rates "Strong Buy."

Likewise, one firm's "Underperform" might mean that it expects a stock to appreciate 10% slower than the overall market over an 18-month period. For another firm, the same term "Underperform" might mean that it expects the stock to drop 5% within a 12-month period.

Clear "Sell" ratings have grown rare. Some firms no longer even use "Sell" or any word obviously like it. Frequently, a "Hold" rating in effect means "Sell."
Even consensus ratings are arrived at by different providers in different manners. As NASDAQ says "Each Recommendations received from contributors is mapped to one of the I/B/E/S standard ratings. A consensus recommendation is determined by an average of the numeric values, rounding that mean value to the nearest integer. "
Every investor should be aware of these fluctuations, and of the different analyst qualities, and even of the difference between analysts and within the same analyst firm in expertise on the same stock.
Now the complex part: analysts have agendas too. While ideally and ethically, an analyst's primary obligation should be to the retail shareholder, in reality, matters are much more complex. Some analysts are independent researchers; but "a large number of analysts are employed by institutions whose financial stake in their recommendations may go well beyond their accuracy." Large financial firms that underwrite IPOs, hedge funds that hold certain securities, mutual funds and investment advisors may benefit to the tune of billions of dollars from a certain analyst rating. When such huge sums are at stake, it is easy to push a Buy into a Strong Buy, or worse, a Hold into a Buy.
Other factors weigh in to the analyst rating dilemma. Often, analyst compensation packages are directly tied in to how their institutions' holdings perform. Buy-side pressures might result in equivocal ratings like "Market Perform" and "Hold," which astute investors know simply means sell, and sell quickly. Other conflicts of interests might arise when an analyst, or the firm the analyst works for, has significant exposure to a stock being rated.
I will end this study with a table of surprises, both upside and downside. While these are not about ratings per se, but are about earnings, you can still understand how widely wrong analyst estimates sometimes can be (well, by percentages, at least).
Upside Surprise
| | | | |
| --- | --- | --- | --- |
| Company Name | Surprise (%) | Reported EPS | Consensus EPS |
| Costco (NASDAQ:COST) | 6.11 | 1.39 | 1.31 |
| JEAN COUTU (OTCPK:JCOUF) | 4.55 | 0.23 | 0.22 |
| Mission West Prop,(NASDAQ:MSW) | 28.57 | 0.09 | 0.07 |
| PrivateBancorp, Inc.(NASDAQ:PVTB) | 22.73 | 0.27 | 0.22 |
| Sycamore Networks (NASDAQ:SCMR) | 76.92 | -0.03 | -0.13 |
Downside Surprise
| | | | |
| --- | --- | --- | --- |
| Company Name | Surprise(%) | Reported EPS | Consensus EPS |
| API Technologies (NASDAQ:ATNY) | -4900.00 | -0.50 | -0.01 |
| DragonWave Inc (NASDAQ:DRWI) | -86.21 | -0.54 | -0.29 |
| Helen of Troy Limited (NASDAQ:HELE) | -15.29 | 0.72 | 0.85 |
| Material Sciences Corporation (NASDAQ:MASC) | -40.00 | 0.12 | 0.20 |
| Richardson Electronics, Ltd. (NASDAQ:RELL) | -16.67 | 0.05 | 0.06 |
Disclosure: I have no positions in any stocks mentioned, and no plans to initiate any positions within the next 72 hours. I wrote this article myself, and it expresses my own opinions. I am not receiving compensation for it (other than from Seeking Alpha). I have no business relationship with any company whose stock is mentioned in this article.