Futurama is one of my favorite cartoons. It's about a guy named Phillip J. Fry who gets frozen in the year 2000 and wakes up a thousand years later in New York. There's a scene from the first season where Fry is having a nightmare. He's in some university course during a final exam and he asks what the subject is. The old lady professor answers, "Ancient Egyptian algebra."
"What a nightmare!" he screams. But that's not all.
"Mr. Fry, are those your underpants?!" she asks. Yes, Fry is in his underpants. Everyone laughs at him. And here's where it gets snarky. The professor's voice suddenly takes on the tone of a commercial.
"Young man," she says, "it's about time you learn a lesson about Light Speed® Brand Briefs!" Then the ad starts in earnest, with Fry being featured in his own dream wearing nothing but Light Speed® Brand Briefs in various situations, smiling, stylish and happy. When he wakes up he goes for his morning meeting at the delivery company he works for, and asks, incredulously, "How can companies just advertise in your dreams?"
"Didn't you have ads in the 20th century?" his coworker Leela the cyclops asks him.
"Well sure," he says, "but not in our dreams! Only on TV and radio…and in magazines, and movies…and at ball games, on buses, and milk cartons and t-shirts and bananas…and written on the sky! But not in dreams!" he insists, "No siree!"
Futurama has it right. Marketing has become a race for ad space in the craziest places wherever you can find it. And if a company can't saturate its customers with ads on every conceivable platform, it gets excoriated. The most notorious case is Facebook (FB), which is now embroiled in a controversy about what it said to the SEC and when about how much ad space it could utilize for mobile users of the site. As it turns out Zuckerberg wasn't fast enough about loading up mobile ad space and now that's being blamed for over $50B in market cap being evaporated in its now infamous IPO crash.
I think there were other problems - a vastly over bloated P/E ratio at the IPO price for one - but the mobile marketing failure certainly didn't help FB maintain its dizzyingly oversized market cap.
Facebook aside, in one sentence, mobile traffic is increasing at a faster clip than advertisers can cover, and this is causing companies to lose revenue. It's not like the hardware isn't there. Last month, Forbes published a piece on how Qualcomm (QCOM) is going full speed equipping mobile phones with its latest chipsets for the upcoming holiday season, chipsets which are used by Nokia, Motorola, and Apple in their smartphones. What's missing is something more subtle, some kind of interactive platform that unites and invites customers to engage with the brand on the phones.
Mobivity (OTC:MFON), formerly CommerceTel, has something that may just fit the bill. A slew of press releases have come out since late last month announcing new partnerships that the company is forging with different professional sports teams in the NBA, NHL, and NFL. For such a tiny company that nobody pays attention to, going after professional sports is a smart strategy. All the owners and managers in each league know one another, trade players and make all kinds of deals, and if one team raises revenue thanks to Mobivity, then other teams will give them business as well. Maybe that's why they bagged three teams in two weeks.
The idea reminds me of the Futurama scene, except it doesn't go as far as advertising in dreams. Mobivity's mobile platform will, for example, allow anyone with a smartphone at a basketball (25,000 people) or football (60,000 or so) game to, say, vote for the MVP of the game via text messaging, and then ads show up right on their iPhones during the vote, following them wherever they go.
This screenshot, taken from Mobivity's website (see below), shows the basic concept. In this case, fans vote by text, an ad appears on the bottom for Ticket exchange or some other team sponsor, and users are asked if they want mobile updates from the team. The team builds a database of mobile fans, which it can advertise to freely. So instead of only advertising to fans while they're at the game, it can keep them in the database and reach them wherever, whenever. With the one exception of when they're sleeping.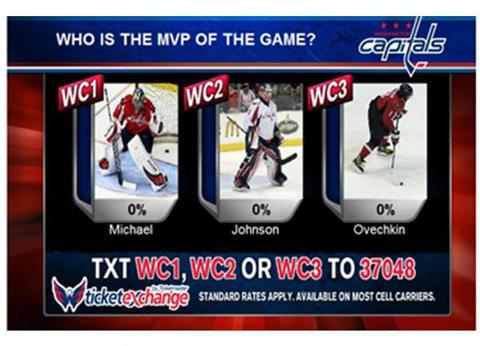 The company has been treading water with over $10MM in liabilities and its stock price is near its all-time lows, and in a clear downtrend since inception. (See chart below.) But given the Facebook debacle and the fact that everyone is pinning it -for better or worse - on its inability to capitalize on its mobile users, Mobivity may be in the position to grab some investor attention if the partnership with these sports teams bears any fruit. My advice is to watch it carefully and keep an eye out for the next earnings report to see if it is making any progress.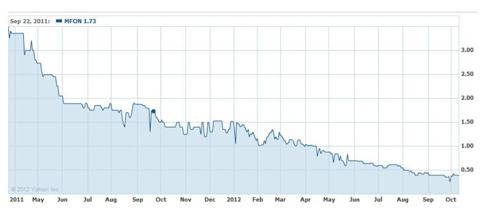 Disclosure: I have no positions in any stocks mentioned, and no plans to initiate any positions within the next 72 hours. I wrote this article myself, and it expresses my own opinions. I am not receiving compensation for it. I have no business relationship with any company whose stock is mentioned in this article.