Looking for defensive dividend stocks? With the S&P down 1.95% over its past five sessions, and virtually flat over the past trading month, the defensive utility sector is back in favor. It went from being the worst performer during the quarter (down 0.71%) to being the second best performer during the past trading month (up 1.93%), trailing only healthcare, which is up 2.46% for the same period. In addition to being a sought after "safe haven," the utility sector also has the highest dividend yield in the S&P 500, 4.21% vs. 2.18% for healthcare.
It's long been said that water will be the most precious commodity in the 21st century, due to global population growth and a growing scarcity of potable water in many areas. One water utility firm directly involved in solving this issue is Consolidated Water Company (NASDAQ:CWCO) of the Cayman Islands, which is listed in the utilities part of our High Dividend Stocks By Sector Tables.
CWCO designs, builds, operates, and in some cases finances seawater reverse osmosis (SWRO) desalination plants and water distribution systems in several Caribbean countries, where the supply of drinking water is scarce and the use SWRO is economically feasible. CWCO has had a good "up-down beta" over the past six months, beating the market in the spring pullback and participating in the summer/fall rally: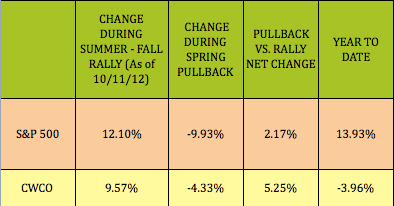 As the table above shows, however, CWCO is still down for the year. It's also currently oversold on its long-term Stochastic chart:
Click to enlarge images.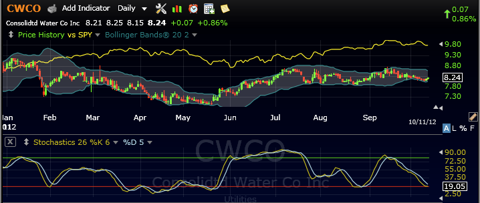 Earnings
One fly in the ointment for CWCO is that its Q2 2012 earnings only grew about 1% due to unseasonal heavy rains (two feet) in the Grand Cayman Islands, which adversely affected its retail profits, sending revenue down 10%. However, CWCO earned over 43% of its quarterly gross profit from its Bulk segment, which has long-term "take or pay" contracts that have doubled in revenue from 2006 to the past 12 months. Bulk revenues grew 36% during the first six months of 2012.
Although utilities aren't known as a high-growth sector, CWCO is projected to grow its earnings by nearly 24% in 2012 and over 19% in 2013. Its trading below its five-year low P/E range, and it now looks slightly undervalued on a 2013 PEG basis:

CWCO also looks undervalued on a P/E, price/book, and price/sales basis vs. its peers: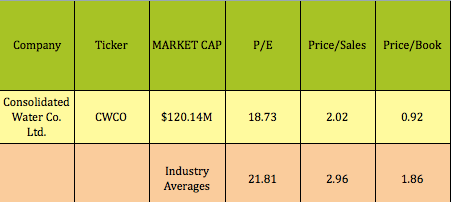 Dividends
CWCO hasn't missed a quarterly dividend payment since 2001, and actually increased its dividend during the 2009 crisis to its current $.075 rate. Its dividend yield is above average for the water utility industry, and it also has a better-than-average dividend growth rate: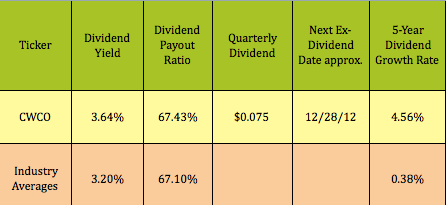 Financials
Although CWCO's ROE is lower than Industry averages, it carries much less debt than its peers. Its operating margin dipped from a five-year average of 13.38%, due to the lower retail revenue operating on the same cost base in the second quarter: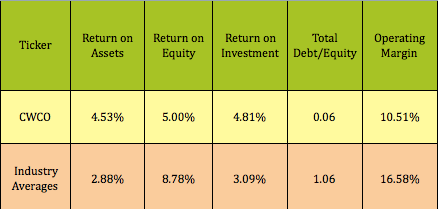 Options
CWCO has call options and put options available only for November, and they are very thinly traded.
Disclosure: I have no positions in any stocks mentioned, and no plans to initiate any positions within the next 72 hours. I wrote this article myself, and it expresses my own opinions. I am not receiving compensation for it (other than from Seeking Alpha). I have no business relationship with any company whose stock is mentioned in this article.
Disclaimer: This article is written for informational purposes only and isn't intended as investment advice.