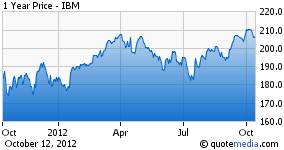 IBM (NYSE:IBM), one of the "old tech" giants, that sports a reasonable valuation today, will report their calendar 3rd quarter financial results after the bell Tuesday night, October 16th. Analyst consensus is looking for $3.61 in earnings per share on $25.78 billion in revenue for expected year-over-year growth of 10% in earnings per share on a 3% decline in revenues.
As we detailed in our Seeking Alpha piece on October 1st, IBM's two leading corporate indicators - Oracle (NYSE:ORCL) as a software tell, and Accenture (NYSE:ACN) as a services tell, both reported in late September, and both reported decent results, enough to assuage any concern over IBM's quarter.
Software is 24% of IBM's topline, and Services is 57% and as Sterne Agee recently pointed out in a research note, "we are encouraged (about IBM's services business) by positive commentary and strong bookings from ACN and SAP." Normally, we would not have bothered writing an IBM preview given our October 1st article, but sentiment around technology in general and tech hardware in particular seems to be hitting a negative extreme that we have not seen since the tech bubble burst and the bottom was hit in the fall of 2002, early 2003.
Tech Hardware is 17% of IBM's revenues and in hindsight they were pretty shrewd selling the PC biz to Lenovo years ago, and focusing on servers and mainframes, which went through its own Armageddon in the early 1990's. The one big safety net IBM for cash-flow: IBM does generate prodigious amounts, north of $20 - $22 billion, and with annual capex of just $4 billion, all that free-cash-flow gets put into stock repurchases and a modest dividend.
According to our internal spreadsheet, since Sept '09, IBM has reduced full diluted shares outstanding 13% and - get this - since the tech bottom in March, 2003, IBM has retired 33% of their fully diluted shares outstanding. What do not i like about IBM, well, goodwill exceeds shareholders equity leaving Big Blue with a negative tangible book value, but that seems analogous to finding an arm pimple on the supermodel you're dating.
Technically, we'd wait for a pullback on IBM to the mid $190's OR a solid breakout on volume above $210 for Big Blue. IBM's valuation is very reasonable, at 10(x) cash-flow and 15(x) free-cash-flow, with expectations of mid-teens earnings growth this year and next, which are managed adroitly with the share repo program.
Here is now the last three years and the next three years falls out in terms of earnings per share and annual eps growth according to current history and estimates:
At $206 per share, IBM is trading at 14(x) '12 earnings with the expectation of 14% growth.
2014 - $18.33 (est) and 10% y/y growth
2013 - $16.71 (est) and 10% y/y growth
2012 - $15.14 (est) and 14%
2011 - $13.28 and 15%
2010 - $11.52 and 15%
2009 - $10.01 and 12%
Disclosure: I am long IBM, ORCL. I wrote this article myself, and it expresses my own opinions. I am not receiving compensation for it (other than from Seeking Alpha). I have no business relationship with any company whose stock is mentioned in this article.