"When investors cast aside the lessons of history, those lessons come back to haunt them." – Martin Meyer, Markets
It's a tough time to be an investor. A financial crisis and housing downturn in the United States has dragged down the markets. The world's largest economy is headed straight for a recession.  Meanwhile, inflation is rising in the U.S. and downright surging around the world.
Investors are very afraid right now. Over the medium term, however, the global economy is still strong. Copper, one of the best economic indicators, is still well above $3 and doesn't show much weakness.  The economy will recover. It always does.
Don't get me wrong, the U.S. banks certainly have their problems. And no one knows for sure when the bleeding will stop. But we are seeing the commodity markets starting to pick back up and anyone buying mining and commodity-related stocks now will be well rewarded.
Commodity stocks have taken a nosedive this summer. For instance, fertilizer stocks have soared 1,000% in a few years only to get cut in half in a matter of weeks. Gold has fallen more than 20% since it crested $1,000 an ounce. Silver, copper, zinc, and most other metals have fallen in price between 20% and 50% over the summer.
Most investors are wondering if the bubble has burst or if this is just a correction. Frankly, I don't blame them. Downturn has been sharp and a lot of portfolios are a lower than they were just two months ago. But I've got good news…
The recent commodity correction is just that: a correction. But it's for a reason that we hardly ever hear about.
It's been an ugly couple of months and investors are naturally getting nervous. But now, when other investors are anxious, irrational, and running scared, it is the time to start wading back in to commodity stocks. Here's why.
We all know the basics. China, India and other "emerged" markets have seen their economies grow at a double-digit rate, for years. Meanwhile, the mining industry has suffered from a 25-year spell of under investment. There aren't enough mines. Demand has remained strong and supply continues to lag in most base and precious metals, agriculture commodities, and energy.
That's the story. We've heard it for years and frankly, it's just not enough to get investors excited and bid up mining stocks again. Recession fears are simply too strong right now. There's one very important thing that commodities have on their side right now, history.
Jim Rogers, hedge fund manager who wrote the book on the emerging commodity bull market in 1999, says, "Throughout history, bull markets in commodities have lasted a long time. They've averaged about 18 years or 19 years. The shortest I could find was 15 years; the longest was 23 years."
Commodity bull markets are not flashes in the pan. It often takes 10 years or longer to find a suitable mining prospect, explore it, develop a mine plan, and implement the plan to put a mine into production. Not to mention all the delays, environmental issues, and government meddling involved. After decades of underinvestment, it's going to take years for supply to catch up with demand.
Again, most of that's already taken into account. The key to telling whether or not commodity stocks are merely correcting or are part of bursting bubble can be found in valuation. Let me explain.
Financial markets (especially commodity markets) have been littered with euphoric booms and painful busts. Each one had one common element. When it's booming, you'll find a lot of people saying, "It is different this time" to justify some new way of valuing stocks. When cash flows, earnings, and profit margins don't matter anymore, you know you're in a bubble.
The perfect example is Japan's bull market in the 80's. For nearly a decade, Japanese stocks beat the S&P 500 by 10 percentage points each year. By the end of the decade, Nippon Telephone & Telegraph (Japan's equivalent of AT&T) had a ridiculous P/E ratio of 300.
Jeremy Siegel cites a trip Leo Melamed, then president of the Chicago Mercantile Exchange, to Japan during the height of the Japanese stock market bubble and how Melamed knew a bubble had formed. In Stocks for the Long Run, Siegel wrote:
[Melamed] asked his hosts how such remarkably high valuations could be warranted. 'You don't understand,' they responded. 'We've moved to an entirely new way of valuing stocks here in Japan.'
With a response like that, it was pretty easy to see a bubble had formed. The telltale sign of a bubble is that a new valuation method was created to justify those sky-high valuations. The "new method" did NOT last. It never does.
The heyday of the dot-com bubble brought the same type of new valuation methods too. It was the new economy and a new set of valuation criteria were needed to look at things. In the end, nothing was new.
At the time, companies with no earnings and no hope of turning a profit were afforded multi-billion dollar valuations. That hasn't happened to major mining and commodity related stocks yet.
That's a big reason why I believe the commodity markets are not in a bubble and the recent downturn is not going to last long.
Energy and mining stocks are not out of control. When stockpiles of different metals are rising and demand slows metals prices go down. Oil prices, despite a huge run in 2008, have corrected to a much more reasonable level. Precious metals, base metals, natural gas, fertilizer…they're all moving with underlying fundamentals. Markets are still working efficiently.
Oil & gas services stocks have an average P/E ratio of 22 and the S&P Materials Index has a P/E of 15. Those aren't far from the entire S&P 500 which has P/E of about 14. The valuations, from a price-to-earnings perspective, are not too far out of line with historical norms.
Need more? Just take a look at the current valuation of a few top mining and energy stocks below. They still have reasonable valuations.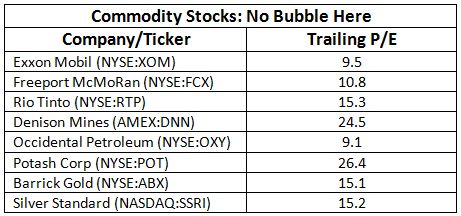 As you can see, we still haven't hit anything close to a bubble in commodity stocks yet.
Assuming the bull market in commodities started in 1999, we've got at least six years and as much as 13 years left in this run. History is on our side and the commodity markets and mining stocks have not hit bubble territory yet. The current dip is just that, a dip.
It's time to start nibbling away now. At the Q1 Publishing, we're not going to cast aside the lessons of history, but try and profit from them. We're watching closely for the downswing to stop and an uptrend to resume. When the uptrend resumes (which the foundation for it appears to be starting to form now and I've already started to move in), it'll be time to go "all in" on commodity stocks.
Disclosure: I'm am currently long Goldcorp (NYSE:GG), Lundin Mining (LMC), Silver Wheaton (SLW), and Occidental Petroleum.