Cliffs Natural Resources (NYSE:CLF) is facing increased pricing pressure as the demand for coal and iron ore falls globally. The big question going forward is what will happen in China and Europe in the next six to eighteen months. Will demand pick up and iron ore prices stabilize or will demand and prices fall? The way Cliffs Natural Resources is being priced by the market you'd think this major natural resources player was going to disappear altogether.
Cliffs Natural Resources is being priced like it's going out of business with a trailing P/E of 4.25 and a recent price of $41. Cliffs Natural Resources projected 2012 earnings are $8.50 and it currently is paying a 6% dividend. One note of caution, Cliffs Natural Resources has a very unstable beta of 2.45 so look for wild earnings and price fluctuations going forward. Sales for the 2nd quarter declined about 10% from the same period in 2011. This was due to lower iron ore prices. Iron ore pricing will remain an issue for the remainder of 2012, but it is projected to recover in 2013. Cliffs Natural Resources sales are projected to increase approximately 8% in 2013.
Company Profile
Cliffs Natural Resources is an international mining and natural resources company. Cliffs Natural Resources is the largest North American producer of iron ore and a major coal producer. The company is broken into four operating units consisting of US iron ore, Canadian iron ore, Asian iron ore, and North American coal. Cliffs Natural Resources has been expanding its production capacity by purchasing competitors over the past several years.
Market Hedge
Even if the iron ore market is slowing down due to macro events, I argue that at these prices Cliffs Natural Resources is a safe economic hedge against the rest of the stock market. Buildings will need to be built and steel will be needed for production in many industries. Iron ore will always be needed for production and holding a natural resource company that controls a market like iron ore is a good bet on future economic growth. I also like Cliffs Natural Resources geographic diversity with operations in the US, Canada, and Australia.
Safe Bet
Cliffs Natural Resources sports a price that is equal to its book value. Shares were recently trading for around $43 and Cliffs Natural Resources book value is $46 per share. So for every dollar invested in Cliffs Natural Resources is supported by a dollar in assets. Cliffs Natural Resources also has an ROE of 18% for 2012 which is excellent for a mining company. The 5 year mining industry average ROE is 17% so Cliffs Natural Resources is right in line with other metal mining companies.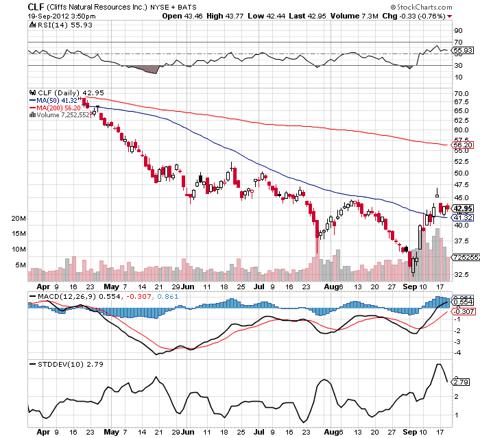 On an enterprise value basis Cliffs Natural Resources is also a bargain. Cliffs Natural Resources has an EV of $10.3 billion and its current market cap is $6.1 billion. Cliffs Natural Resources valuation on a discount cash flow basis also shows up as a bargain. Cliffs Natural Resources DCF value is $94.50/share while its current price is only $43/share. I ran the DCF analys is at 5% growth for the next 5 years and 0% growth after 5 years. The 5% growth rate for years is half of Cliffs Natural Resources projected 10% earnings growth rate for that same period.
Cliffs Natural Resources has a conservative debt load at only $4 billion in outstanding debt and only $1.3 billion of that is due in the next 5 years. Cliffs Natural Resources total debt is 67% of its total market value as of today. Taken as a whole Cliffs Natural Resources is a fairly conservative investment in a natural resource company that is performing very well and has a manageable debt load. The 6% dividend is well supported by earnings and is only 25% of 2012 total earnings.Total cash flow per share for 2012 is $12 per share which further supports the dividend and my argument for Cliffs Natural Resources.
All things considered I argue that Cliffs Natural Resources is a great investment at its current valuation and that investing in a natural resource company like Cliffs Natural Resources is a Great market hedge that also gives plenty of opportunity for growth. Cliffs Natural Resources has solid financials and is positioned to grow with the global economy.
I have no position in CLF, and I don't anticipate initiating a position in the next 72 hours.
Disclosure: I have no positions in any stocks mentioned, and no plans to initiate any positions within the next 72 hours. I wrote this article myself, and it expresses my own opinions. I am not receiving compensation for it. I have no business relationship with any company whose stock is mentioned in this article.