Like every independent investor I'm looking for the next growth stock…the next Apple, Starbucks or Whole Foods. I'm Manny Backus, and right now I'm thinking of pizza. I don't eat a lot of pizza myself, but I do like the performance of one company that might give the industry giants a run for their money.
The Last Company You Would Imagine
When it comes to global growth and pizza, one stock immediately pops to mind: Yum Brands (NYSE:YUM). Yum is the proud owner of the global Pizza Hut and KFC Kentucky Fried Chicken franchises worldwide. It has a market cap of more than $30 billion and a fairly high valuation per share to boot.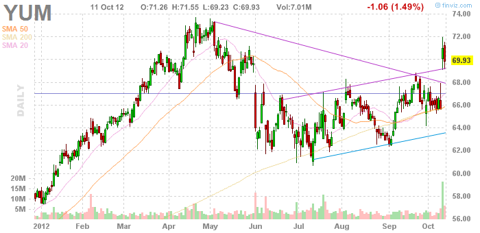 Frankly, Yum is a little rich for my blood. Profits in the chain's much-ballyhooed Chinese operations have come under pressure with rising commodity costs. I'm not ordering from Yum.
McDonald's (NYSE:MCD) stock performance has also been slack this year despite its aggressive international expansion, especially into the Chinese market.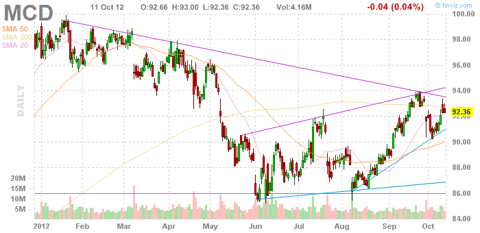 Commentators seem to love McDonalds', but they don't often mention the last quarterly report. Same-store sales were flat while system-wide sales were down 3.2%. Normally fast growing regions like the Asia/Pacific market, the Middle East and Africa also contracted by 1.5% during July, but bounced back in August.
I realize these are two huge and successful companies. It is true that billions of consumers happily devour their food. But YUM and MCD appear to be testing their growth ceilings, and right now they seem to be slacking off.
Who's Next At Bat?
I want a company with real catalysts and growth possibilities. The bloated giants of the past aren't going to produce the double and triple-digit gains I'm interested in. One of the best possibilities I've found is a company that has virtually risen from the dead in the past three years.
Say the word "Domino's" to a pizza snob, and he'll probably turn up his nose. But for investors it's a different story. Domino's (NYSE:DPZ) three-year performance chart tells the tale: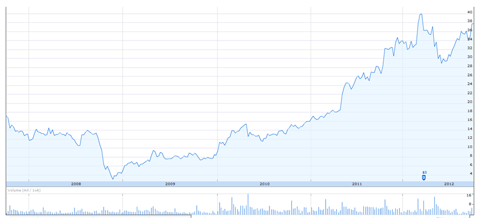 Wow! What a rocket-ride from less than four dollars a share to a peak of more than forty dollars. This company is worth a closer look.
Domino's was left for dead by investors a few years ago as customers drifted away, complaining about crummy pizzas and equally dismal stores. Since then Domino's has been re-invented with new recipes, a jazzed-up ad campaign, logo, online ordering and a mobile app to boost the company's core delivery business.
Take a look at the latest chart and you'll see a new catalyst kicking up share prices: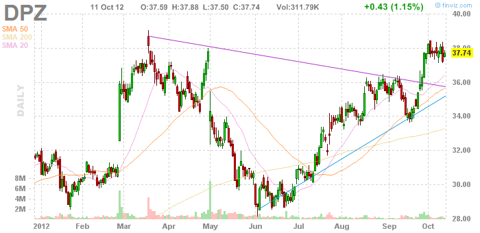 Investors are taking notice of the company's aggressive new product lines. When Domino's launched its new deep-dish pizzas, industry insiders recognized it as a direct attack on Pizza Hut's most popular product. And there's more. Domino's has not finished running its course.
10,000 Outposts and Growing
As far as most investors are concerned, Pizza Hut is the only international play in this field. But would you believe that Domino's just opened its ten thousandth store! That's right, 10,000! Only eight other global chains are in this league, but none are as cheap.
The newest store is in Turkey. In fact, more than fifty percent of the Domino's growth story is outside of the US, with franchises opening in 72 countries including the UK, Turkey, Mexico, Australia. South Korea, Canada, Japan, France, Taiwan and especially India, where future growth is expected to be explosive. With 489 stores in India, Domino's expects to open 100 more next year and eventually to double its presence on the subcontinent with a market of one billion consumers.
Domino's is already the number one pizza delivery company. But the next step is something completely different.
The Starbucks of Pizza?
Domino's new management is rolling the dice. After launching those deep dish pizzas that moved the market in September, the company is now revamping its many of its US stores. Not content to be the number one delivery company, Domino's is jazzing up the atmosphere of its stores and creating so-called "pizza theater". That means fresh (not frozen) dough, lots of hand tossing, and a more Starbucks-like atmosphere. With a new line of "Artisan" pizza, this company is looking beyond its quick-delivery niche.
The Brass Tacks
Unlike its competitors, Domino's is growing earnings very quickly. In the second quarter the company had 17.5% EPS (earnings per share) growth over the previous year. Despite the strong dollar, which has undermined many multinational chains' revenues, Domino's international division had another strong quarter as same-store sales grew 5.7%! That's not including new-store growth.
CEO Patrick Doyle says, "On a 12-month basis, we've now actually grown 481 new stores internationally, a record pace for Domino's Pizza international." That really is a dramatic pace of growth. And, to my delight as a shareholder, a lot of the risk is absorbed by the franchisees who actually bear the cost and ongoing expenses of running a Domino's franchise.
The company has a lot of room to spread its wings. Domino's is the dark blue wedge at the top of this pie chart representing 2% of global sales. Yum Brands is the medium blue wedge with 9% of sales. Keep in mind that YUM has a $30 billion market cap. Sure, Domino's has grown, but it still sports a market cap of only $2.1 billion.
It doesn't take much more than that to understand which company has the greater growth potential. Me, I'm hungry for a slice of Domino's. Buy DPZ at $38.00 or less. Target $48.00. Sell-stop limit $30.00
Disclosure: I have no positions in any stocks mentioned, but may initiate a long position in DPZ over the next 72 hours. I wrote this article myself, and it expresses my own opinions. I am not receiving compensation for it. I have no business relationship with any company whose stock is mentioned in this article.