In a March 11th column on beaten-down financials/consumer stocks/semiconductors, I discussed the ways in which analysts determine whether an investment is technically "overbought" or "oversold." They make the determination through the use of a "Relative Strength Index [RSI]."
RSI travels between 0 to 100. An ultra-weak, sub-10 showing may be indicative of a strong buy. Similarly, an ultra-strong 90+ score may be an opportunity to take profits (i.e., sell).
In this bear market environment, shorting financials, consumer services and semiconductors has been a popular move. Indeed, the move is as popular here on August 21 as it was back on March 11. The Relative Strength [RSI] scores for ProShares UltraShort Financials (NYSEARCA:SKF), ProShares UltraShort Consumer Services (NYSEARCA:SCC) and ProShares UltraShort Semiconductors (NYSEARCA:SSG) are  99, 95 and 94 respectively.
Yet, even as the popularity has increased vis-a-vis volume and RSI scores, the profitability of buying the UltraShorts seems to be waning. Moreover, the volatility and the "overbought" status are suggesting that risk outweighs the reward.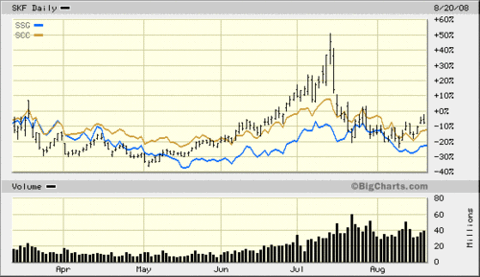 Notice how "ultra-shorting" financials after March 11 led to 30% losses through mid-May. The same held true for ultra-shorting semiconductors.
Of course, when the markets nose-dived in June/July, ultra-shorting the reliably weak sectors of financials, semis and consumer stocks became profitable once more. (From mid-July forward, the ultra-shorting has been ultra-heart-breaking.)
All totaled, ultra-shorting weak areas of the market when RSI numbers top 90 isn't great "timing." It follows that... at least for today... ProShares UltraShort Financials, ProShares UltraShort Consumer Services and ProShares UltraShort Semiconductors are  technically "overbought."
Traditional trendlines are less clear on the matter. SKF is still above its long-term trend... thank you Fannie/Freddie. However, ProShares UltraShort Consumer Services and ProShares UltraShort Semiconductors are below/hugging the 200-day mark.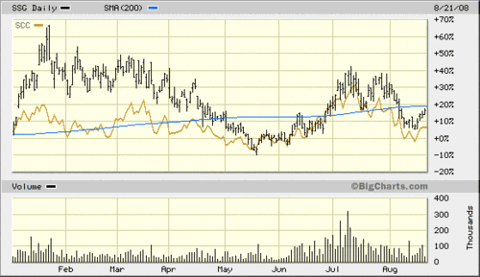 I will be discussing a host of current ETF issues on my "In the Money" radio program this weekend. Feel free to tune into the ETF Expert/"In the Money" Radio Podcast anytime... and get your investing guidance when you need it!
Disclosure Statement: ETF Expert is a web log ("blog") that makes the world of ETFs easier to understand. Pacific Park Financial, Inc., a Registered Investment Advisor with the SEC, may hold positions in the ETFs, mutual funds and/or index funds mentioned above. Investors who are interested in money management services may visit the Pacific Park Financial, Inc. web site.