Stock market investors could rejoice in capturing a 15% gain in the S&P 500 in the first nine months of 2012. But a run like that also generates unease about the prospect of a pullback. Here are four reasons you might want to consider sticking to your guns, and staying put in the stock markets - and the names of four companies whose stocks may benefit from these investment hypotheses.
Welcome to the fourth quarter of 2012. If you're like most equity investors, you're looking forward to the next three months with mixed emotions and a degree of trepidation. True, rallies triggered by the aggressive actions on the part of the Federal Reserve, the European Central Bank and other monetary policymakers in recent weeks have propelled the S&P 500 index to a gain of as much as 18% for 2012 as a whole. That's more than double the return that many economists and other pundits had warned us that we could expect, on average, in the coming years. It also is considerably more than investors could have earned from investing in most other asset classes. So, if equities seem to be just about the only game in town for returns, the logical next question is, what can we expect in the way of an encore?
The knee-jerk response would seem to be, "not much." It's hard to imagine central bankers becoming still more interventionist, and stock market gains already have been impressive. So owning equities now might make one nervous, at least in the short run. But the fundamentals suggest sticking with stocks, for the long run, as long as you can maintain discipline and refrain from chasing winners whose valuations have moved into nosebleed territory. In fact, we see four reasons you may want to stay put in equities, with the specifics depending on your particular investment strategy, risk tolerance and style.
Reason 1 - Don't Fight the Fed
This is never a good idea - ask any veteran investor. Today, it's even dicier. Yields on U.S. government debt and other fixed income securities remain at artificially low levels thanks to what can only be described as financial repression in the shape of an insistence by Fed chairman Ben Bernanke that key lending rates will remain near zero until at least 2015. This policy, known as the "Bernanke Put", continues to force investors who would normally seek fixed interest returns into the risk-on equity arena in ever-growing numbers. Media reports proclaim that the strategy of investing in stocks that pay out high dividend yields is overdone, overcrowded or about to underperform. All three may be true to some degree, but that's not to say that yield-starved investors are paying attention; they still want some income, and if they can't get it from bonds….
One way for investors to try to ride the slipstream of the Fed's easy money policy is consider buying shares in those companies that pay out an above-average dividend yield, while retaining an above average amount of their free cash flow. (In other words, look at companies with high yields and low payout ratios.) That's the way to acquire a portfolio of companies that remain cash-rich while still being generous to investors.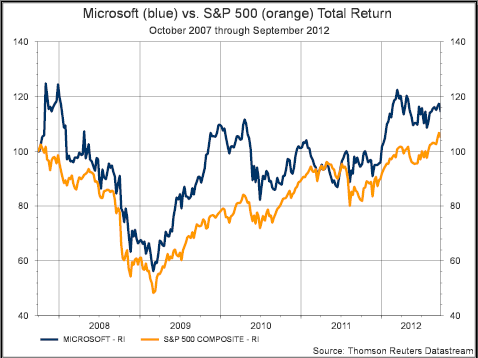 Microsoft (NASDAQ:MSFT) is a poster child for this strategy. While the average yield on the S&P 500 is 2%, Microsoft offers 3%. Moreover, the stock's price has climbed 15% as of the end of September, a gain that is in line with that of the S&P 500. Moreover, the company recently boosted its quarterly dividend to 23 cents a share from 20 cents previously. Nonetheless, even at that higher payout level, Microsoft will still only use about a third of what StarMine estimates will be its $3.08 per share of earnings generated over the coming 12 months to fund dividends. StarMine's analysis of the earnings forecasts produced by analysts who track Microsoft tells us that the five-year compound earnings growth is expected to be 7.7%. That's about in line with the S&P 500 CAGR of 7.9% -- although, given that Microsoft generates a higher yield, it's reasonable to expect that the long-term earnings growth would be more subdued, and along the lines of many high yield and low payout companies.
Reason 2 - Quality Still Matters
For the time being, try to put the idea of whether you are "risk on" or "risk off" to one side entirely. Instead, think about quality, and specifically, earnings quality. Those companies able to boast that they have an above-average degree of earnings quality - that is, that they are able to provide a degree of comfort to investors that they will continue to generate solid returns over the coming quarters - may lag the broader market during the kind of "junk" rallies we saw in the second half of 2009. But during unstable economic environments, and over a full market cycle, these quality companies reasonably can be expected to demonstrate an above-market performance.
One way to identify high-quality investments is via the StarMine Earnings Quality Model, which measures the degree to which past earnings are likely to continue into the future. Independent petroleum refiner Tesoro (TSO) currently scores 92 out of a possible 100 when measured by this model; the company's Returns on Net Operating Assets (RNOA) of 26.7% for the quarter ended June 30, 2012 dwarf the 11.2% RNOA generated by the energy sector as a whole. Profit margins - one of two drivers of RNOA - at Tesoro have remained steady at around 4% (versus 19% for the energy sector). It is the other driver that accounts for Tesoro's high score: the company's asset turnover is 6.6 times, compared to 0.5% for the sector.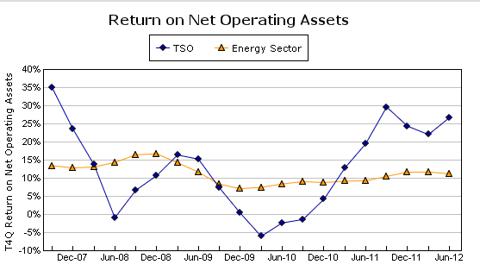 The bad news? Tesoro's share price has been on a tear this year, and at around $43.24 today, it is up about 85% so far this year. Most recently, news that Tesoro will purchase a package of refining and marketing businesses from BP, discussed previously on AlphaNow, has given the stock an extra boost. StarMine calculates that the company's five-year compound EPS growth now stands at 13%, while the market price implies a growth rate of -0.6% over the same period. Translated, that means that in spite of the stock's recent price rally, it still appears to offer solid value.
Reason 3 - Value: Who Can Resist a Bargain?
Despite the stock market's gains this year, there appear to be plenty of values still to be found. This group includes several insurance companies; in an industry characterized by consolidation, some members are still a bargain. Reinsurance and underwriting company Validus Holdings Ltd. (NYSE:VR), up 22% so far this year, offers long-term investors a few characteristics calculated to appeal to long-term investors, including a 3% dividend yield. The company hasn't reported a loss for a full year since its founding in 2005, despite the very difficult first quarter of 2011, during which it, along with its peers, faced liability claims from earthquakes in Japan and New Zealand as well as floods in Australia. For those investors with a penchant for stocks offering low price/earnings ratios, the Validus forward 12-month P/E lies at 7.2, roughly the same level as it has been for the last two years. Validus trades at a mere 0.9 times its forward 12-month price to book value. That means investors are being paid almost twice the current U.S. 10-Year Treasury yield to wait for an industry upturn. StarMine rates the company in the top 83 percent of relative valuation as compared to its industry peers.

Indeed, as the table below demonstrates, Validus's scores on an array of StarMine models range from average all the way up to excellent.

Reason 4 - Growth is Always Sexy
Companies that show that they are able to increase both bottom line earnings as well as top line revenues are always popular among investors, especially when the broader economy is merely plodding along. Finding a company generating good returns with a valuation that hasn't gotten ahead of itself is a tougher proposition. Even during such a modest recovery as the one the U.S. seems to be experiencing today, growth companies worthy of the moniker are likely to be trading around their highs of the year; on that front, DIRECTV (NYSE:DTV), up 24% so far in 2012, doesn't disappoint.
According to StarMine SmartEstimates, the satellite television company should see its earnings grow by 19.5% and revenues climb 6.9% over the coming 24 months. Analysts put DIRECTV's five-year earnings compound growth rate at 12.8%, well above the current S&P 500 projection of 7.9%. The illustration below provides more insight into DIRECTV's above-average sector and industry ranks.

So far, we have focused on the potential for generating investment returns in this article. But investors may also be pondering other important investment objectives: risk in the form of attractive risk-adjusted returns, investment time horizons, the specific investor's need for liquidity and their particular tax considerations. The four stocks we have discussed above are only examples of the kinds of companies that represent each of the factors that, collectively, argue in favor of investors staying put in stocks through to the end of the year. Investors will need to factor in and weigh their own objectives when building a portfolio. In an era during which pundits still predict that single-digit returns will be the most that we can hope to glean from the equity markets, what is crucial for all of us is to recall that one of the factors most likely to put a crimp in our final returns are the costs of strategies that lead us to move in and out of markets.
Disclosure: I have no positions in any stocks mentioned, and no plans to initiate any positions within the next 72 hours. I wrote this article myself, and it expresses my own opinions. I am not receiving compensation for it. I have no business relationship with any company whose stock is mentioned in this article.