2 ETF Winners in the Basic Materials Sector
The Basic Materials Sector is comprised of companies often called "the Stuff Stocks." The companies in this sector are engaged in the business of producing paper and lumber, metals and mining, chemicals, construction materials, and containers/packaging. Much of this sector has been under-performing since the Great Recession, as they are very cyclical in nature and are geared in lockstep with the growth of the global economy. Obviously, China's recent slowdown has also had a huge affect on this sector.
Here are two under the radar ETFs that have substantially outperformed versus their popular benchmarks. They are the First Trust Materials AlphaDEX Fund (NYSEARCA:FXZ), and PowerShares Dynamic Basic Materials Sector Portfolio (NASDAQ:PYZ).
The benchmarks used for comparison are the hugely popular Materials Select Sector SPDR Fund (NYSEARCA:XLB) and the iShares Dow Jones US Basic Materials Sector Index Fund (NYSEARCA:IYM).
First Trust Materials AlphaDEX Fund:
This ETF offering from First Trust commenced trading in early May 2007 and has gathered around $175 million in AUM. It tracks the StrataQuant Materials Index (before fees and expenses). This enhanced Index starts from the pool of stocks from the Russell 1000, and makes selections based on both growth and value metrics. Growth screens are based on selections including price appreciation, price to sales, and sales growth. Value screens include ROA, book value, and cash flow.
From First Trust info for FXZ:
The stock candidates are further screened based for top scoring stocks for growth and value. Bottom 25% ranked stocks are eliminated and the top 75% make the Index. The selected stocks are divided into quintiles based on their rankings and the top ranked quintiles receive a higher weight within the index. The stocks are equally-weighted within each quintile. The index is reconstituted and rebalanced quarterly.
After all this ranking and screening, the fund's holdings are whittled down to 57 stocks. Fees are a bit on the high side at 0.70% annually. The portfolio is rebalanced quarterly. Top holdings include Timken Company (NYSE:TKR), Cliffs Natural Resources (NYSE:CLF) and the Sherwin Williams Company (NYSE:SHW). Get all the holdings here.
All of this semi-active screening boils down to some very nice past performance. Here is a chart (from YCharts) from the last five years versus the two Materials sector benchmarks:
(click images to enlarge)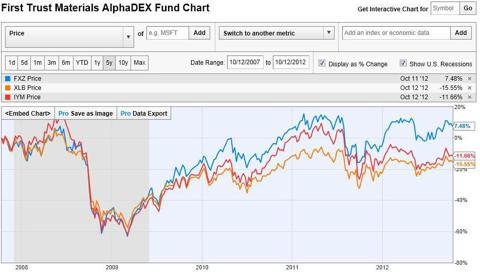 PowerShares Dynamic Basic Materials Sector Portfolio:
This PowerShares ETF offering started trading October 2006. Assets are a bit modest at around $57 million AUM. This ETF tracks the Dynamic Basic Materials Sector Intellidex Index (before fees and expenses).
From PowerShares info for PYZ:
The Intellidex Index thoroughly evaluates companies based on a variety of investment merit criteria, including: price momentum, earnings momentum, quality, management action, and value. The Underlying Intellidex Index is comprised of stocks of 60 U.S. basic materials companies.
There is not a lot of information to their Intellidex methodology, but this semi-active fund fact sheet further states that "Securities shown to possess the greatest capital appreciation potential are selected by the Index." That's a wee bit vague, but the results speak for themselves.
The Fund is reconstituted and rebalanced quarterly. It has a net expense ratio of 0.65%. Top fund holdings include Freeport-McMoRan Copper & Gold Inc. (NYSE:FCX), CF Industries Holdings Inc. (NYSE:CF), and International Paper Co. (NYSE:IP). Get all the holdings here.
The PowerShares secret sauce methodology for this fund appears to be quite tasty. Here is another impressive five-year chart (from YCharts), which shows PYZ's performance versus the two Materials sector benchmarks.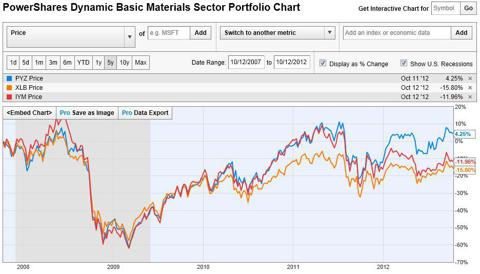 Performance Table for Trailing Total Returns: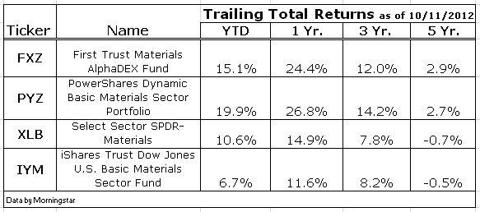 Summary and Opinion:
Sometimes when digging thru the 1400+ ETPs out there, it can be well worth the effort to find some under the radar funds that truly offer some outperformance. This homework can often justify a pricier expense ratio. When the Global economy starts to heal and gets its mojo back, the Basic Materials Sector will likely offer some strong alpha. This sector also nicely compliments a portfolio's gold and/or commodities/natural resource allocations. Also, it's worth noting that because these funds are much smaller than the XLB and IYM, they are probably not large enough for most institutional investors. But for us little guys, (the individual investors), they are just fine -- and so is the outperformance. Sometimes, the little guys can win. Limit orders should always be used with lightly traded funds.
Disclosure: I have no positions in any stocks mentioned, and no plans to initiate any positions within the next 72 hours. I wrote this article myself, and it expresses my own opinions. I am not receiving compensation for it (other than from Seeking Alpha). I have no business relationship with any company whose stock is mentioned in this article.