The NAHB/Wells Fargo HMI, Single-family Sales (Present and Next 6 Months), Buyer Traffic
The National Association of Homebuilders [NAHB] reported the confidence level at 16 for the month of August. A confidence reading above 50 is considered positive while a reading below 50 is considered negative. The level remained the same since last month, but has fallen 16% YTD from 19 in Jan 2008 and over 50% since Jan 2007.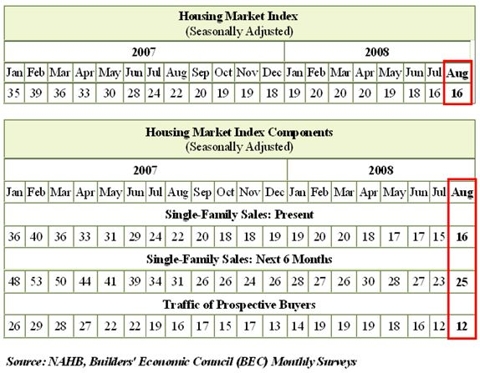 The positives are the increases in both the present single-family sales (15 to 16) and future single-family sales for the next 6 months (23 to 25), while the prospective buyers traffic component remained unchanged at 12. The Housing and Economic Recovery Act of 2008 was signed by President Bush on July 30 and provides a temporary $7,500 tax credit for first-time home buyers who meet their requirements. Details on the tax credit can be found here: www.federalhousingtaxcredit.com. This act should increase the traffic of prospective buyers in the coming months before the credit expires on June 30, 2009.

The HMI Index by Region:
Northeast was up +2 to 16 from 14
Midwest was up +4 to 14 from 10
South remains unchanged at 20
West declined from 14
Department of Commerce Data on Building Permits and Housing Starts
Building Permits for privately-owned housing units in July were down 17.7% in June at a rate of 937,000 vs. 1.138 million in June and down 32.4% compared to a year ago. Single-family building permits were at a rate of 584,000, down 5.2% since June's 616,000 number.
Privately-owned housing starts were down 11% to a rate of 965,000 vs. 1.084 million in June and down 29.6% compared to a year ago. New single-family housing production slowed by 3% to a seasonally adjusted annual rate of 641,000 units, or the lowest level since 1991.
Permit Issuance by Region
Northeast declined 63.4%*
Midwest up 1.4%
South up 4.1%
West declined 14.8%
Housing Starts by Region
Northeast declined 30.4%*
Midwest up 10%
South declined 8.2%
West declined 8.2%
*The Northeast's permit issuance and housing starts were affected by a building code change in New York City. For more information, please visit the NYC Department of Buildings.
For detailed statistics, please visit the U.S. Census Bureau-New Residential Construction.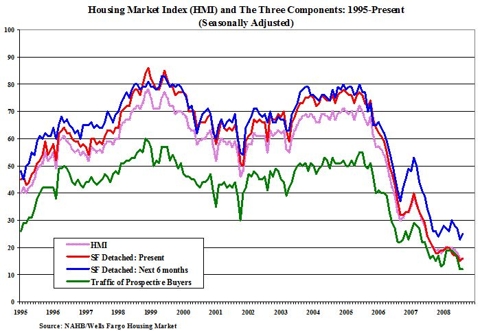 The chart above suggests that housing may have started to form a bottom. I am NOT calling a bottom since the housing crisis is far from over. The graphical representation merely suggests that the precipitous decline since 2005 in the HMI index and its components is slowing down and may be starting to level out. We'll only see in hindsight whether or not we are starting to form a bottom.