Sooner or later, Europe stocks will be perceived more as opportunities rather than dangerous risks. Monitoring earnings growth expectations is needed to help decide when the time is right.
This article presents the earnings expectations and valuation ratios for the S&P 500 and its sectors, and for Europe's Stoxx 600 and its sectors and some sub-sectors.
The forecasts are closer together than the headline risks would suggest.
When you think there is an all-clear and it's OK to be in is a highly personal matter. We are invested in a limited number of individual European stocks with global footprints at this time, but have not yet felt the pitfalls and landmines are sufficiently cleared in Europe to invest in broad indexes, but we are watching closely.
Europe funds have outperformed the S&P 500 recently, but we want a bit more proof of a sustainable price recovery. We can afford being late to the party more than we can afford to lose money.
Figure 1:
This table contains S&P 500 operating earnings forecasts from Standard & Poor's as of 10/12/2012, along with the P/E ratios derived by using the current index price level. The data is available on the Standard & Poor's site.

Proxies for the S&P 500 index and its sectors are:
The PEG based on the trailing P/E and 1 year forward operating earnings growth for the index is attractive at 1.07.
The utilities sector stands out as significantly overvalued, presumably due to crowding by yield seekers -- perhaps setting up utilities for important interest rate risks when Treasury rates eventually rise.
Other than utilities, energy and consumer staples are the most expensive according to the PEG measure, but are still within a generally reasonable range at 1.68 and 1.61.
The least expensive (because it is so beaten up due to a slowing world economy) is basic materials, followed by information technology and financials -- all with PEGs less than 1.
Figure 2:
This table contains the earnings forecasts for Europe's Stoxx 600 (an analog to the S&P 500) based on earnings forecast data from the Bloomberg site (source).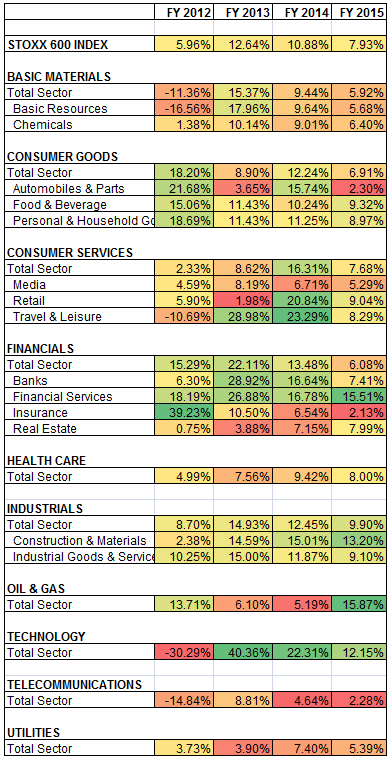 Using valuation data provided by the STOXX.com fact sheet for the Stoxx 600 (as of September 28, 2012) the forward P/E on the index is between 11.52 (including loss making companies) and 11.70 (excluding loss making companies).
The trailing figures are much farther apart. For those with losses, the trailing P/E is 16.12, and without loss making companies, the trailing P/E is 12.77.
One additional valuation point is price to cash flow for the index for all companies at 6.41.
The PEG ratio most similar to the PEG calculation in Figure 1 would be approximately 1.0 to 1.1 depending on which P/E ratio you choose (other than the 16.12 when including loss making companies, which would have a PEG of 1.28).
Utilities are seen as lower growth in Europe as they are in the United States. Technology, industrials and financials are seen as having the best forward earnings growth expectations.
The S&P 500 forward multiple is higher at 12.69, but so too is confidence in the US versus Europe. The forward price to cash flow for the S&P 500 is about 7.2, also higher than that for Europe.
Whether Europe's headline risk is better or worse than that for the US with the Fiscal Cliff ahead is arguable, but the consensus is that the US will continue to be safer. If that is true, then a question would be whether a 1 multiple between US and European stock P/E ratios is sufficient to reflect the differential risks.
Europe ETFs and S&P 500 vs. Stoxx 600 Index Price Charts:
These charts plot the percentage performance of individual ETFs divided by the performance of the Stoxx 600 index (which is shown as a flat black line because it is itself divided by itself).
The Europe ETFs are the iShares Stoxx 50 (NYSEARCA:FEU), the iShares Europe 350 (NYSEARCA:IEV), and the Vanguard Europe (NYSEARCA:VGK) and WisdomTree Europe Small Cap Dividend (NYSEARCA:DFE). The S&P 500 is represented by SPY.
Figure 3: 3 Years Monthly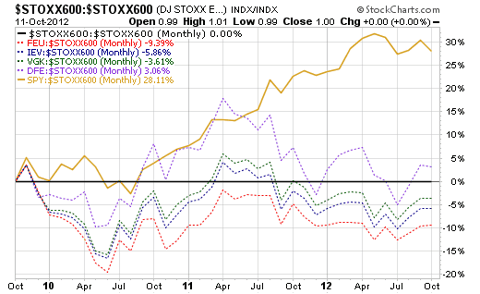 Figure 4: 1 Year Weekly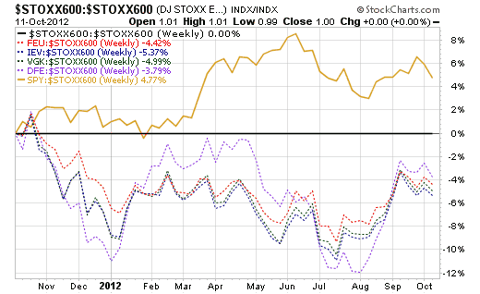 Figure 5: 3 Months Daily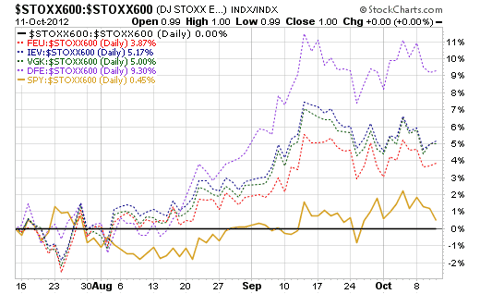 Disclosure: StopAlerts is part of QVM Group LLC. QVM has positions in SPY and XLU as of the creation date of this article (October 12, 2012). We certify that except as cited herein, this is our work product. We received no compensation or other inducement from any party to produce this article, but are compensated retroactively by Seeking Alpha based on readership of this specific article.
General Disclaimer: This article provides opinions and information, but does not contain recommendations or personal investment advice to any specific person for any particular purpose. Do your own research or obtain suitable personal advice. You are responsible for your own investment decisions. This article is presented subject to our full disclaimer found on the QVM site available here.