Emcor Group (NYSE:EME) showed up on our stock screen today and after review, we jumped on it. EME has demonstrated strong earnings and sales growth over the past twelve months, yet in our view, remains very attractively priced. Earnings and Sales have grown 60% and 26.8% respectively over the past 12 months, but their PE ratio is under 14.
Just for comparison, EME earnings growth and return on equity have both been better than 80% of their industry, yet their valuation as measure by the PE ratio, remains lower than 60% of competitors. Those kinds of numbers suggest to us that EME is very reasonably priced.
The company also enjoys strong analyst support with a current rating of 2.1 which is better than 98% of the companies in the rating universe.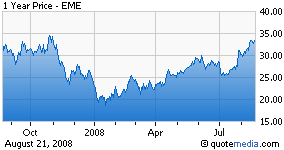 Investor interest in the stock is growing as price momentum has been strong over the last six months, with the stock price about to return to the highs last seen in November. On the positive side, we think the company can get additional growth from a better acquisition environment as some construction companies struggle in the current economic environment.
In addition, there has been more activity in developing oil and gas projects given the pressure from escalating oil prices, and that is a construction niche that Emcor serves very well. The downside risk is that the current economic slowdown could become more severe and last much longer. However, we think EME is better positioned than most to weather a potential downturn. Their current backlog is slightly larger than the prior year which should help reduce pressures from further construction industry slowdowns.
We think the stock deserves a higher valuation based on growth prospects, and are optimistic that PE multiples can return to levels seen in the prior year. The PE multiple will likely not reach prior levels overnight, but if we see expansion over time, the stock price could really soar!
Disclosure: MarketBeatingStocks is currently long EME.