Things have recently been going Yahoo's (YHOO) way. A sale of only part of its stake in Alibaba has brought the company about $7.1 billion, plus preferred shares, and another licensing agreement brings another $500 million plus. After costs and taxes that leaves about $4.5 billion for expansion, distributions and share buy backs. The new CEO, Marissa Mayer, fresh from Google (NASDAQ:GOOG), comes into the company at just the right time.
In addition to a new cross licensing agreement with Facebook, Yahoo may find some new advertising revenue coming their way.
During the past 6 months the stock has hardly moved, and compared to my market proxy of the Value Line Index, has just kept up with the market, both being up about 3% over the past 6 months: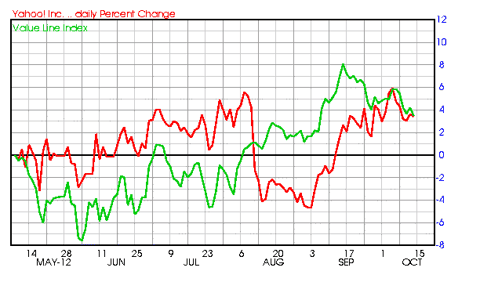 Factors to consider:
Barchart technical indicators:
16% Barchart technical buy signal
Trend Spotter buy signal
Although below its 20 day moving average, it continues to trade above its 50 and 100 day moving averages
8 new highs and up 3.18% in just the last month
Relative Strength Index 53.54%
Barchart computes a technical support level at 15.75
Recently traded at 15.89 with a 50 day moving average of 15.48
Fundamental factors:
Always widely followed by Wall Street where 22 firms have assigned 31 analysts to monitor the numbers
Revenue is projected to be up 1.00% this year and another 2.20% next year
Earnings are estimated to increase by 24.40% this year, an additional 14.70% next years and continue to increase at an annual rate of 11.99% for the next 5 years.
Analysts think if their numbers are correct investors could see a 15% - 19% annual total return over the next 5 years
The P/E of 16.32 is in line with the market
The financial strength rating of B+ may be in line for an upgrade with all new new cash inflow
Investor interest:
Wall Street brokerages have 4 strong buy, 3 buy, 23 hold and 1 under perform recommendations for their clients to consider
I look to the readers of Motley Fool for what the individual investor is thinking and 5,033 readers have given an 80% vote of confidence for the stock to beat the market
New thumbs up recommendations have come recently from both Jim Cramer and Goldman Sachs (NYSE:GS)
In just the past month short interest has dropped from around 35 million shares to 25 million shares - big cover action!
Competition:
The market has the final say and over the past 4 months while Yahoo was up 2%, Google was up 29%, Facebook (NASDAQ:FB) down 39% and Baidu (NASDAQ:BIDU) down 9%: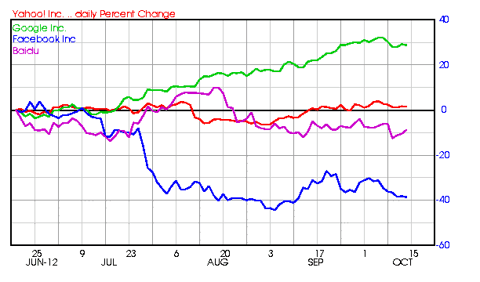 Conclusion: Yahoo has sort of languished over the past year. New management blood, with fresh ideas and a huge influx of cash to allow her to implement her vision should be an interesting scenario to follow. If you already hold it, keep it, and if you decide to enter at this point, please closely monitor the moving averages and turtle channels to gauge the mood of the market: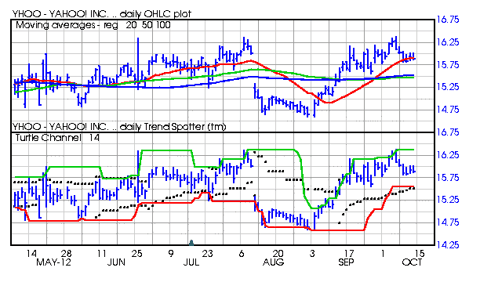 Disclosure: I have no positions in any stocks mentioned, but may initiate a long position in GOOG, YHOO over the next 72 hours. I wrote this article myself, and it expresses my own opinions. I am not receiving compensation for it (other than from Seeking Alpha). I have no business relationship with any company whose stock is mentioned in this article.